As sacrilegious as it may be to admit in Texas, sometimes a Lone Star tallboy just won't cut it. No offense to the fine beverage with the red label, but, occasionally, one wants to branch out to a beer with a richer taste (not to mention, higher alcohol content). Fortunately, there are many such places to get crafty in the Bat City limits. We have plenty of bars that take beer for the art form it is, with bartenders who can direct you to your palate's perfect pilsner. The best part? All the places on our hand-picked list have such a wide selection, you can still chase that speciality brew with a Lone Star—you know, to keep things balanced.
Draught House was doing craft beer back when people thought IPA meant isopropyl alcohol. In those days, you could sit in the parking lot, drink beer, and espouse your love for whatever non-domestic you were downing. It has only evolved with the trend—brewing their own and continuing to be creative with others on its taps. If you want to do your own flight from the comfort of your apartment, pick up pints, pitchers, and growlers to-go. If you choose to drink your brews in-house, you can also order food on-site from Little House Kitchen. And you're going to want to grab some of the loaded bacon cheese fries.
How to order: Stop by for first come, first served seating or order pickup online via Toast.
Pull up for a pint at WhichCraft's Mueller tap room, and get ready to peruse an enormous selection of beers. You'll be spoiled for choice with rotating taps, rare labels, and shelves stocked with hundreds of colorful, enticing, creative craft brews. After you get your buzz on IRL, you can bring the fun back with you by getting in on pre-packaged beer, wine, and cider, or filling up a crowler or a growler. A tip for true hop aficionados: be sure to sign up for the newsletter, or subscribe to their blog, for the latest and greatest drops and specialties in-store.
How to order: Stop by for first come, first served seating or order pickup online.
Hopfields somehow captures both the casual and classy. It has 44 rotating taps that encompass an enormous cross section of beers—all served in a cozy setting that gives off the vibes of a summertime cabin in the woods of Europe. Spend a night trying them all. Current offerings include porters from Colorado, wheat beers from Belgium, IPAs from California, and, of course, a sizable number of local and state-brewed beers. The food offerings are all French-inspired. The menu's dishes, such as Chicken Normandy and ratatouille, serve as a delicious culinary upgrade from the usual gastropub fare. But, sometimes the best combinations are the simplest—nothing pairs more perfectly with a pint at Hopfields than their salty, crispy, duck-fat-fried frites.
Whip In has been making the craft beer/Indian fusion combo happen since 1986, and it's just getting better with age. What started as a convenience store evolved into a gastropub with 70 beers on tap, a full wine list, and a from-scratch kitchen. It turns out everything from standard Indian classics, such as samosas and butter masala, to the kind of high-calorie grub your beer-soaked stomach craves (like the queso-smothered french fries listed on the menu as "Stoner Snacks"). The beer menu has all the heft of War and Peace—with wheats, wits, ciders, sours, Belgians, ambers, IPAs, lagers, ales, blondes, and everything in between. And, considering the space also doubles as a market, you can pick up any necessary household essentials after picking up a buzz.
How to order: Stop by for first come, first served seating or order pick-up online via toast.
Texas' rich German heritage meets the modern, casual vibe of Austin at beer garden Easy Tiger. With a combination of cheese, beer, and baked goods, it is more like a food-based adult Disneyland than anything else. Stop in for a pretzel the size of a school lunch tray and a cold beer from one of 30 taps. Or go for heavier fare like housemade meat-filled sandwiches to round out that pint. With four locations throughout Austin, you're never too far from one of its outdoor garden bars—all tailor-made for cheering "prost."
How to order: Stop by for first come, first served seating.
Unless you are a born-and-bred Texas native—an increasingly rare occurrence here in Austin—you probably have never heard of a kolache. The pastry, a combination of dough with either sweet (in the form of jams) or savory (i.e. sausage) fillings, was brought to the Lone Star state originally by immigrants from the Czech Republic. It's become the dominant roadside treat on every stop from East to West Texas and back. Every Texan will fight you over what spot is the best for kolaches, but, when it comes to Austin, there is no better version than Batch Craft Beer & Kolaches. Plus, you can wash it down with a mug of great beer from its selection of 12 rotating taps or row of fridges with roughly 400 beers. Even better, Batch has one of the best dog-friendly outdoor spaces around.
How to order: Stop by for first come, first served seating or purchase cans and four-packs to-go.
The classic combo or pizza and beer only gets better when it's a handmade pizza and a craft beer. And Pinthouse levels up the standard order in that exact way. At three Austin locations (not to mention, one in Round Rock), it offers its own award-winning beers and has a rotating tap list with a schedule that includes releases and events. And, as NFL season continues through February (a.k.a. till the Rihanna Super Bowl), it always has a plethora of specials going down during whatever games are on that week. You can stick your toe in the proverbial Pinthouse pool with one of their spectacular lunch specials, and then stay awhile.
How to order: Stop by for first come, first served seating or order pick-up online.
This immensely popular destination for beer and brunch boasts a whopping 207 taps. It underwent a massive and much-lauded expansion a few years ago, primarily to accommodate the incredible number of people clamoring for its new beer list and whole hog barbecue program. Now the only acceptable place to hit on Rainey Street can comfortably accommodate your whole crew and their beer cravings. We mean, someone needs to get in there, down a cold brew or seven, and dig into a schnitzel sausage. Might as well be you.
How to order: Stop by for first come, first served seating or order pick-up online via toast.
The moniker, "Workhorse," describes this Austin favorite well. It is a good ol' dive, where you will find a drink that is heavy on the pour, but light on the frills. And, the fine selection of beers it offers further promotes that homegrown, salt-of-the-earth vibe—more than 30 of its 50 brews on tap are locally made. All that is paired with excellent grass-fed burgers, with a side of crispy fries, which are served piping hot straight from the oil. Just be sure to wipe your greasy fingers off before cueing up a tune on their classic jukebox.
How to order: Stop by for first come, first served seating or order pick-up and delivery online.
Austin may have its fair share of sports bars, but it only has one Haymaker—well, technically two, if you count the outpost they have in a terminal of Austin-Bergstrom International (which we don't). The abundance of televisions that cover every available corner of wall space both inside and outside the building serve as a visual representation of Haymaker's promise to their patrons—whatever game is on that day, it is sure to also be on at Haymaker. Those screens are paired with a rotating selection of 40 taps, which boasts some of the best pulls to be found in the Lone Star state. And, since they serve drink specials every day of the week, you're bound to get more buzz for your buck—savings you can then invest into an order of Haymaker's signature poutine.
How to book: Stop by for first come, first served seating or order online for pick-up.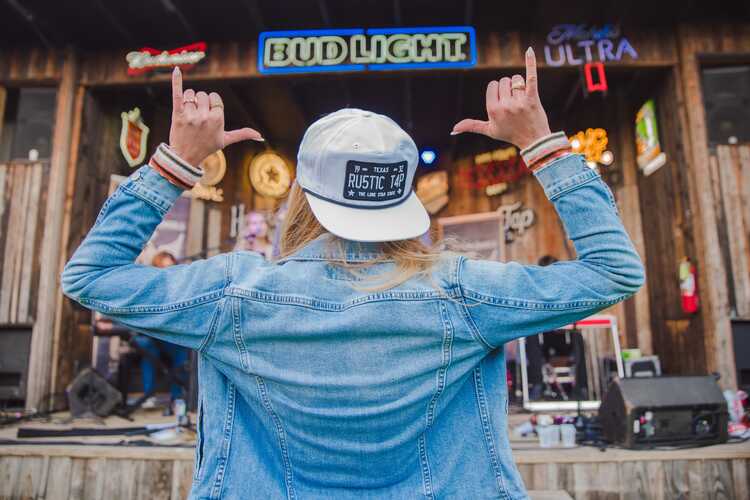 Rustic Tap

| Rustic Tap
Even if your knowledge of the musical genre is limited to Dolly Parton, you'll find something to love about this country bar. An outdoor oasis in West Austin, its huge screens and tailgate-style chairs ensure you can get your game-day on while there. Rustic Tap has over 20 beers on tap, spanning from local favorites, like Austin Beerworks' Pearl Snap and Hi Sign Brewing's Blueberry Blonde, to the tried-and-true big box names, such as Budweiser and Michelob Ultra. Should none of those strike your fancy, you can turn to its equally long list of canned beers for a back-up option. As a Louisiana bar, it's sure to be rowdy whenever the Saints or LSU are playing, but everyone can get into the Cajun spirit by ordering one of its Shrimp Po-Boys along with a bucket filled with—what else?—but ice-cold beer. Also, check the website for its live music schedule, which it has every night of the week—that is, unless football is on.
How to book: Stop by for counter service.
Central Machine Works is a vast East Austin hang, where Bat City pride bubbles through every pour. From a full-bodied American Lager to a refreshing Pilsner, all the selections on tap are homemade. For those less hop-inclined, there are also amazing cocktails, like frozen espresso martinis, to sip on while kicking back in the massive indoor-outdoor space (it used to be a factory for making airplane parts). Not to mention, there's a menu stacked with traditional bar food, such as pizza and burgers, to help fuel you through a Sunday Funday. The brewery is known for hosting fun weekend events, so be sure to check the website for upcoming live music, yoga, and other shindigs.
How to book: Reserve a table online for dine-in service, or walk-in for first come, first served seating. Call 512-220-2340 for takeout.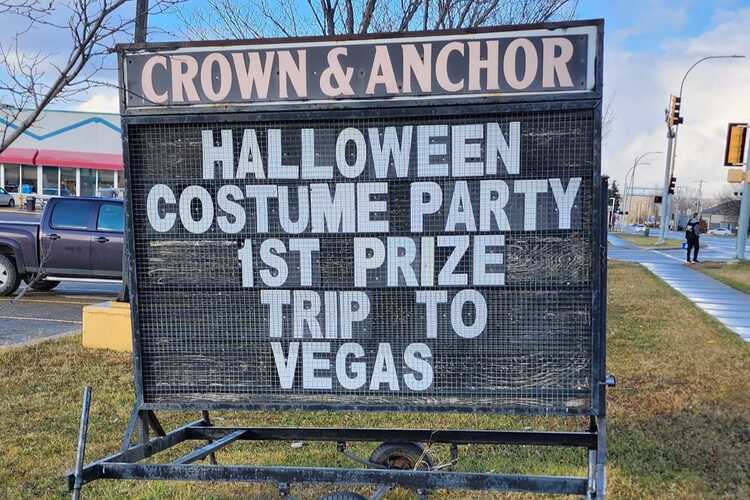 Crown & Anchor

| Crown & Anchor
We don't have any official data per say, but we would risk a round to say that no one in America consumes more beer than your average Coed. Trust the experts then, and head to Crown & Anchor, a close-to-campus hideaway that has been a staple for Longhorns since 1987. The place is so chock-full of the kind of neon beer signs, college memorabilia, and bar game accessories, you're liable to have senior year deja-vu. But the real reason it may be such a UT go-to is the brewski selection—it offers more than 30 drafts on tap with tons other cans (over 100!) stocked behind the bar's many fridges. Enjoy a pint on the expansive patio, with one of its stacked burgers, and you're bound to feel like you're 21 again—at least until the hangover the next morning.
How to order: Stop by for first come, first served seating.