There is no "scientific evidence" to support the idea that Bloody Marys are good for a hangover. But like the hopeful brunch-goers we are, we continue to believe in the healing powers of tomato purée, horseradish, and Slim Jims. Since we know you love revitalizing brunch cocktails just as much as we do, we've curated a list of Austin's finest Bloodys for all palates; salty, meaty, topped with crab legs & corndogs... we've got you covered.
East Cesar Chavez
Jacoby's brunch Bloody Mary is one of the newest and best ones we've tried. Vodka is added to its Bloody mix (garlic powder, fresh horseradish, Jacoby's homemade hot sauce, Worcestershire, pickling liquid, lemon, lime, black pepper), served in a Mason jar -- Jacoby's signature drinkware -- and topped with the house-made summer sausage, a skewer of pickled veggies, and a spicy Trechas rim. Head over for brunch on weekends from 10:30am to 2pm.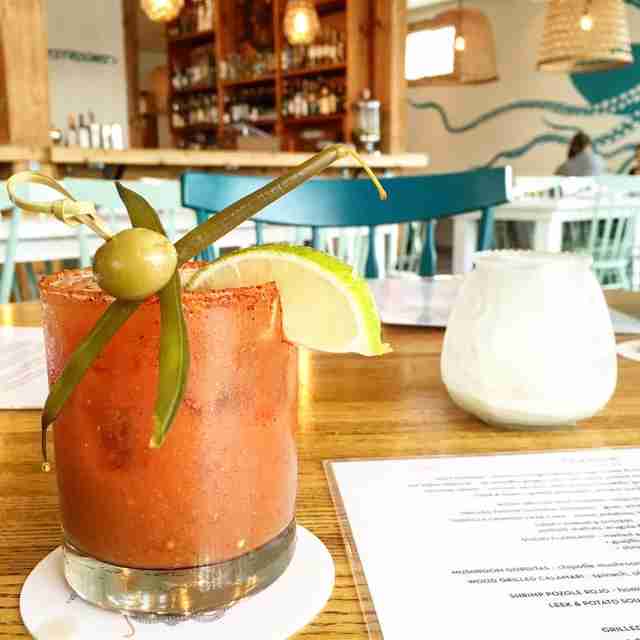 South First
Beachy and bright, Alcomar has a Bloody that will have you squealing with either delight or terror. The Bloody Cesar is a tangy blend of serrano citrus-infused vodka and house Bloody mix, rimmed with its secret el chile powder and a single raw oyster. Of course, we are of the disposition to say "Cheers!" and down the hatch it goes. During weekend brunch from 11am - 3pm, the Bloody Cesar is only $5.
Downtown
The make-your-own Bloody Mary bar thing is nothing new, but Swift's Attic makes the cut on the strength of its spread. For around $7, you get a glass of vodka and full access to: two types of Bloody mix, 17-ish types of hot sauce, regular and/or stuffed olives, pickled okra, carrots, banana peppers, celery, lemon & lime wedges, spices, horseradish, green beans, pearl onions, jalapeños, cheese cubes, and, most importantly, bacon, plus some type of cylindrical meat stick. Mmm... meat sticks.
West Sixth
This behemoth is called the Hail Mary. A classic Bloody base is topped with skewer after skewer of (deep breath)... an all-beef hot dog, lil' smokies, hickory-smoked bacon, black cracked pepper & garlic shrimp, onion rings, a whole wheat cheeseburger slider, two chicken nuggets, a deviled egg, crab meat, pickled okra, cherry tomatoes, pepperoni, pepper jack cheese, AND A CINNAMON ROLL! Get it Sundays from noon-3pm and you won't even need dinner.
South Congress
One of Austin's most-loved Marys is right in the bustling vortex of South Congress. A tall glass filled to the rim with spicy mix, Tito's vodka (infused with bell peppers, onions, celery, lemons, limes, garlic, and jalapeños), and served with celery, olives, and a pickled banana pepper, this version is better suited for those who like a "little hair on their chest."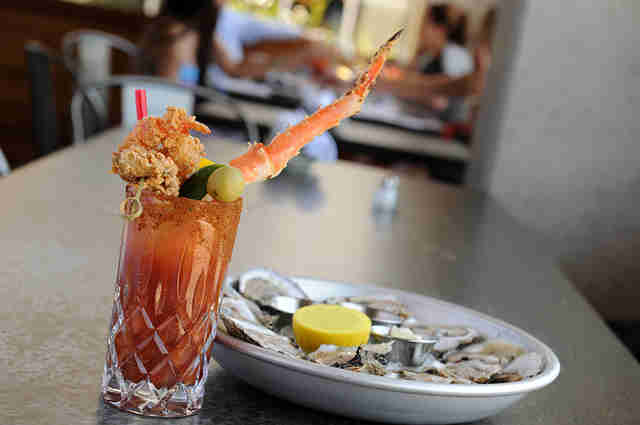 West Sixth
Houston-based Liberty Kitchen has a comfort-food-meets-seafood brunch menu, with a Bloody Mary that belongs with Austin's best. The 20oz drink features house-made Bloody Mary mix, Dripping Springs vodka, a fried oyster, fried okra, and pickled veggies. Want to get crazy? Add a crab leg! They don't call it the Ultimate Bloody Mary for nothing.
East Twelfth
The Bloody offered by super-chill Rio Rita is one of the city's most popular, and for good reason. You can choose from regular, jalapeño, or habanero-infused vodka -- but be careful, the latter is only for the very brave. The Bloody mix is the perfect balance of tomato-y, salty, and citrus-y. You won't get bacon or cheese on this one, but the crunchy celery, pickled okra, olives, and pile of banana peppers round out the flavors perfectly.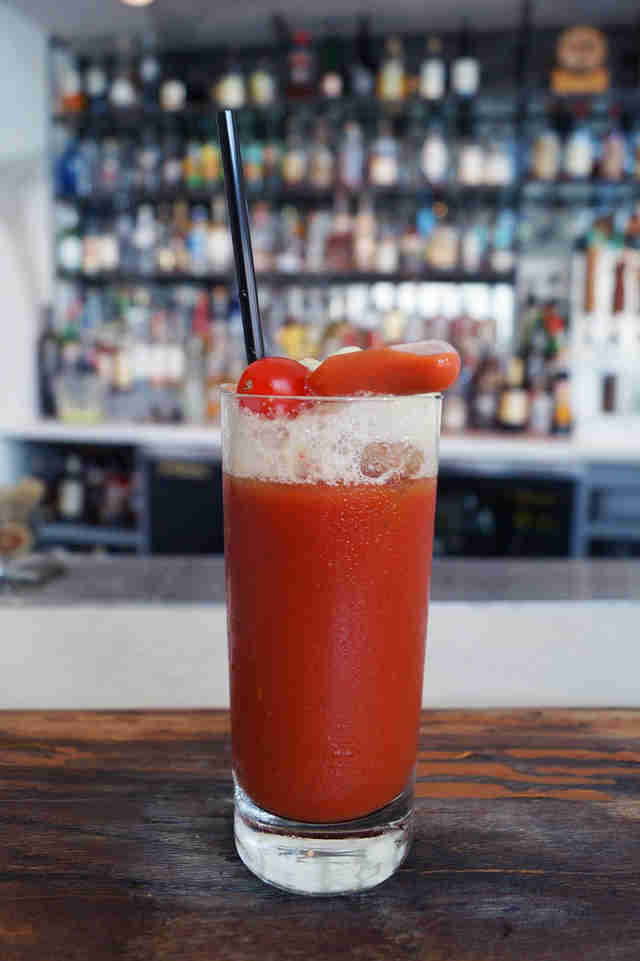 South Lamar
A blend of the house Bloody mix, your choice of vodka or gin, and a couple of VOX's signature touches make this Bloody Mary one you will crave every weekend. Each one is topped with celery foam and a small pipette full of hot sauce, so you can customize the fire factor. And, because this is Austin, it comes with a cold glass of Lone Star on the side.
Downtown
OK... ready for this? W Austin has taken Dickel Rye Whisky and added brisket fat that is smoked in-house at TRACE. As if that wasn't enough, it's topped with house-made pickles and a Pearl Snap floater. It's available Saturday and Sunday for brunch at TRACE and in the Living Room bars, both located in the W Austin. Go ahead and add the Brisket Bloody Mary to your Bloody Mary bucket list. You're welcome.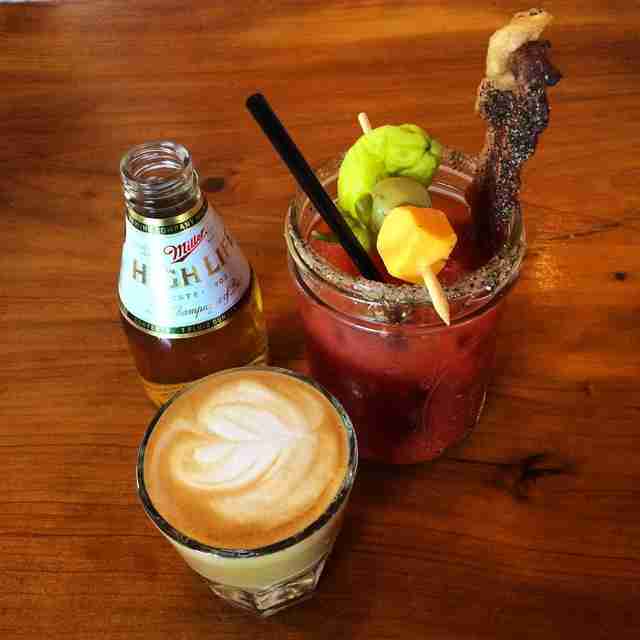 Warehouse District
Frank's popular Bloody Mary, the Red Headed Stranger, is comprised of bacon-infused Tito's vodka, a house-made Bloody mix (containing 20-something-ish ingredients), a rim of "Frank salt," and then garnished with black pepper bacon, a jalapeño-stuffed olive, a pepperoncini pepper, and a little chunk of cheddar cheese! If only all redheads were this agreeable.
Sixth Street
Head over to Casino this weekend and pay a visit to the barman known simply as "Frap." Here's how it'll go: a short consultation with Frap will determine what level of spiciness you can handle (be brave, go with an eight!). Then you will watch, and slowly mouth "ohmygod," while he skewers a taquito, rosemary focaccia grilled cheese, a meatball, sausage, a corn dog, a slider, and then sticks in lots of bacon, celery, olives, cucumber, lemon, various pickled items, and garnishes the drink with sprigs of cilantro. Pro tip: it opens at 11am, so get there early to make sure you get maximum toppings. They pile it up until they run out.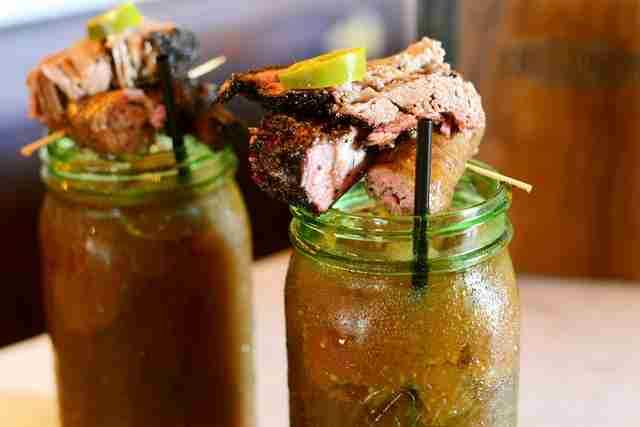 Campus
Freedmen's has taken its already amazing Bloody Mary and created the Holy Mary, a full liter of: Forty Creek Barrel Select Whisky, smoked cherry tomato Bloody mix, house-made two-day BBQ sauce, lime juice, and Fire and Damnation bitters, and topped it with, wait for it... a half-pound of brisket, sausage, and spare ribs! The "Texas Trinity" smoked meat topper is affectionately referred to as a "halo." Get it during brunch on Sundays, and consider yourself saved.
Sign up here for our daily Austin email and be the first to get all the food/drink/fun in town.
Anastacia Uriegas is a writer at Thrillist and Bloody Mary connoisseur who is convinced the best ones are made with Clamato. Follow her appreciation of all things portmanteau: @anaurie.