It's true what they say about Fall – there's nothing quite like watching the colors of the beers change. Whereas Summer's the time for the mellow gold of light lagers, the coming Oktober brings out the darker shades of sud, from the nutty amber of pumpkin ales to the blackest of IPAs. So, in the spirit of autumn imbibing, we've tapped five of Austin's most hopped-up beer advocates to choose two beers each that'll help warm those slightly cooler Fall nights.
Holly Aker, BitchBeer.org
Saint Arnold Brewing Company's Pumpkinator (American Double/Imperial Stout, 10% ABV)
Holly says: "Originally released as No. 9 in Saint Arnold's Divine Reserve series, this imperial pumpkin stout is not one to be taken lightly. Coming in at 10% ABV, the beer is dark, sweet, and packed with some of the best fall spices including cinnamon and clove, not to mention one of the most mouth-watering pumpkin tastes and aroma. While pumpkin beers can be pretty hit or miss with beer drinkers, nearly everyone can agree on Pumpkinator. Pair it with your Thanksgiving dinner or sip it casually through your Halloween horror movie fest."

Rogness Brewing Company's Rogtoberfest (Oktoberfest/Märzen, 5.5% ABV)
Holly says: "An Austin take on the classic German Oktoberfest style, Rogtoberfest is the perfect beer to help you welcome in the cooler weather (or at least the hopes of cooler weather). With a slightly red-brown tint, the lager starts off bitter but balances out with a nice malty finish and an aroma that can only be described as autumn. Rogtoberfest hasn't hit shelves yet, but when it does, stock up so you can enjoy the taste of Fall all season long."
Bill Norris, Beverage Director at the Alamo Drafthouse
Oktoberfest from Real Ale Brewing Company (Märzen/Oktoberfest, 5.7% ABV)
Bill says: "Cooler weather pulls me away from the sours & hoppy beers I crave during the heat. I'm counting the days until Real Ale releases their Octoberfest. The Marzen style lager is full of malty goodness and it's a true reminder that Austin is about to be, if not cool, at least not as hot as the center of the Sun."

Sputnik from Austin Beerworks (Imperial Oatmeal Stout, 8% ABV)
Bill says: "I'm praying for another release of Sputnik from Austin Beerworks. I love everything ABW does and The Einhorn got me through July. The Sputnik though is full of dark roasted coffee notes and it's rich and thick & beautiful, perfect for Fall/Winter sipping."
Matt Abendschein, YouStayHoppyAustin.com
Live Oak Brewing's Oktoberfest (Märzen/Oktoberfest, 5.8% ABV)
Matt says: "Who said you have to to travel to Germany for an authentic Oktoberfest beer? Live Oak Brewing has this covered for you, bringing you the familiar soft malty aromas and flavors that Oktoberfest beers are known for. And, for an added level of authenticity, Live Oak employs the unique and traditional decoction method during the boiling process, giving an added level of complexity to the final product."

Independence ESB (ESB, 6% ABV)
Matt says: "Another favorite of mine is the Independence ESB. This is a very well balanced and drinkable English bitter with the English hops coming forward in the aroma and balancing nicely with the biscuity malts, creating a truly well rounded beer."
Brian "Swifty" Peters and Amos Lowe, Austin Beer Garden Brewery
Alesmith X (American Pale Ale, 5% ABV)
Brian says: "While at the Craft Brewers Conference in San Diego, you couldn't throw a dead cat without hitting a double IPA. For me that makes for a short night. Then we stumbled upon Alesmith's X, a great pale ale. It was dank with citrus hops without being overbearing. Juicy. And it didn't knock my dick in the dirt, booze-wise. Why is finding a great pale ale so challenging? Fall means the GABF to us, and that's the beer I'm looking to track down."

Turmoil CDA from Barley Brown's Brew Pub (Cascadian Dark Ale, 7.8% ABV)
Amos says: "Yes, Fall equals GABF. Turmoil CDA from Barley Brown's Brew Pub. Super complex hop flavor. You can tell that the timing and the selection of hops is masterful. And that's what inspired us with our own Hop Dead Gorgeous. If imitation is the sincerest form of flattery, they should considered themselves flattered."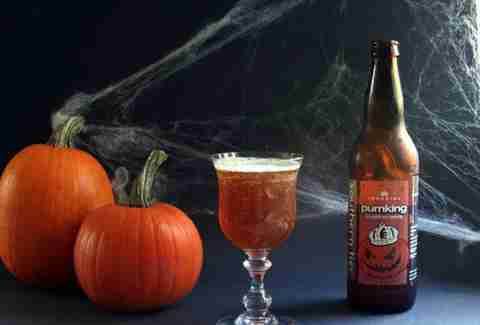 Isaac Harigle, Minister of Education at Banger's
Southern Tier Pumking (Pumpkin Ale, 8.6% ABV)
Isaac says: "The market's about to be flooded with a million pumpkin beers, but this is a personal favorite. Most pumpkin beers focus on tasting like pumpkin pie, which is great; this one is pumpkin pie plus whipped cream. 'Cuz what's punkin' pie without whipped cream? Heresy, that's what. Velvety smooth, and hides the high ABV (8.6%) really well. Careful; this one will sneak up on you."

Real Ale Scots Gone Wild (American Wild Ale, 9.7% ABV)
Isaac says: "This is part of Real Ale's Mystereum Veruum barrel-aged line, and it's one of the weirdest things they've ever done. It's their Real Heavy Scotch Ale, aged in American Oak barrels that they've infected with souring bacteria and wild yeast strains. Sour-cherry pie, balanced by some sweet caramel notes, and a dry finish. Lip-puckering, palate-wrecking, face-punchingly awesome! For brave souls only."