You swiped right, they swiped right, and now it's time for the big date, some drinks, and later on, possibly -- well, let's not get TOO far ahead of ourselves. First you need plans. Dinner seems like a bit much of a commitment right off the bat. Drinks? Drinks are great! Who doesn't like drinks?!
You want a place that's lively, but not too loud. But then, not too quiet, either. Someplace nice, but not "I'm trying WAY too hard" nice. You see the dilemma. Luckily for you (and your date!), these 10 bars are there for you. How the rest of the evening goes is on you.
Near campus
If you have to engage in stilted small talk anyway, why not do it on Hopfields' huge patio off Guadalupe? The house's Bloody Mary and select Pedro Ximénez cocktails offer convenient sipping when the pauses grow long and cumbersome, while the house-made charcuterie board makes for salty snacking alongside an order of pommes frites.

Downtown
Impress your future S.O. with select knowledge of the city's hidden spots. Garage is tucked away into a literal parking garage, which means you'll look super cool (or creepy) guiding your unsuspecting date into the former valet's ticketing office. Once you're in, treat your company to an Indian Paintbrush cocktail nominated the "Official Drink of Austin" in 2015. If vodka, grapefruit juice, lime, rosemary syrup, and Peychaud's bitters don't tickle their fancy, go for the Queen Anne's Lace made of French G'Vine Floraison gin, sarsaparilla bitters, carrot, lime, peach, and maple.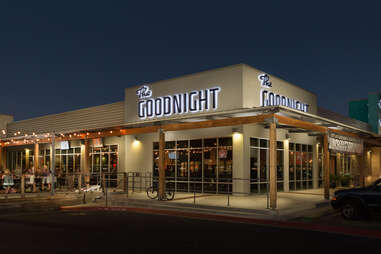 Anderson Lane
Typically, bowling is a cliche first date idea but at The Goodnight, you can have your Mount Bonnell (blueberry sage-infused Waterloo gin with lime, seltzer, and Chambord) and drink it too. For a grown-up's idea of a good time, try any number of the bar's beers, wines, or cocktails while shooting pool, playing table tennis, or bowling strikes on the venue's eight vintage lanes. When you get hungry from slinging balls, do the right thing with duck burger sliders dressed with smoked Gouda and apricot dijon purée.

Woodland Avenue
Swing by the convenience store and stay awhile. At Whip In, even the pickiest paramour can find love amongst the 72 beer tap offerings unique to the multi-titled dhabapub, brewery, market, music venue, and grocery store. Try the house-brewed Flanders-style oud bruin Brownsahib or the Kalidurgale, and "end of the world" barley wine made with espresso, molasses, and cardamom.
Warehouse District
Peché gets you points for its Prohibition-style cocktails, but the real appeal is its absinthe offerings, including tastes of Versinthe and Pernod served straight from France. In the ambient lounge area, slurp down whiskey cocktails to more quickly get to the main event: the Peché adult milkshake, made with vanilla ice cream, Luxardo cherry liqueur, and absinthe. How romantic is that?

Downtown
Open the bookcase in the lobby of the Firehouse Hostel to reveal a low-lit cocktail lounge replete with booths for canoodling and libations for inhibition prohibiting. Get down on baguette plates while imbibing any one of their craft cocktails. Choose a Brooklynite made with añejo rum, lime, honey, and Angostura bitters, or make sweet with a Kir Royal concoction of sparkling wine, cassis, and lemon zest.
North Loop
Just picture it -- you and your date getting chummy over Pimm's Cups in the back room of the Tigress on North Loop. If the vibes are really meshing, stay long enough to try the whole cocktail menu. With offerings like the White Dove -- white port, triple sec, dry vermouth, elderflower liqueur, and grapefruit bitters -- and the Hawaiian room made with Applejack brandy, Treaty Oak rum, Cointreau, pineapple syrup, and lemon juice, you're both bound to be in good spirits. Heyo!

East Austin
On the East side, Whisler's sits with a full menu of classic and original cocktails to lubricate stiff conversation or encourage further chatting. Roll with the Curious Jorge made with kummel, banana liqueur, lemon, and orgeat, and then, if you're both feeling it, head upstairs to the spot's Oaxacan-style mezcaleria for a wide selection of mezcals served in traditional clay copitas. You also can't go wrong with any combination of provisions from the venue's on-site East Side King food truck. Beef Panang Curry? Delicious. Thai-Kun Fried Chicken? Yum. Waterfall Pork? Must have.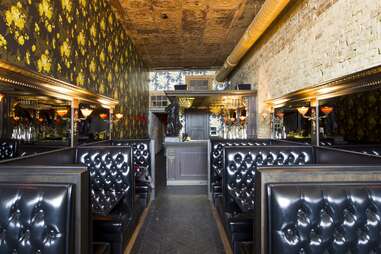 Sixth Street
The good ol' fake-out. Make like you're taking your date down Sixth Street, only to slide into Midnight Cowboy, an out-of-the-way brothel-turned-bar that you'll miss if you don't know where you're going. You'll have to get a reservation -- fancy points! -- to taste the venue's 'Alamagoozlum' made of rum, curaçao, Angostura bitters, Demerara syrup, Chartreuse, and egg white, but the extra stretch is well worth it. If ever there was an appropriate time to use the word intimate, this is it.

Rainey Street
Comfort is the key to a casual first date at Lucille on Rainey. Lounge on the outdoor patio or inside the renovated house bar with drink in hand as your date bemoans his or her recent ex (but it's ok, they're "over it"). Keep chill with the bar's original frozen cocktails like the Cucumbertini or the El Jefe Loco-Rita and you won't even notice the hours pass -- hopefully.
Sign up here for our daily Austin email and be the first to get all the food/drink/fun in town.