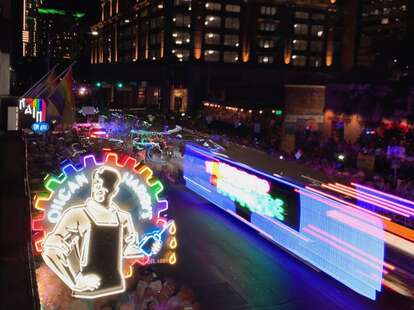 Photo courtesy of Oilcan Harry's
Photo courtesy of Oilcan Harry's
Welcome to
We're Out Here
, your year-round hub for LGBTQ+ travel and experiences! Here, you'll find everything you need to plan your next great gaycation, including queer-centric travel stories, nightlife guides, profiles, pride event roundups, and ways to give back to local queer communities.
Pride in Austin may not be until August, technically, but it's always a good time to show up for the LGBTQ+ community. This red state needs your rainbow dollar—at the bar, on the brunch table, and under the bra straps of its queens, thank you very much. Spending your hard-earned cash not only supports their work but also extends love and appreciation for all things queer. Because Austin is queer AF—and proud! Besides, weird is in our slogan and JVN has a house here for crying out loud! Yes, times are precarious, but as the saying goes, Why get mad when you can get GLAAD? Political statements are about to get rather fabulous over here because nobody's waiting till August for glitter. The gays and their allies are rolling in it now and these awesome bars and parties in town welcome all with a penchant for salacious fun. Tempted? Come take a look you saucy, saucy minxes.
Red River
Normally more of a live music venue, Barbarella's massively popular Tuezgayz nights have turned Swan Dive from indie duckling to glitter sister party to the main event. Come on the same night for double the fun, as Swan also hosts its own drag and burlesque numbers, and sees crowds from both venues crowd on the patio. Queer comedy nights and music by LGBTQ+ artists complete the diverse lineup at this awesome venue.
Red River
It's hard not to feel jolly at Cheer Up Charlie's, a colorful queer bar decorated with rainbow neon and happy face emojis. There's a vegan food truck at the back, and organic juice blend cocktails and kombucha on tap at the bar, so you can party hard without the guilt. Look out for live music, DJ sets, and drag performances on the large outdoor stage and dance floor, plus nights themed to diva birthdays (Kylie, Gaga, Bey) and Ru Paul's Drag Race screenings.
Downtown
Coconut Club has cemented itself as Colorado Street's loud and proud dance floor, with an open-air lounge spewing island dance beats and luminous disco lights. It's owned and operated by former Cheer Up Charlie's employees, Cole Evans and Brian Almaraz, who bring the carefree festivity of the tropics to downtown Austin. Don't miss Coco Cxnts, voted the city's top drag brunch with the likes of Brigitte Bandit and Arinna Heys. Piña Coladas and Mimosa's all round.
Downtown
Austin's oldest gay bar is by no means over the hill. Oilcan Harry's throws a party every night of the week, whether it's karaoke, drag king or queen shows, friendly competitions, bingo, or something totally off the wall. A huge hit with a fun-loving mixed crowd, this is an all-very-welcome hangout and a great place to make new friends in town. It also is a huge part of the drag community, having invested the most over the years, so come catch a show, you won't be disappointed.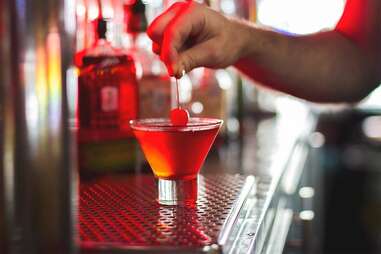 Downtown
Behind blacked-out windows sits this Bear-owned and -operated venue, but it's not at all as intimidating as it sounds, welcoming all body types and genders into its relaxing atmosphere. The food is actually really good, too, so it's worth popping in for dinner before the main event, which could range from underwear nights to drag performances. ATX legend Louisianna Purchase can be seen here every first Sunday of the month.
Red River
Labeled as a "dance club for people who don't like dance clubs," two-step haters can't help but be swayed the minute they walk through the door. The video bar and multi-floor nightclub are always heaving. They host themed parties including a hugely popular Tuesgayz night set to a mix of indie, electro, and dance tunes, alongside poptastic '80s and '90s nights. Happy hours run till late-ish, and crowds spill into the nearby venue Swan Dive.
Downtown
Neon Grotto is nicely positioned next door to sister bar Coconut Club, so you may as well make it a double feature. As you'd expect, this one is neon galore, and you'll be snapping fluorescent-lit selfies on their sexy pink couches until the bumping house beats get you jigging on the irresistible rooftop dance floor. Rotational drag events included Karaoke Fight Club and Ru Paul's Drag Race viewing parties.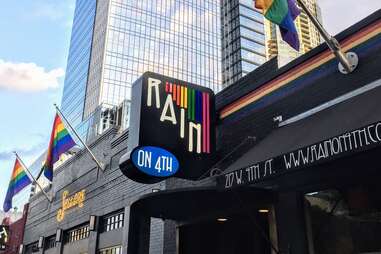 Downtown
Holding court as one of the most popular gay clubs in town and drawing in a mixed local and visiting crowd, Rain is your one-stop-shop for a heavy dose of Ariana and Guetta. It's also one of the best places to catch local drag queens such as Vylette Ward and Nadine Hughes, plus go-go boys from 11 pm to close every Thursday through Saturday. Thursday night is amateur strip contest night with cash prizes, if you're feeling brave or just fancy coming to 'observe' the talent.
Downtown
Marketed as an upscale lounge, Highland may be decked out in plush furnishings and have VIP bottle service, but that doesn't mean you can't let your hair down on any of the three fabulous stories. You're invited to a twerk-off on Thursdays, and on Fridays and weekends, drag queens and headline DJs pump up the crowds. Sundays are a cool-down, thanks to drag brunch, karaoke, and games dominating the laid-back bill.
James Wong is a Libra who spends his time pretending to be a vegan, watching wildlife clips, and booking plane tickets. Born in London, lived in Tokyo, and now residing in Austin, his greatest achievement is giving Posh Spice a hug in 2016.