Toast to These Great Happy Hours in Austin
Here's where to find the best happy hours all over Austin.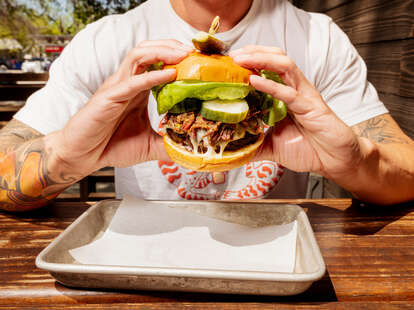 Photo courtesy of Loro
Photo courtesy of Loro
Let's not pretend here. Austin prices are out of control. Cocktails under $10 were a badge of honor we'd wear proudly over big cities like New York or LA. Sure other places had things like multiple art museums and "industry connections," but we had good drinks at a reasonable price. Fortunately, our beloved $6 to $9 cocktails and even cheaper beers are alive and well throughout Austin's best happy hours. Whether you're looking for an upscale venue or a proper grungy spot, we've got you covered with some of the best happy hour deals across the city.
Campus
Daily, 2–7 pm,
Crown and Anchor is an incredibly casual joint, which is exactly what you want from a pub. It's been running since 1987 in an area known for frequent closures, which speaks well to how well-loved it is. Every night offers a different special, with happy hour running all day on Sundays. The beer is cheap, the food hits the spot — it's the perfect easy-going place to drink and play pool with friends.
How to book: Stop by for first come, first served seating.
Downtown
DRINK: Daily, 5 pm–close
Ellis: Daily, 3–6:30 pm
Self-described as "Austin's first food hall," the Fareground offers a two-in-one entry. The venue itself is a standalone food court with better restaurants and bars than you can expect in your standard American mall (no disrespect to Charly's Subs and Sbarro). The Fareground's flagship bars, DRINK and Ellis, have great no-fuss, affordable deals. DRINK's happy hour runs a fair bit longer and lets you pick up $4 house wines, drafts, and cocktails. Ellis's ends at 6:30 but brings $3 select draughts, wines, well cocktails, and flatbreads. With a half-dozen other food spots in the building, the Fareground makes an excellent spot for the indecisive after-work group.
How to book: Stop by for first come, first served seating, or order ahead of time.
Warehouse District
Mon–Sat 4–7 pm, Sun 3–7 pm
The Roosevelt Room is no stranger to lists of the best bars in town. Their classy atmosphere and well-crafted cocktails makes its frequent placement well-earned. If you're able to make it there for its sizeable happy hour, you can grab one of their classic cocktails for $9. They have top-notch renditions of staple cocktails like French 75s, Charlie Chaplins, and Negronis. You can also get $2 off large fare food and glasses of wine, $1 off small plates, beer, and sweets, and 20% off bottles of still and sparkling wine.
How to book: Reserve via OpenTable.
Warehouse District
Mon–Fri 5–7 pm, Sun 5 pm–2 am
If a place charges more than $3 for a Lone Star, then it is simply un-Texan of them. Fortunately, DuMont's Down Low passes the smell test there, charging only $3 for Lone Stars and Miller Lites during happy hour. Their signature cocktails run for a reasonable $8s, with house wines going for $7. The venue is a basement whiskey bar with dim lighting, providing a relaxed and comfortable atmosphere to unwind.
How to book: Call (512) 291-3231 to reserve a table
South Austin
Daily, 3–7 pm
Opa isn't the fanciest place on this list. But that is precisely why it's so charming. It's a homey and relaxing spot popular for dates, group hangouts, and remote work. They are also well-known for music open mics, where you'll catch rising local talent who add to the already chill atmosphere. A coffee shop-slash-wine bar, the best deal on their happy hour is probably their $4 mimosa. Choose between their well-shaded patio seating or the cozy interior.
How to book: Stop by for first come, first served seating.
North Austin
Daily, open–5:30 pm
Vintage clothing lovers are well acquainted with the North Loop area. Full of unique clothing shops and home to a radical bookstore, the neighborhood has well maintained its stylish reputation. Another big contributor to the area's cool factor is the craft cocktail spot Drink.Well. Their daily happy hour sees $8 classic cocktails, $4 draft beers, and half-off all wine bottles.
How to book: Stop by for first come, first served seating.
South Austin
Daily, 4–6 pm
Coffee spot by day and cocktail bar by night, Carpenter coffee bar's happy hour meets in the middle with their $5 Espresso Martini. As part of the larger Carpenter hotel, this venue is known for its nice aesthetic. They have a ton of natural light and decor pleasing to the eye. If you're a fan of a space that feels like a breath of fresh air, then this is your spot.
How to book: Stop by for first come, first served seating.
South Austin
Mon–Fri 2–5 pm
Loro continues to be a trendy spot since it opened up a few years ago. It's a busy counter-service joint with a ton of seating, making it ideal for those who like an energetic, friendly environment. The afternoon happy hour brings $5 boozy slushes, select wines, cocktails, and ales. Their award-winning food is nothing to scoff at, with mouthwatering bites like the $8 brisket tostada, and crispy smoked chicken sandwich—not to mention that Loro burger with housemade brisket jam.
How to book: Stop by for first come, first served seating.
Downtown
Tue–Fri 4–7 pm, Sat 2–6 pm
"Church-themed" is likely not the first phrase you'd expect to hear about a happening bar in the center of Austin. But the "nightlife house of worship," known as Higher Ground, has fully committed to their unique theme. A daily happy hour lets you enjoy fun $10 cocktails like the Forbidden Fruit, a hibiscus-infused gin drink with lemon, blueberry, and ginger. On Wednesdays, you can get a huge burger for only five bucks.
How to book: Reserve a table via SevenRooms.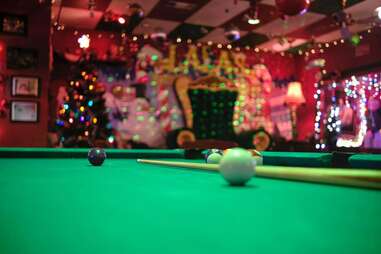 North Austin
Weekdays 4–7 pm.
Lala's is an Austin institution. At Lala's it's Christmas year-round. Open since 1972, it's a great place to hit up if you're feeling nostalgic for the old-school Austin vibe. During happy hour, you can pick $3 well drinks, domestic beers, and $5 margaritas and bloody marys.
How to book: Stop by for first come, first served seating or call (512) 487-5297 to reserve a table.
Westlake
Weekdays 4–6 pm
Representing Westlake, the happy hour at this modern Thai restaurant offers half-off all specialty cocktails, beer, wine, and sake. It's a beautiful spot with a fantastic sunset view of downtown for those who sit in the loungey upstairs area. They also have great small bites for $4-6, including chicken skin satay and tasty lettuce wraps.
How to book: Reserve via OpenTable.
East Austin
Tue–Fri 4–6 pm
Licha's Cantina makes Mexican soul food. It's simply excellent, and you'd be hard-pressed to find any locals who'd say otherwise. If you want more than just a good drink for your happy hour, head here for the $8 Quesadillas, Huaraches, and Sopecitos. That said, you'll definitely get the bang for your buck with the $8 Margaritas, Palomas, and other select cocktails.
How to book: Reserve via OpenTable.
South Austin
Mon–Fri 4 pm–close
Freddo is a spacious venue in a historic Austin building. The up-and-coming location has added a lot in the short time it has been open. Enjoy a couple of different atmospheres across the two-story Victorian-esque building with a large outdoor patio. They have a wide range of offerings and the happy hour menu brings $5.50 froses, $1 off draft beers, and 25% off wine bottles.
How to book: Stop by for first come, first served seating.
North East Austin
Daily, 11 am–midnight
One of the best parts of happy hour is narrowing down a big menu to a select few highlights. A downside to that is variety suffers on repeat visits. Haymaker solves this problem by offering a different deal on every day of the week. Options range from $2 off all Whiskeys to $4 Sangrias to $6 Paper Bags (a beer and a well shot), and many more specials. Check this spot out, especially if you're into casual and sporty atmospheres.
How to book: Stop by for first come, first served seating.
South West Austin
Daily, 3:30–7 pm; Sun, 3:30–9 pm
Run by Austin-raised executive chef Amir Hajimeki, District is another one of those places that just gets to the heart of what makes a good happy hour. They have $6 to $8 cocktails, half-off wine bottles, and perfect afternoon snacks like shishito peppers, chicken karaage, and edamame for under $7.
How to book: Reserve via Resy
Warehouse District
Tue–Fri 5–7 pm
There are few places like Péché in town. As Austin's first and seemingly only absinthe bar, this 4th Street watering hole knows how to pour a strong drink. Perhaps better known for their hearty upscale meals, you can get half off select menu items during happy hour. You can also treat yourself to $5 select cocktails.
How to book: Reserve via Resy
Downtown
Daily, 5–7 pm
Vince Young Steakhouse is not typically the place you attend for a quick, affordable meal with their nicest steaks reaching a triple-digit price tag. But it's a different story from 5 to 7 pm. You can get all items on the bar and lounge menus for$10, including decadent treats like a Wagyu Brisket Burger and Roasted Bone Marrow.
How to book: Reserve via OpenTable.