While the national beer of Texas has never been up for debate, in the past decade an explosion of craft breweries has made a strong argument for ordering something other than a Lone Star. OG hopheads like Saint Arnold and Live Oak have given way to a strong crop of experimental newcomers, and the repealing of archaic beer laws in the last few years has paved the way for new breweries and crafty pubs spanning from Keller to Justin and everywhere in between. We've compiled 13 of the best craft breweries to have opened in the last three years. Raise your glass to these heroically hopped-up Texans.
Recommended Video
The Definitive Eggnog Recipe You Need for the Holidays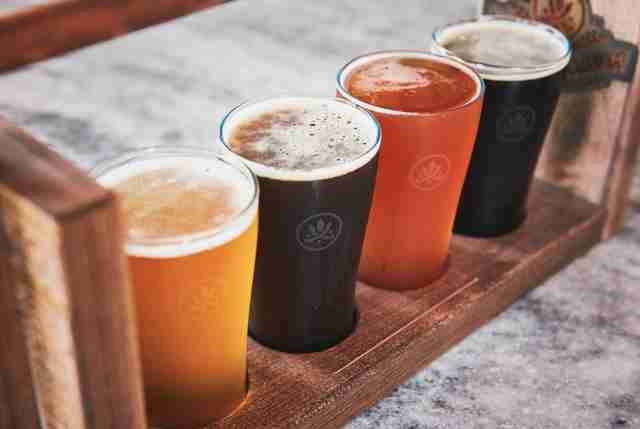 San Antonio, TX
Some of the Pearl Brewery's old mojo must have crept into the tanks at Southerleigh, one of the nation's biggest brewpubs and a shot-in-the-arm to San Antonio's vibrant beer scene. Since opening in 2015 they've experimented with over 40 different beers, ranging from the traditionally balanced flagship Gold Export Lager to more experimental fruit-driven beers like a Cantaloupe Saison. Although at this point their beers are only available on-site, plans are in the works to bring their lager, along with the Darwinian IPA, Texas Uncommon, and Southerleigh Slang, to shelves in bottles soon.
Magnolia, TX
Two years after Magnolia shed its dry county status in 2011, Lone Pint stepped into Downtown taking over a former auto shop as the headquarters for the production of beers that have now become hot commodities in the tap lines of the state's best beer bars. The Yellow Rose is the most popular, a SMaSH beer powered by whole cone Mosaic hops that earned honors as the highest ranking Texas IPA according to RateBeer.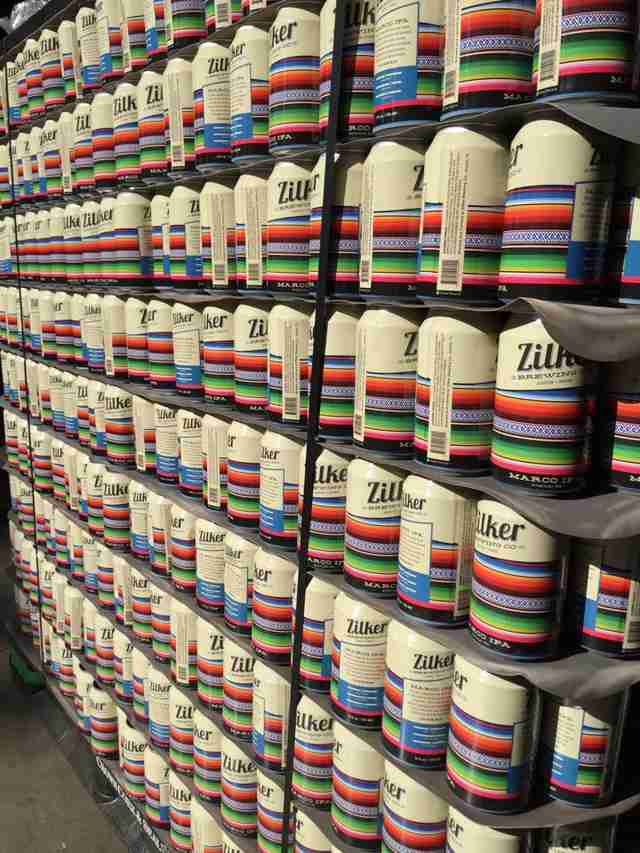 Austin, TX
After visiting over 100 breweries for inspiration, the folks from Zilker Brewing Co. opened shop in 2015 as the first brewpub in East Austin. Looking out onto busy Sixth St, it's the easiest to stumble into of any brewery on this list, and hard to forget thanks to the tropical fruit and pine aromatics of their flagship beer, the Marco IPA. Zilker is also sure to make a big retail splash thanks a striking striped design that earned it top packaging honors in 2015 from the Austin Beer Guide.
Austin, TX
4th Tap is another project from a Black Star alum who teamed with a biochemistry whiz to launch a line-up of palate-catching beers starring the Long Walk Grapefruit IPA. Much like how Black Star broke the mold with a co-op model, 4th Tap takes that a step further into the production-brewery realm. Although it's not unusual to find a fruit-forward IPA these days, 4th Tap breaks new ground with a seldom seen Gruit, a cousin of beer (no hops or barley!) that uses all native-Texas ingredients including rosemary, lemon peel, and sorghum. It's a divisive beer, but there's no better way to stand out in Texas's crowded beer scene than by tapping uncharted territory.
Justin, TX
Not every brewmaster needs to complete the Siebel Institute World Brewing Academy, but some proper schooling (along with nine years of home brewing) prepped founder Matt Morriss with the smarts to score serious accolades for beers like the Rapture Fusion Brown Ale (GABF 2015, Silver) and Mike Modano's 561 Kolsch (Beverage Tasting Institute Gold). The latter is named for an NHL record-holding goal scorer who held court in a small suburb of Justin called "Dallas." Dive deeper down the... Rabbit Hole with their seasonals, ranging from a fiery red IPA to a toffee-like Roggenbier called the RYEteous Knight.
Grapevine, TX
Ranked the 10th fastest growing craft brewery in the country in 2015, Grapevine is undoubtedly making moves. The expansion into a new space last June doubled their capacity to crank out award-winning brews like the GABF gold-winning Sir William's English Brown Ale. It was also crowned best beer in Dallas by D Magazine, but they aren't resting on their laurels -- be on the lookout for cans of their just-released Prickly Pear Wheat.
Houston, TX
Little known fact: the Astrodome is the Eighth Wonder of the World. Or at least it was called that when it opened in 1965, a bit of trivia that this Houston brewery has co-opted into their name, which has been garnering respect from H-town beer nerds ever since opening in 2013. Locals were already endeared to the team thanks to their successful food truck Eatsie Boys (now parked at the brewery), but their rep has grown thanks to brews like the Rocket Fuel, a Vietnamese coffee porter that uses local Greenway Coffee and pays homage to the city's large Vietnamese community.
Goliad, TX
Goliad's Presidio La Bahia black Hefe took home the Drinkers' Choice award at the 2014 Battle of Texas Beers, an accolade that speaks to the complex roasted flavors of the beer, as well as the brewery's fighting spirit (their motto is "I would rather cut off my right arm than live under tyranny"). The beer is best enjoyed at their beer garden in Goliad, TX (between San Antonio and Corpus) where they rock seasonals like a Watermelon Gose, a light fruity complement to a 1/2lb brisket burger from the Bear's Grub food truck that's a fixture outside the brewery.
Austin, TX
Taking the Most Scenic award, Oasis Brewing Company sits 470ft above Lake Travis. The view alone has kept the neighboring Tex Mex joint in business for over 30 years, and Oasis took that in mind when designing a line-up of low ABV brews sessionable from sundown to closing time. The core beers are an English-style Best Bitter, German Kellerbier, American Pale Ale, and a Session IPA, plus four always-rotating experimental taps like their Caribbean Breakfast Beer, a dunkelweizen brewed with plantains and coffee.
Keller, TX
It's not unusual for brewers to pay homage to Germany or Belgium these days, but the focus on Bavaria has overshadowed one of the world's most renown beer-loving countries: Ireland. Shannon Brewing Co. uses a rare fire-brewing method to heat the mash, a technique passed down from the founder's Irish great grandfather. Water pumped directly from a nearby stream supplies a pure base for all-natural, never filtered brews like the Irish red, All American blonde, and a dry-hopped IPA. Be on the lookout for their summer seasonal Bohemian lager on-tap at discerning beer bars across Texas.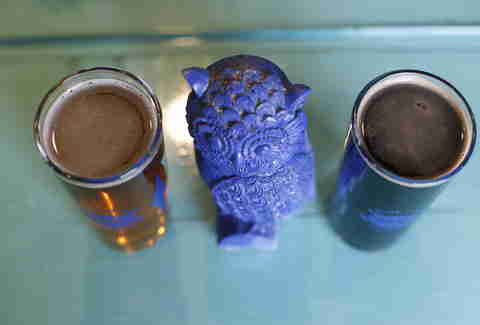 Austin, TX
Much like how the IPA bombed its hoppy head into the mouth of consumers in the past decade, recently sours have Kool Aid Man-ed their way into the most discerning craft beer bars. Helmed by one of the brewers behind Black Star, Blue Owl has leaned into the movement with a lineup of beers that add tang to traditional styles, ranging from their highly drinkable Spirit Animal to Professor Black, a massive sour cherry stout. Bonus points for a taproom in Austin's booming Cesar Chavez district, and for a proprietary sour scale that is one more step towards bringing the sour trend mainstream.
Dallas, TX
Opened on January 19th, 2013, Community barely made our cut-off, but a list of new Texas breweries wouldn't be complete without it. It came in second on our power rank of Dallas breweries for a forward thinking approach to special releases ranging from two barrel-aged versions of their stout to an oak-spiraled version of their popular Mosaic IPA. Don't hesitate when you see one of their seasonals on-tap, but the year-round offerings are also heralded: the Public Ale ESB took back-to-back GABF gold.
Austin, TX
Adelbert's bombers have earned tenured shelf space at the state's best bottle shops, so it should be no surprise that their offshoot Oddwood Ales makes this list. Started as a barrel-fermented side project, the experimental process captured the attention of brewer Taylor Ziebarth and led to an entirely new operation which will open its doors soon as the Oddwood Barrel House. Wild yeast and oak barrels drive the challenging woodsy flavors of their first two beers, a woodsy saison and a tart blonde ale called Taming the Savage Heart.
Sign up here for our daily Austin email and be the first to get all the food/drink/fun in town.