Even though Spring has been full of weird cold snaps, it won't be long before you're taking just about all of your drinks outside. Because Austinites LOVE their patios. They also love their neighborhoods. Thus, we decided to do the legwork (and liverwork) necessary to compile this guide to the best places to drink outside in some prominent Austin 'hoods.
Banger's Sausage House & Beer Garden (info and address)
Rainey Street Historic District
Banger's has collected numerous, well-deserved accolades. The house-made sausages and standout beer list make it a prime draw to begin with, but it also boasts the best patio in the area. While all the bars along Rainey Street are patio equipped, none have the potent combo of size and constant live entertainment to trump Banger's. It's also dog friendly, so you don't have to drink alone (note: please don't give your dog alcohol).
The Buzz Mill (info and address)
East Riverside / Oltorf
From the outside, the Buzz Mill looks like a cabin, and the inside isn't much different -- but head out back and take in the sun-soaked patio, a perfect backdrop for also taking in some of their infused tequilas (or a beer, if that's more your speed). Hang out long enough and you will be seduced by the perfume of smoked meats from the Blue Ox BBQ trailer.
Freddie's Place (info and address)
Bouldin Creek
Freddie's is the "Fredliest damn place in South Austin". They have damn fine burgers and fried stuff, friendly (err, fredly) bartenders, and a laid-back patio where it's easy to kill an entire afternoon and evening taking in live music and repeated margaritas. As the Summer draws closer, the prices of margaritas plummet, because once temps hit 100, margaritas are only a dollar. Pair them with some chips and queso and your day is set.
Draught House Pub & Brewery (info and address)
Rosedale
This small, British-looking pub in Rosedale pours some of the finest craft beers in Austin. Inside it's dark and mild, but they have a welcoming patio outside where you can enjoy the weather and a breath of fresh air after too many pints. On Saturdays they cook up free sausages and on Sundays Texan beers are only $3. On other nights, you can find popular local food trucks selling some great food that will coat your stomach to keep the night going.
Perla's Seafood & Oyster Bar (info and address)
South Congress District
Sadly, the food truck scene on South Congress is gone, but Perla's Seafood & Oyster Bar is standing strong among the boutiques and vintage stores. On the weekends, Perla's is packed, and people usually hang out for a while, sipping cocktails and watching the tourists along the strip. The prices skew slightly higher here, so sip slowly, and don't pass on the chance to try their New Orleans Style Shrimp.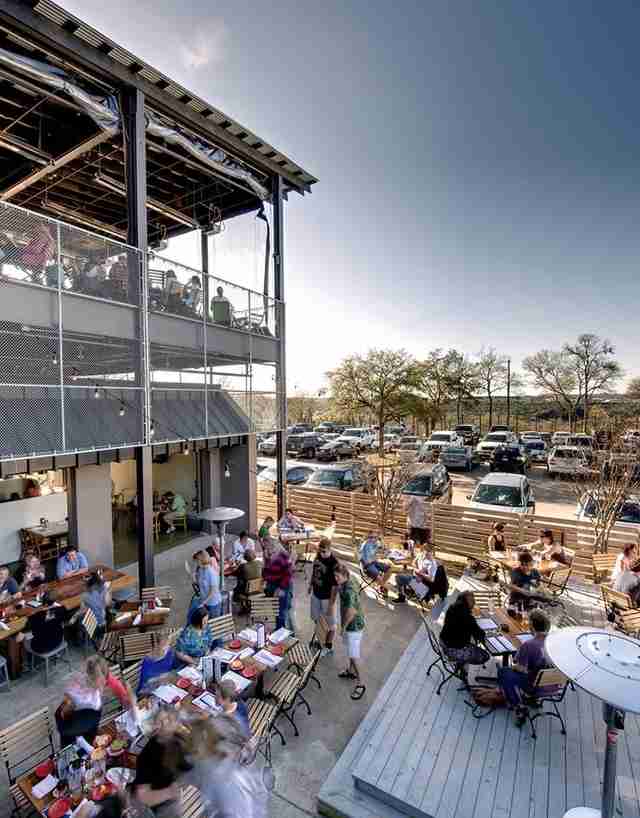 Red's Porch (info and address)
South Lamar District
Nowhere else can you get amazing views of the Greenbelt while enjoying a beer. With a solid menu (mmm, Boudin Balls) and ever-rotating beer taps, Red's Porch is ideal for happy hours and lazy afternoons. You can either soak in nature's beauty on the second story deck or try your hand playing Cornhole (calm down) across the lot.
The Silo on 7th (info and address)
Blackshear-Prospect Hill
This long-awaited newcomer, housed in a historic tortilla factory, is really making a name for itself thanks to an inviting, laid-back rooftop patio with a direct view of the Downtown skyline. Score  a burger and sip on some Slow and Low Rye Whiskey while enjoying the fact that you live in Austin.
Weather Up (info and address)
East Cesar Chavez
It is very easy to miss this place because, as you drive along East Cesar Chavez, it looks like a typical house in this neighborhood -- but this popular New York bar has opened a location in Austin and they are mixing up some fascinating cocktails. While the bar itself doesn't look like a beachcombers dive, the mixologist at Weather Up can definitely warm you up with their classic Tiki-inspired cocktails to enjoy on their cozy and unassuming back patio.