The Best Places to Watch the Super Bowl in Austin
Kick-off game day—the right way—at these fan-favorite football haunts.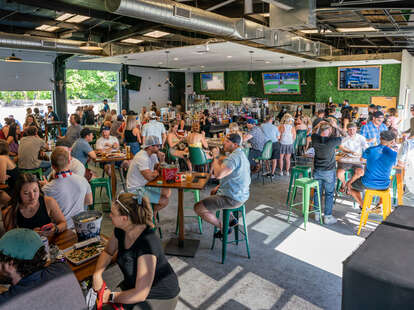 In Texas, football is thought of as more than just athletic entertainment—it's practically a religion.Every game day is treated with all the reverence of a ceremonial mass, except the sacrament is a can of Lone Star, the robes are blue and silver jerseys, and the prayers are directed toward Dak Prescott. But, even though the Cowboys didn't make it all the way, Super Bowl Sunday still will find Austinites huddling around big screens to honor the unofficial American holiday. And, whether you're watching for the running backs or Rihanna, our list of the city's best places to catch the Super Bowl will help you map out a play for scoring a night to remember. However, when it comes to tackling your hangover the next morning, you'll have to craft that game plan on your own.
When it comes to the components of a straight-up Texan sports bar, there is nothing that South Austin's Black Sheep Lodge lacks. Beers for days? Check. Oodles of TVs projecting scores from every corner? Check. Shuffleboard, pool tables, and dart boards? Triple check. That's not all though, should the Super Bowl gods be kind enough to bless our beer-loving hearts with good weather, you can even get in some sunshine along with your sports by watching the match-up on their patio's outdoor TVs. The food at Black Sheep Lodge is tailor-made for a tailgate as well. Work your way through specialty half-pound Angus chuck patties, ten flavors of chicken wings, and Chicago-style hot dogs.
Normally, finding an Austin watch site with enough room for the whole crew to really spread out or cheer on their team with full fanatic force, is as rare as a Hail Mary pass. However, South Lamar's Bouldin Acres gives you all that "let's go" legroom—with enough square footage for pickleball courts, to boot. And, at Bouldin Acres, Sunday ain't just for the boys (or girls) to enjoy. For human babies, the spot's playground provides a much-needed diversion, while fur babies can get in some athletics of their own at the fenced-in dog park. In fact, the only thing that could possibly distract you from the game at this place is the super-sized Super Bowl drink specials, including buckets of domestic and imported beers, mimosa kits, and margarita towers. You'll need those hearty drinks to wash down the equally hearty food specials it has on deck, such as bacon-wrapped jalapeños, cheeseburgers, and foot-long corndogs.
If your ideal Super Bowl Sunday is more high-end than hoot-and-holler, your first choice to watch the first downs should be The Driskill Bar. Located in the historic Austin hotel of the same name, this spot lets you forgo the usual bar stools and neon beer signs for plush leather couches and classy, Texas-themed decor—including a regal, taxidermied Longhorn bust that presides over the bar's antique fireplace. The place may be ritzy, but that doesn't mean you still can't get blitzy. Its game day drink special lets you cop an icy bucket of five domestic beers for a cool $20.
Football is at the center of the dining experience at this Central Austin restaurant and sports bar—and we don't just mean that metaphorically. The spot's ceiling is literally decked out with a huge replica of a laced-up pigskin, so you better believe they won't fumble up a celebration of the NFL championship. Need proof? Look no further than its abundant selections of chicken wings. The kitchen offers the option to craft your perfect protein with the choice between five styles of preparation and 22 varieties of sauce. For those looking to avoid messy fingers, there's also standard pub fare, such as burgers and nachos, to chow down on after tossing back a few of their heavy pours. And, with flat-screen TVs lining every wall, you can take in your bounty of brews and Buffalo wings without missing a moment of the action.
Already one of our favorite places to go grab a pint, this four-acre funfest is guaranteed to be popping off with Super Bowl content from every corner come Sunday. Catch all the action in two outrageous ways, either on the 16-foot onstage projector screen or on the 40-foot blowup screen on their soccer pitch, where you can also let any kids or fur kids in your crew run around off-stroller or -leash. Meanwhile's four resident food trucks are bringing it harder and faster than a running back when it comes to their menus. One of the best places for barbecue in the city, Distant Relatives, will be throwing down. Side Eye Pies will be pitching out flavorful pizzas, and Pueblo Viejo will be serving touchdown-worthy tacos. And, no matter who wins, you can end your Sunday on a sweet note with treats from Bésame.
Football fanatics are usually willing to go the extra mile for their team. So, for true fans, the 45-minute drive from Austin to Dreamland in Dripping Springs will be no sweat. Once there, they'll reap the rewards like they just were handed the Pete Rozelle MVP Trophy. Catch all the touchdowns on a huge screen set up on the outdoor amphitheater while sipping on Super Bowl-themed cocktails like the tequila- and blood orange-spiked Lombardi Special or the gin- and pineapple-fueled Primetime Juice. Perhaps, even more exciting than these game day-related highlights is the fact that Dreamland offers a plethora of additional activities for those that have been dragged along to the watch party. If you'd rather watch paint dry than spend a minute trying to understand what "first down" means, sneak off to Dreamland's miniature golf course or pickleball courts for the kind of athletics that are more your speed.
Both locations of Revelry will be engaging in, well, revelry. Football fans already know these go-to spots for catching Sunday games along with some Sunday brunch. So, for the big day, it's sure to be no different. Expect delicious dishes to dig into from kick-off to the final quarter, including a house-made jalapeño cheddar biscuit topped with crispy fried chicken, an egg, and hot honey. There are sure to be drink specials up the wazoo as well, so you'll have something to wash down all that good-time grub.
BD Riley's just smells like football (in a good way). This locally-owned Irish pub has primo TV-watching spots, a huge wooden bar, a great beer selection, and the kind of belly-up-to-the-bar easy feelin' that pairs well with Super Bowl fervor. If you're drinking (and let's be honest, you are), take down some KEEL Vodka-spiked Left Tackle Bloody Marys or a Defense is Screwdriver plus Irish coffee and draft beer specials.
South Austin isn't exactly known as a sports haven, so when Moontower Saloon opened Vincent's Pub, sports fans were extra pumped. Handcrafted cocktails, 30-plus taps, 21 TVs, and elevated pub fare have made this an all-star local hang. Dig into some hot and crunchy shrimp, a spicy kraut dog, or gumbo with a half po'boy to go with your tall frosty beverage. And during halftime, join the competition with a round of darts or Golden Tee.
You're never too far from a Lavaca Street Bar, thanks to its mega-expansion over the past couple of years. Whether you're up north, downtown, or south of town, you're looking at a ton of beers on draft, quick service, and a great onsite food options to go along with all those brews—specifically, sustainable Southern-style seafood Turf N' Surf at Downtown, fried chicken hot-spot FlyRite at The Domain, and classic comforts from Thunder Chief at South Lamar.
It's hard to beat watching a game at Haymaker. It has an open, airy aesthetic that's ideal for big groups, with picnic tables inside and out plus bar seating for the solo riders. There's also pool, darts, and TVs in every sightline. Add in some game day comfort food (poutine, anyone?) and an unreal 40 beers on-tap, and you've got yourself a "Super Brew" game of your own.
Mister Tramps has never pretended to be anything but sports-crazed. Memorabilia covers every wall, it's the bar of choice for at least 10 area teams, and at any given time, the TVs are regaling you with some game, somewhere. It stands to reason then, that this'll be a fantastic place to watch the game, drink for cheap, and hang out with fellow football homies. Considering all of this, it's almost guaranteed there'll be both food and drink specials for the big day.