Oh how time flies. It's been over 100 years since Prohibition thrust speakeasies under dimly lit light, facilitating covert alcohol-fueled rendezvous for thirsty scofflaws the country over. Today, speakeasies exist in the name of fun and romance, rather than necessity… at least in Texas, where boozy social gatherings are practically a statewide religion.
Looking to step back to a time of passwords, hard-to-find doors and dusky drinking dens? Praise be to Matthew McConaughey—these sleek and sexy speakeasy-inspired Austin bars are the answer to your sinful, sinful prayers.
East Austin
Recently reopened Small Victory certainly lives up to its name when you eventually track it down. Google Maps will lead you to a dingy parking garage, but fear not—from there you'll head up the stairs at the corner and through a door where a narrow corridor of comfy booths and sofas await, aglow beneath a sea of stained glass lamps and, um, parrots (you'll see). The ambrosial punches are especially popular, as are the tasty charcuterie and cheese boards that accompany them.
How to book: Reserve via Resy.
Downtown
Promising a nocturnal escape soaked in tropical spirits, the Lost Lei proudly boasts Austin's most extensive rum list (among other potent elixirs), all served in colorful tiki-inspired fashion with fresh fruits, fragrant spices, and funky mugs. Groups can share the massive Planters Punch, stocked with rum, orange liquor, pineapple, bitters, lime, and pomegranate—that's enough hydration for four to six people. Find this weekend-only escape by dipping down the stairs at the northeast corner of Capitole Grill.
How to book: Stop by for first come, first served seating.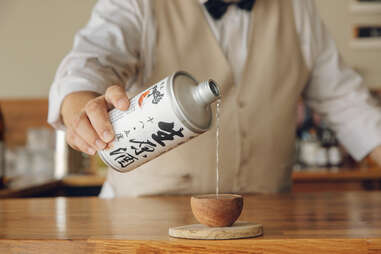 East Austin
If Japanese spirits are your poison, you'll definitely want to sneak into Austin's trendiest sushi bar, Sushi|Bar ATX. The omakase restaurant-meets-intimate watering hole is stashed within Bento Picnic behind an unmarked door. There are just 10 seats inside, positioned right up close to the chef's cutting boards and the mixologist's ample shelf. Venture through some of the finest and unusual sushi creations from chef Phillip Frankland Lee, and pair them with the best sake in town. Everything from the palate-cleansing welcome cocktail (ginger, lime, sake) to the rare and intense Kinmon Rose x3 Koshu, made from fermented red rice, will make you raise a glass with a triumphant "Kampai!"
How to book: Reserve via Tock and keep an eye on Instagram for last-minute cancelations.
Downtown
This semi-private cocktail den offers those who've ponied up the $500 yearly membership fee some pretty sweet perks, including priority reservations and private tastings. The speakeasy also welcomes non-members, though, as long as they've requested reservations using Here Nor There's very own app. Reservation-holders punch in a secret door code before following a staffer down into the subterranean space. Cocktails reflect a global discovery of flavors, including a standout Milk & Honey served in an antique teacup (a nod to one of Prohibition's more clever customs).
How to book: Reserve and apply for membership via the bar's app (Android, iPhone).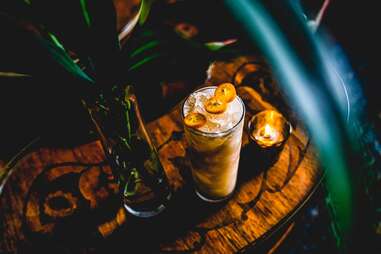 East Sixth
Enjoy a nightcap, go for a tarot reading, and catch an intimate live music performance inside this secret basement bar beneath Buenos Aires Café, a majorly date-worthy Argentinian eatery. The menu includes tapas and wine, but here the spotlight shines on amaros and fernet-focused cocktails, as these herbal concoctions are major players in Argentinian drinking culture. Opt for a flight if you fancy a journey of bitter delight. To get there, walk around the back of Buenos Aires Café and knock on the blue door, Emerald City-style.
How to book: Reserve via Dish Cult.

Manor Road
East Side mezcaleria Techo—from the owners of Mi Madre's—specializes in traditional means of consuming the smoky Mexican spirit. Sip on copitas of single-village mezcal or opt for a cocktail like the always banging mezcal margarita. Patrons can choose from a very private, candlelit niche or head out on the patio, still the only one on Manor Road. To find it, head up the staircase accessible from Schoolhouse Pub's patio, step into Techo (Spanish for "roof") and be transported to a place where the mezcal runs like water.
How to book: Stop by for first come, first served seating.

Downtown
Red Headed Stepchild, Austin's bro-friendly secret bar, is essentially HandleBar with a superiority complex—in a good way. Whereas other speakeasy-inspired bars focus on technique and hospitality, the 'Child thrives on exclusivity. Access requires knowledge of the ever-changing numeric password, so get to know some locals as sneaking in blind is nearly impossible. Beyond the keypad and "Floppy Disk Repair" sign lies a shoebox-sized bar with whimsical touches everywhere: giant swings, a neon sign that reads "mmm... your hair smells pretty," and boozy creations that beg for a smirk.
How to book: Stop by for first come, first served seating.
Downtown
You might not expect to discover fine hand-crafted cocktails from some of Austin's top bar talent at a spot advertising modeling and massage, but at Midnight Cowboy—if you follow the proper process—you can get just that, hidden in plain sight in the heart of Dirty Sixth. Look for the "Midnight Cowboy Modeling" sign, ring the buzzer marked "Harry Craddock," and slip into the unassuming door at 313 E. 6th Street. Once inside, kick back with one of the team's seasonal specials or supernatural punch bowls.
How to book: Reserve via Dish Cult.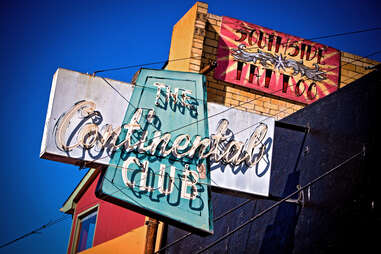 South Congress
While the Continental Club (AKA the granddaddy of live music venues) requires no introduction—nor directions, given the spot's iconic neon sign—the Gallery is a tad less of a visual landmark. The Continental's upstairs companion bar offers music, art, and mixed drinks in a far cozier environment than its larger sibling. Visit the website for the live performance line-up—it's as close to a private living room concert it comes.
How to book: Stop by for first come, first served seating.
Downtown
Housed in a former fire station, this stylish hostel takes a Harry Potter-ish turn with Firehouse, a secret bar accessible through a sliding bookshelf in the lobby. Inside, you'll find a warm, inviting atmosphere, bespoke cocktails (tell the bartender your preferred spirit and let them do the rest), live performances, and—because it's still a hostel—probably a little late night debauchery.
How to book: Stop by for first come, first served seating.
Downtown
Typically, the only drinks we consume in parking structures are those of the paper-bagged variety, but Garage flips this notion on its head by slinging crowd-pleasers like the rosemary-infused Indian Paintbrush (vodka, grapefruit, lime, rosemary) and a stellar white mezcal negroni packed with Del Maguey Vida mezcal, Suze, Strega, Cocchi Americano, and grapefruit bitters. To get there, head into the parking garage on the northeast corner of Fifth and Colorado, where the word "cocktails" adorns the wall and a neon sign marks the bar's entrance.
How to book: Reserve via Resy.
East Austin
Fashioned after an old-world Oaxacan mezcal bar, Mezcalería Tobalá is the secret watering hole above party palace Whisler's. The second-floor retreat is more relaxed, with stone walls, a handful of stools, and a thick slab of a bar. In terms of drinks, it's all mezcal, all the time—if you're looking for a low-key evening on the East Side (and want to indulge specifically in this unique, smoky spirit) consider Mezcalería Tobalá the ideal destination. Just ascend the staircase on Whisler's patio on Fridays and Saturdays from 7 pm to 2 am.
How to book: Stop by for first come, first served seating.
Downtown
If the W didn't have an aura of upscale exclusivity before, the Secret Bar (also known as the "Red Room") seals the deal. Open from 6 pm until late every Thursday through Saturday, the lounge sports its own bar along with a vintage McIntosh sound system that looks just as gorgeous as it sounds. Enter through the Records Room in the W's Living Room Bar and get ready to rock.
How to book: Stop by for first come, first served seating.