Exclusivity, the thrill of the chase, $16 cocktails… these are the things that keep us clamoring for access to Austin's best speakeasy-inspired cocktail bars. These secluded, hard-to-find, and secret(ish) spots are among the best bars in Austin, if you can figure out how to get in. We've got all the hot tips here to guarantee entry to these dark, often diminutive drink dens that range from "easy peasy, here it is" to hidden-in-plain-sight prohibition-style facades. Find the speakeasy that's perfect for you, track down the entryway, and remember: The password is almost never "6969."
Downtown
This semi-private cocktail den offers members (who have ponied up the $500 yearly membership fee) some pretty sweet perks, including priority reservations and private tastings. The speakeasy also welcomes non-members, though; simply request reservations using Here Nor There's app. On the day of your res, you'll enter the private door code and be led into the subterranean den by the very welcoming staff. Here Nor There's new menu drops in mid-February, but until then try a guest favorite, the Milk & Honey, served in an antique teacup.
How to get in: Download the app for Android or iPhone to request a reservation and/or to apply for membership.
Congress Ave.
A throwback to the Prohibition Era, The Whisper Room is located in The InterContinental Stephen F. Austin hotel, which opened in 1924, is a throwback to the Prohibition Era. The 10-seat, reservation-only bar is found within the hotel's existing restaurant behind a red velvet curtain. The 1920s-themed bar serves a menu developed by acclaimed barman Justin Elliott (formerly of The Townsend and Juniper) and consists of modern takes on tried-and-true classics like the Old Fashioned and Sazerac, made tableside on a 1930s Aldo Tura bar cart.
How to get in: Reservations can be made by calling the hotel at 512-721-4230, or via email. The lounge is open Monday to Friday from 3pm to midnight, Saturday from noon to 2am, and Sunday from noon to 11pm.
East Sixth
You can enjoy a nightcap, tarot readings, and an intimate live music performance in this secret basement bar beneath Buenos Aires Café, a majorly date-worthy Argentinian eatery. The menu includes tapas and wine, but the spotlight is on amaro and fernet-focused cocktails, as these herbal spirits are major players in Argentinian drinking culture.
How to get in: Walk around the back of Buenos Aires Café and knock on the blue door, Emerald City-style. Reservations are recommended to guarantee entry.
Manor Road
East Side mezcaleria Techo -- from the owners of Mi Madre's -- specializes in traditional consumption of the smoky spirit. Sip on copitas of single village mezcal in the very private, candlelit niche or opt for a cocktail like the always popular mezcal margarita.
How to get in: Find the staircase accessible from the patio of Schoolhouse Pub. Enter Techo (Spanish for "roof") and be transported to a place where the mezcal runs like water.
Downtown
Red Headed Stepchild, Austin's bro-friendly secret bar, is essentially HandleBar with a superiority complex -- in a good way. Whereas other speakeasy-inspired bars focus on bar technique and hospitality, the 'Child thrives on exclusivity. Access requires knowledge of the ever-changing numeric code, and you won't be allowed to shuffle in behind another group without knowing it. Beyond the keypad and "Floppy Disk Repair" sign lies a shoebox-sized bar with whimsical touches everywhere: giant swings, a neon sign that reads "mmm... your hair smells pretty," and cocktails that don't want to be taken too seriously.
How to get in: The (red-headed) owner of this bar wants it to be a legit word-of-mouth system. Ask a bartender...check Reddit...once you're in, add your number to their list and you'll be notified via text when the password changes.
Downtown
You wouldn't expect a fine cocktail to come from a spot that was (until recently) advertising modeling and oriental massage, but at Midnight Cowboy -- if you follow the proper process -- you can get some of Austin's best cocktails made by Austin's top bar talent, hidden in plain sight in the heart of Dirty Sixth. Midnight Cowboy's new menu will drop in March but until then enjoy The Field Guide to Evil, a conceptual menu based on stories steeped in world folklore with a corresponding good and evil cocktail. 
How to get in: Head to the speakeasy's website to make a reservation. If the red light bulb outside is illuminated, walk-ins are welcome. Then ring the buzzer marked "Harry Craddock" for entry, and get ready to enjoy a damn-good drink.
South Congress
While the Continental Club requires no introduction (or directions, given the iconic neon sign), the Gallery is a little less of a landmark. The Continental's upstairs companion bar offers music, art, and mixed drinks in a far cozier environment than that of the main institution, and is easily accessible if you know where you're going.
How to get in: Head a couple doors north of the main entrance, and up the stairs.
Downtown
The classic hostel takes a Harry Potter-ish turn at Firehouse, where a secret bar is accessible only through a sliding bookshelf in the hostel lobby. Inside, you'll find well-crafted cocktails, live performances, and -- because it's still a hostel -- probably a little debauchery, all in a warm, inviting atmosphere. (No word on the butterbeer, though.)
How to get in: Head to the bookshelf in the hostel's reception area, and slide it open.
Downtown
Typically, the only drinks being consumed in parking structures are those of the paper-bagged variety, but Garage turns the tables and slings crowd-pleasers like the rosemary-infused Indian Paintbrush, the 2015 Official Drink of Austin, or the White Mezcal Negroni from the "GTO" menu -- Del Maguey Vida mezcal, Suze, Strega, Cocchi Americano, and grapefruit bitters.
How to get in: Head into the parking garage on the northeast corner of Fifth and Colorado, where the word "cocktails" marks the parking garage and a neon sign marks the bar's entrance.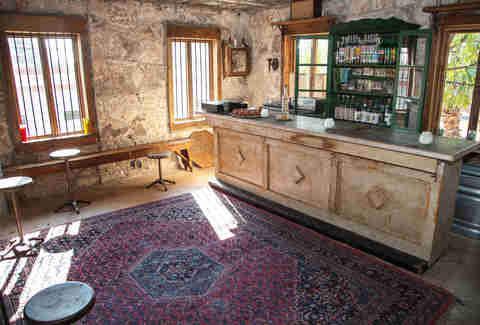 East Austin
While this watering hole isn't exactly heavily concealed, if you were to never venture up the stairs to the area above Whisler's, you'd never know it existed. The second-floor spot is cozy and quiet, with stone walls, a few stools, and a thick slab of a bar; in terms of drinks, it's all mezcal, all the time. Basically, if you're looking for a low-key evening on the East Side (and want to indulge specifically in this unique, smoky spirit) consider Mezcalería Tobalá the perfect spot to do your sipping.
How to get in: Just head up the staircase found on Whisler's patio, Fridays and Saturdays from 7pm to 2am.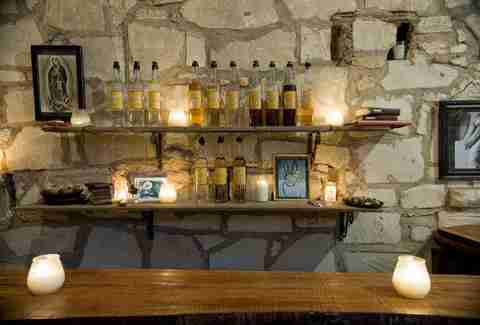 Rainey Street
Consider Bar Ilegal a bar within a bar, easy to spot when you head outside at Clive Bar but invisible from the street. Located right in the backyard, the tiny candlelit stone cottage is yet another watering hole from Austin's Bridget Dunlap, the brains behind establishments like Lustre Pearl and Container Bar. Bar Ilegal specializes in artisanal mezcals, mezcal-based cocktails, and serves as an excellent respite from rowdier Rainey Street bars.
How to get in: Head to Clive Bar's back patio, and you're there. Bar Ilegal is only open on Thursday through Saturday from 8pm to 2am.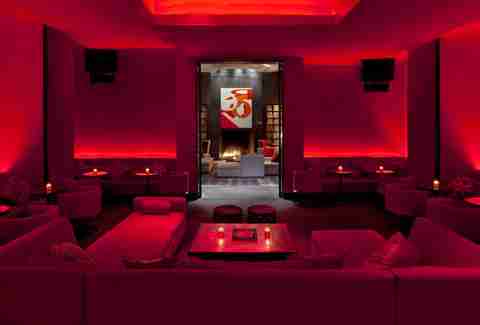 Downtown
If the W didn't have an aura of upscale exclusivity before, the Secret Bar seals the deal. Open from 4:30pm until late every day, the lounge has its own bar, along with a vintage McIntosh sound system that's gorgeous both to look at and listen to.
How to get in: Enter through the Records Room in the W's Living Room Bar, and congratulate yourself. You've officially gone down the rabbit hole.
Sign up here for our daily Austin email and be the first to get all the food/drink/fun in town.