Given that anyone who's had more than a couple of drinks is usually fantastically bad at keeping a secret, it's a miracle that hidden bars exist at all. Yet Austin has several secluded spots -- among them some of the finest cocktail bars in the city -- where you can abscond to meet up with your new flame or entirely avoid your old flame. Find the speakeasy that's right for you, track down the entryway and remember the password is almost never "password."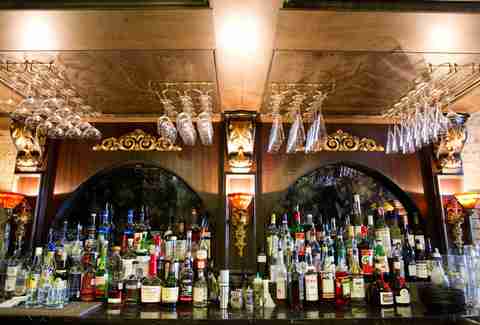 Downtown
You wouldn't expect a fine cocktail to come from a spot that was (until recently) advertising modeling and oriental massage, but at Midnight Cowboy -- if you follow the proper process -- you can get one poured and enjoy it in a lush, slick atmosphere, hidden in plain sight in the middle of Sixth St.
How to get in: Head to the speakeasy's website to make a reservation, or check the sign to see if it's illuminated, indicating walk-ins are welcome. Then ring the buzzer marked "Harry Craddock" for entry, and get ready to enjoy a damn good drink.
South Congress
While the Continental Club requires no introduction (or directions, given the iconic neon sign) the Gallery is a little less of a landmark. The Continental's upstairs companion bar offers music, art, and mixed drinks in a far cozier environment than that of the main institution, and is easily accessible if you know where you're going.
How to get in: Head a couple of doors north of the main entrance, and up the stairs.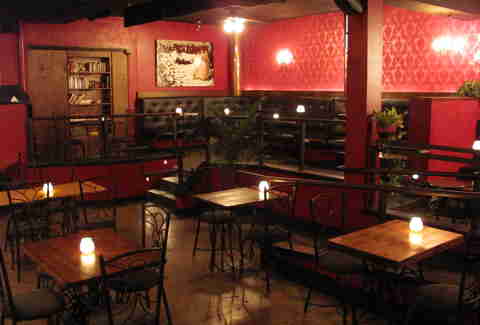 Downtown
The classic hostel takes a Harry Potter-ish turn at Firehouse, where a secret bar is accessible only through a sliding bookshelf in the hostel lobby. Inside, you'll find well-crafted cocktails, live performances, and -- because it is still a hostel -- probably a little debauchery, all in a warm, inviting atmosphere. (No word on the butterbeer, though.)
How to get in: Head to the bookshelf below the hostel, and slide it across.
Downtown
Typically, the only drinks being consumed in parking buildings are those of the paper-bagged variety, but Garage turns the tables and slings elaborate concoctions like the Indian Paintbrush, which was crowned the Official Drink of Austin 2015.
How to get in: Head into the parking garage on the northeast corner of Fifth and Colorado, where the word "Cocktails" quite fittingly marks the spot.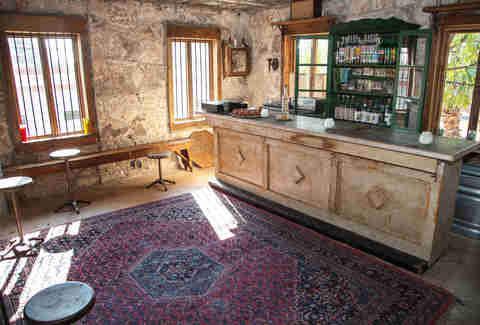 East Austin
While this watering hole isn't exactly heavily concealed, if you were to never venture up the stairs to the area above Whisler's, you'd never know it existed. The second-floor spot is cozy and quiet, with stone walls, a few stools, and a thick slab of bar. In terms of drinks, it's all mezcal, all the time. Basically, if you're looking for a low-key evening on the East Side (and want to indulge specifically in this unique, smoky spirit) consider Mezcalería Tobalá the perfect spot to do your sipping.
How to get in: Just head up the staircase in Whisler's!
Downtown
A wine bar Downtown, Red Room describes itself as a "hidden sanctuary" for vino lovers, and it's located in an appropriately discreet manner. In terms of location, we're told the lounge may or may not be located at 306 A East 3rd St, right behind Vince Young Steakhouse.
How to get in: Keep an eye out for a door marked with a small crimson light bulb hanging under the awning. (If it's illuminated, it's open.) While it might sound counterintuitive, that red light is your green light for a good time.
Rainey St
Consider Bar Ilegal a bar within a bar, easy to spot when you head outside at Clive but invisible from the street. Located right in the backyard, the tiny candlelit stone cottage -- yet another drinkery by Austin's Bridget Dunlap, the brains behind establishments like Lustre Pearl, Bar 96, and more -- specializes in artisanal mezcals and mezcal-based cocktails, and serves as an excellent respite from other rowdier Rainey St bars.
How to get in: Head to the backyard at Clive.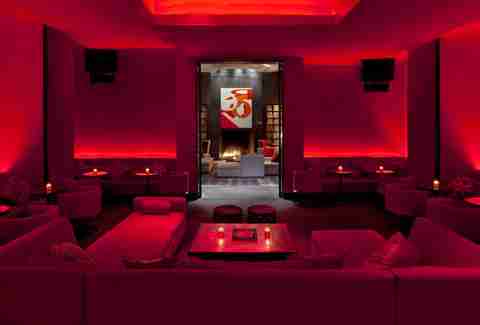 Downtown
If the W didn't have an aura of upscale exclusivity before, the Secret Bar seals the deal. Open from 4:30pm until late every day, the lounge has its own bar, along with a vintage McIntosh sound system, gorgeous both to look at and listen to.
How to get in: Enter through the Records Room in the W's Living Room Bar, and congratulate yourself. You've officially gone down the rabbit hole.
Sign up here for our daily Austin email and be the first to get all the food/drink/fun in town.