Austin's Best Sports Bars for Game Day
Football season has arrived: a time when every week brings a nail-biting matchup of brawn and strategy, when you'll likely eat an alarming amount of stadium-style food, and your mood hinges on who won the game. If any of this brings you joy, you're probably the kind of person who prefers to watch the game among your peers -- but going to the actual game can be both pricey and labor intensive (The parking! The heat! The humanity!). Sitting in a nice air-conditioned sports bar with a beverage and some buddies, however, is a much more feasible middle ground, and Austin's got a roster of quality sports bars for you to choose from. Here are the best of the best.
East Sixth Street
New/old sports bar in a historic building with a dog-friendly patio
Named after the first mayor of Austin (and formerly known as Waller Ballroom), Edwin's is a sports bar that feels like it's been here forever... and that's partly because it has, housed in a building that's been downtown since the '30s. The exposed brick and original architecture remain intact, but now play host to 12 new TVs (plus one on the patio) and the capacity for three separate sound zones. Find an emphasis on the local here, from their draft beer to the liquor used in craft cocktails, along with elevated pub fare and everyone's must-have game beverage: frosé.
Deals: Daily specials, and happy hour from Monday - Friday, 3-7pm
Home teams: Georgia, Clemson, Patriots
South Austin, Dripping Springs
Expansive sports bars with daily specials and brunch offerings
This place is all sports, all the time. They've made sports-viewing an artform, with flat screens on every viewing surface; it's a safe bet you'll be able to catch any game you want here. Folks rave (rightly) about the wings here, and you can score a killer eggs Benedict on Sundays. With $5 wine on Wednesday, $4 Texas vodkas on Fridays, and $12 buckets Saturday and Sunday, you can hardly go wrong.
Deals: Daily specials
Home teams: N/A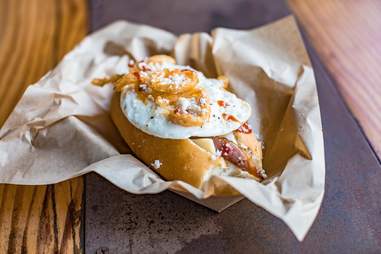 Breakfast Dog

| 8 Track
Manor Road
Funky spot on Manor with creative fusion food and bar games
Parking is a huge concern in Austin, and 8 Track has plenty of it -- in addition to being a truly excellent sports bar. You'll find plentiful TVs, a dog-friendly outdoor patio, and a delectable menu that goes beyond basic bar burgers; consider the Korean hot chicken sandwich, or their weekly hot dog special, like the smoked Cheddar foot long with wild boar chili. For in-person games during your on-TV games, they also have table tennis, air hockey, and pop-a-shots.
Deals: $1 off liquor Monday through Friday, from 3-7pm; $4 BM, $2 Mimosas for Saturday and Sunday brunch
Home teams: Florida Gators
Congress Avenue
Not-so-secret upstairs saloon with 32 taps, views, and legendary pepperoni rolls
You're drawn to it: that single Shiner's Saloon sign dangling over Congress. But have you been up to this dark awesome cavern of sports? Sure, they've got live music and other things going on, but this shotgun-style bar with 12 televisions (plus a big screen) is a fantastic spot to watch your team. The menu is standard bar food with a little twist: Most things are made in house, like their homemade pepperoni rolls that are a delight any time of day (but especially great after a big win).
Deals: Happy hour Saturday until 7pm, all day on Sunday
Home teams: Virginia Tech, LSU, Steelers, Chargers, UT
Burnet, West Sixth, South Park, Tech Ridge, Parmer Lane
Neighborhood joint with cold beer on draft and sports special events
Though Little Woodrow's has a number of locations in Austin, they all somehow maintain that local bar/neighborhood appeal. You'll find all kinds here -- neighborhood buddies, families, and errant tourists -- drawn in by the sound of a game and the lure of a large beer, and while Woody's isn't football-specific (you can find sports on the televisions all year round), it's absolutely a hub for any major game.
Deals: Daily drink specials
Home teams: Seahawks, UW Huskies (West Sixth), St. Louis Cardinals (Tech Ridge)
Downtown, Mueller
An Irish bar with an affinity for sports and good beer
Yes, they serve fish and chips; yes, they serve Guinness; and yes, you can catch your favorite team at either of their locations. BD Riley's has been able to straddle two genres and do it remarkably well. The good times Irish vibes spill over into their game watches in a way that feels like everyone's a friend. The food is good, the pours are heavy, and they have multiple HDTVs.
Deals: $5 Magners, $4 Harp, Guinness Blonde, Lite, and Shiner during games; half-price apps and drink specials from 4-7pm, Monday - Friday
Home teams: Notre Dame, New England Patriots
Lamar Boulevard
Recently revamped classic Austin spot sporting a new menu
Earlier this year, we were all aghast to learn that the Tavern could be closing; good thing the team behind Esther's Follies snatched it up. This Austin sports icon received a little bit of a relaunch with a deep clean, new menu items (charred seafood burger!), and craft cocktails (the Emily Shadow!) while maintaining the things we know and love: multiple TVs, the White Wings, and the familiar funky feel of that "air-conditioned" Tavern.
Deals: Specials change each day
Home teams: Chiefs, Arsenal, Falcons
Lavaca, Lamar, Rock Rose
Rowdy sports bar chainlet with draft taps and southern seafood
The proliferation of Lavaca Street Bar locations should tell you how popular this sports bar is. Each one feels a little different, but they all have sports on the TV and fantastic drink specials every day for happy hour. Their integration of Turf N Surf's sustainably sourced and deliciously done up po-boys, snacks, and fried baskets means you won't go hungry while the game is on.
Deals: Daily specials vary by location
Home teams: Varies by location
Manor Road
Comfortable indoor-outdoor bar with craft drafts, cocktails, and an extensive menu
This open, warehouse-style spot on Manor Road is your go-to if you're in a group, with lots of seating both at the bar and at the large, picnic-style tables inside and out. The TVs in every sightline mean you and friends can sit comfortably together and catch everyone's team simultaneously. They've also got pool and darts and, if you're lucky, adult sno-cones.
Deals: Daily, all-day specials, plus $3 pints/$12 pitchers of Independence Brewing Co. Native Texan during football season
Home teams: Detroit Lions, Chelsea, USMNT and USWNT
North Austin
Tucked-away sports bar with cocktail pitchers and a projection room
During the World Cup, this was the place to go -- and they put all those TVs to work during football and basketball seasons as well. Almost every inch of this bar is covered in sports memorabilia, flags, and team colors, so you know they're dedicated. Their craft beer selection is wide, and with the new ownership, we expect there'll be some changes in menu selections and specials on the way.
Deals: Daily specials
Home teams: Philadelphia Eagles, USC
South Lamar
Craft beer and big burgers plus a pooch-friendly patio
Black Sheep has always totally nailed big sporting events and thusly has become a year-round sports destination -- the ton of TVs, excellent drink specials, big patio, and all-around super-friendly vibe don't hurt. Come here with your pup, sit down at a community table, and make a buddy over a shared love of the game (or shared love of mini-corn dogs).
Deals: Daily specials every day of the week
Home teams: N/A
Barton Springs Road
Busy barbecue spot serving specialty brews, craft liquor, and smoked meats
Uncle Billy's kind of does it all; they have bangin' barbecue, they brew their own beer, they've released a line of spirits, and (of course) they've got sports on the tube -- oh, and soon they'll be crafting cocktails in cans. Yes, you read the right; they'll be available for sale at the brewery after October 2. Enjoy some 'cue and cocktails (or brews) and the bustle of Barton Springs on a beautiful weekend.
Deals: Monday - Friday, from 3-7pm, you'll get $3 Billy's Drafts, $8 Margarita Shakers, $3.50 wells and domestic drafts
Home teams: N/A
Lakeway, Avery Ranch, Dripping Springs
Cool bar and eatery with a flair for sports and an upscale menu
This is the sports bar for everyone: You can belly up to a brew and a burger, or have tableside service with a craft cocktail and some fancier food. The space itself has the feel of a contemporary restaurant and bar, and their menu runs the gamut from domestic bottles to microbrews, fried pickles to pecan-crusted trout. They've wisely chosen locations where there isn't a ton of sports bar competition, so you're likely to run into a neighbor or two.
Deals: Monday - Friday from 3-7pm, you'll get half-price apps, $2 off big beers, $2 off wine by the glass, and $1 off liquor
Home teams: N/A
Sunset Valley, 38th Street
Retro family-friendly Austin sports bars with big outdoor spaces
When Doc's on South Congress closed, it was the saddest day for all of us. The good news is that we have two other locations to indulge in big beers and big screens when the mood strikes. It's pretty no-frills: just nice bartenders, a kitchen that's open late night, and the option to bring your dog on the patio. You can also score breakfast all day -- don't skip those cheese tots.
Deals: Monday - Friday from 3-7pm, you'll get $6 appetizers, $1 off drafts, $4 off pitchers, $1 off wells, $1 off Frozen Hybrids and daily specials
Home teams: N/A
West Sixth Street
Well-designed bar with plenty of outdoor space and bar games
This spot isn't your average sports bar -- owing to its original life as an upscale restaurant, it's a surprisingly classy place to watch sports. They've managed to avoid the stuffiness you might expect, though, with casual, comfortable furniture in intimate groupings, plenty of cold beer, and an astroturfed, shaded patio with string lights. There's no food menu to speak of, but the Hot Mess food truck is on-site, where you can get everything from wings to brussels sprouts, jalapeno poppers to fish tacos.
Deals: $2 off drafts, specialty cocktails, and wine from 4-7pm
Home teams: Nittany Lions, 49ers
Burnet Road
Huge sports bar with lots of seating plus poker and board games
What once was the area's most infamous country bar is now one of the most frequented sports bars in north Austin. With a lively atmosphere, multiple rooms, and an on-site dodgeball court (really) this is truly a sports fan's paradise; it's also dog- and family-friendly with bean bags, Pac-Man, Skee-Ball, giant beer pong, and cornhole. Oh, and you can also get 10 pounds of nachos in a tin can.
Deals:Daily specials Monday - Friday from 3-7pm, and $4 liquor specials all day, every day
Home teams: Pittsburgh Steelers
Sign up here for our daily Austin email and be the first to get all the food/drink/fun in town.
Kelly Stocker wasn't born in Austin, but she got here as fast as she could. If you want to follow her adventures around town, find her on Twitter and Instagram.