Austin It's that time of year again, when large populations of men and women will sit at tables covered with crumpled, hot wing-stained napkins, pints of beer, and baskets of fried pickles. Maybe you want to see Tim Duncan get one more. Maybe you don't. Maybe you will post memes that make fun of a certain champion's hairline during commercials *cough* LeBron *cough*. And, maybe you're just there for the poutine. Whatever your viewing style, there's a place for you. What is your go-to spot? Let us know in the comments.
Recommended Video
This City Has Got the Ultimate Bloody Mary Bar Crawl
Haymaker (info and address)
Cherrywood
Haymaker has drink specials every night of the week, lots of TVs, and servers who aren't hard on the eyes. Try the Haymaker, an open-faced sandwich loaded with roast beef, fries, Gruyere sauce, slaw, tomatoes, and a fried egg. A friend refers to this sandwich as, "breakfast in my face!" Enjoy.

Continue Reading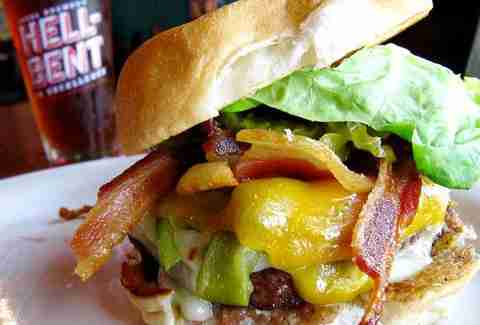 The Tavern (info and address)
Downtown
This German-style sports bar has more than 50 high-def TVs, an upstairs patio with a view of Lamar, and a strong rotating beer menu. The Tavern's burgers are legendary, as are their "Amazing White Wings" -- chicken wrapped with bacon, jalapeños & tossed in wing sauce.  
Draft Pick (info and address)
East Riverside
This East Riverside sports bar has got "the biggest HD screen in the state" (Jerry Jones might quibble with that) along with loads more still-plenty-big TVs. Combine that with 32 Texas beers on tap and their famous Burnt Orange Wings that are seasoned with a dry rub, and you've got a winner.
Red's Porch (info and address)
South Lamar
This South Lamar hangout is huge and famous for their plethora of daily drink and food specials ($2 Lone Star pints at happy hour!). Enjoy the breeze on their patio and hey, even your dog is welcome.


Cover 3 (info and address)
North Central
This is the best spot to take your less-than-enthusiastic-about-sports lady friend on a game night. Cover 3 has handcrafted cocktails, a menu that doesn't include jalapeño poppers, AND a perfect view of the game. Everyone wins.