Austin, as well as Texas in general, is often labeled as more of a beer-drinking paradise. The amount of breweries that lie within the city limits alone only further confirms this assumption. Yet, it would be wrong to think that the large abundance of bubbly brews doesn't leave room on the table for great bottles of wine, too. After all, the state ranks fourth in the nation for the number of gallons consumed per year and Texas Wine Country is less than a two-hour drive away from Austin. Even so, there's no reason to leave town to find good wine. Our world-class city already has a nationally recognized all-day cafe with an acclaimed wine list curated by master sommelier June Rodil at her namesake June's—and in the past several years since it opened, Bat City's wine scene has grown even stronger and broader. Whether you're looking to bring some red-Merlot romance to date night, taste through natural wine by the glass, or want a post-brunch spot to continue the champagne spiral, here are the best Austin wine bars to swirl a stem glass.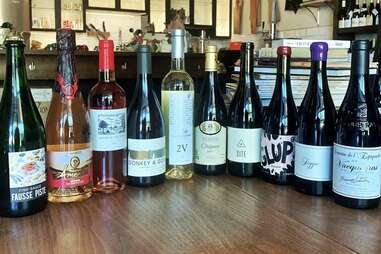 Holly
Located in a bottom floor unit of an actual East Austin apartment building, your first trip to APT 115 may have you questioning if Google Maps led you to the right place. But, after eating and drinking at this wine bar and restaurant, it is certain to remain on your radar forevermore. The cozy, intimate atmosphere echoes its name, giving off the feeling of being at a dinner party hosted in the home of a close friend. And, when it comes to wine, it would be wrong to categorize its unbelievable variety of options with the term "list," considering it is, instead, a book—one which boasts a hefty 46-pages, and is filled with over 400 labels. With the recent addition of Chef Charles Zhuo to the kitchen, the food at APT 115 is a must as well. This is especially true when considering the excellent sauces that are used in many of the dishes, all of which enhance the bright taste brought by the fresh, local ingredients.
How to book: You can make a reservation online via Resy.
Holly
Any Austin burger aficionado is guaranteed to be more than a little familiar with East Austin restaurant and butcher shop, Salt & Time. Its patties, along with the rest of their carnivorous offerings, are so fresh and flavorful they are bound to make a vegan reconsider their life choices. And, while beer may be the traditional go-to beverage for the beef-and-bun classic, the spot's next-door offshoot, Salt & Time Wine, will give you a strong cause for a more grape-based pairing. Their selection specializes in low intervention wine—which you may know more along the moniker of "natural wine." But don't get any twisted, Moira Rose-connotations about these organic bottles. The options they have stocked prove Salt & Time has the same fine eye for grapes as they do for proteins.
How to book: Stop by for first come, first served seating.
East 6th
It is easy to hear the words "wine bar" and conjure up the image of an elitist, old-school hangout that discriminates against anyone who doesn't drink with their pinky up. Should that off-putting perception live in your mind, there is no greater antidote than a visit to East Austin's LoLo. Every element in this wine bar and shop, from their menu of natural wines and laid-back patio, to the regular sets of perfect background music from local DJs, feels approachable and devoid of pretension. And, although it is located on the rowdy nightlife mecca that is East 6th, its easy, chill atmosphere makes it an ideal oasis to relax and recharge before the onset of a wild Friday night—or just coolly watch the antics from distance.
How to book: Stop by for first come, first served seating.
Chestnut
The line that snakes around East Austin restaurant and wine bar, Birdie's, from the moment they unlock their doors at 4:30 pm is, perhaps, the best testament to the high quality of food and beverage offered within. Even before being named one of the most exciting places to dine by the New York Times last year, everyone in Austin was clocking out early in hopes of snagging a coveted table and a plate of their peppery and delicately cheesy panisse. However, as any Nonna will tell you, it is almost sacrilegious to dig into any plate of Italian-inspired cuisine without the accompaniment of wine. Understanding this, Birdie's provides options in spades by both the bottle and the glass. Not to mention, they will happily bring your choice pour to sip as you queue in their ever-present line—providing a buzz that certainly softens the wait.
How to book: Stop by for first come, first served seating.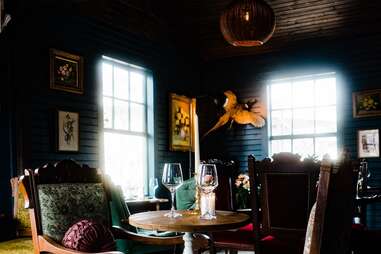 Chestnut
Located right across the street from the much-hyped Birdie's, it is probably easy to imagine Cork & Screw playing the Jan to their neighboring hotspot's Marcia. That perception, however, would be seriously uninformed—this wine shop and bar is a magical hang all on its own. Its pretty and spacious backyard patio makes it a versatile place for any kind of get-together, from a happy hour vent session with your favorite co-worker, to a Sunday Funday with the whole crew plus their significant others. And, for those looking to broaden their understanding of wine in ways far past a college familiarity with Sunset Blush, Cork & Screw also offers a unique sampling experience in their private tasting room.
How to book: Stop by for first come, first served seating. For tasting room sessions, reserve advance online.
South Congress
The motto of The Meteor is "Espresso | Champagne | Chain Lube," a statement so central to this spot's ideology that it is literally their website's URL. That said, you can unquestionably find all of those three things in this combination cafe, wine bar, and bike shop located in South Austin. Their additional devotions to caffeine and cycling, however, should not give the impression that their passion for wine is regulated to an afterthought. Case in point—their Worthy Wine Club allows subscribers to taste-test and learn about a new variety of natural wines every month. And, for those who would rather just dip their feet one-at-a-time into a new pinot noir or palomino, The Meteor's mellow outdoor patio is the perfect place to pop a bottle.
How to book: Stop by for first come, first served seating.
Zilker
While many a HomeGoods item may tell you, "Home is where the wine is," House Wine could truly be considered the un-cheesy realization of this phrase. Their cozy patio feels like hanging at a favorite relative's home—that is, if said relative had a wildly diverse collection of delicious wines available to drink. Try one of their themed flights, like "Fun & Funky Whites" or "Summer Reds," to expose yourself to new flavors you would never have known to order on your own. Add to your tab one of their honey smoked salmon boards, with gouda and rosemary crackers, for the ultimate classy accompaniment to whatever they're pouring.
How to book: You can make a reservation online via Tock.
South Lamar
When your Napa-frequenting, amateur sommelier boss rolls into town, the pressure to pick a place that lives up to their palate's high standards can feel daunting (especially if your typical drink order leans more toward a shot and a Lone Star). Luckily, there's a simple solution to this sort of dining-related stress—making a reservation at Aviary. Located in South Austin, there is no doubt that this gem of a place has the kind of wine by the glass selection that is sure to please even the most critical snob. Should you instead be the type whose bottle knowledge is limited to the sale section at H.E.B, you can rely on the expertise of Aviary's friendly and well-versed staff to help you select a glassful of sheer delight.
How to book: You can make a reservation online via OpenTable.