Now setting the Austin record for quickest-cooking pizza that isn't of the frozen bagel bite variety, Bufalina is a long-awaited 'za house bringing pies galore to Cesar Chavez via a custom-made, Naples-imported oven capable of reaching up to 1,000 degrees.
Recommended Video
Meet the Man Who Brought Fried Pizza to New York City
The dough's made using a special imported Italian flour that's left to rise overnight before being topped with hand-pulled mozz that utilizes dairy from local creamery Mill-King, whose name isn't the only thing that's cheesy.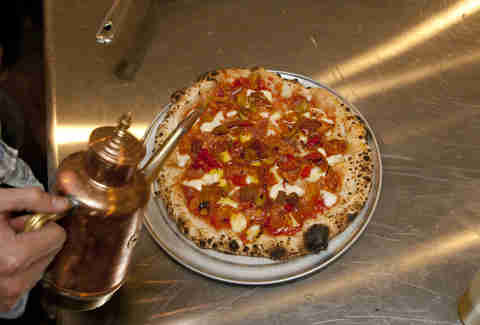 Somone better call the Calabrese a cab, because it's loaded (!) with tomato, salami, roasted peppers, and mozzarella, then -- once it's out of the post-oak burning oven -- it's doused with a touch of olive oil.
The veggies come from local farms ranging from Springdale to Boggy and they've even tapped miracle curers Salt & Time for the sausage. Here, the Fresca is loaded with prosciutto piccante, arugula, black cherry tomato, mozz, and Parm.
On the liquid front, they're rocking 13 wines by the glass, six local taps ranging from Real Ale to Austin Beerworks, and only one canned beer: Lone Star, which sadly probably won't get you cooked in 60 seconds.
Previous Venue
Next Venue
Venue Description
1. Bufalina
1519 E Cesar Chavez St, Austin, TX 78702
All it takes is 90 seconds for one of Bufalina's delicate Neapolitan pizzas to bake in the 900-degree wood-burning oven. The East Cesar Chavez restaurant knows how to deliver delicate and charred 12-inch pies; some come in classic margherita and marinara varieties, while others, like the chorizo and potato variety, are truly experimental. No matter, Bufalina will satiate any and all thin crust cravings.