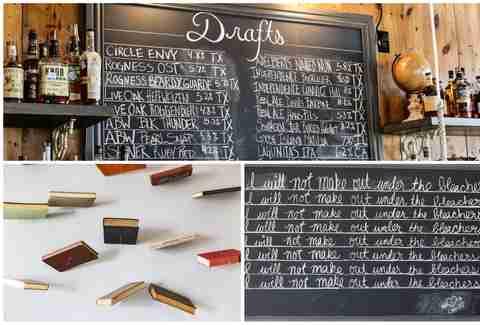 Run by a smiling son of the Mi Madre's clan who formerly helmed Zandunga, School House Pub is an education-themed dealer of educationally-challenging liquids that boasts cool decor decisions (hanging books, functioning school bell, punishment blackboard) and a tap list starring TX favorites (Austin Beerworks, Rogness, Adelbert's) and a few out-of-towners like Southern Star, Firestone Walker, and Duck, Duck, Goose Island.
The eats include pub grub given creative twists, like the Pig Pen burger (pork patty studded with bacon and ham, melted Prov, arugula, over-easy egg) and the chorizo-topped fried deviled eggs.
The cocktail list features nine drinks ranging from the hearty Physics (Forty Creek bourbon, walnut bitters, draft stout, maple syrup) to their both sweet (honey) and sour (Paula's Texas Lemon) gin tipple: the Detention, which, unlike the punishment, they are more than happy to serve.
Just a hop, skip, and a mustache ride down the road is Haymaker: a sports bar with an everyman vibe from the folks behind South Austin's Black Sheep Lodge.
They're boasting the street's only bar games (darts, shuffleboard, pool), a decor that harkens back to America's nostalgic drinking past, and 40 taps with rarities like Deschutes Chain Breaker and Sixpoint Bengal Tiger, which even Tony would agree is grrrreat!
The food focuses on regional comfort cuisine, with standouts like poutine (w/ Wisconsin cheese curds and white or brown gravy), beer-battered Cristo sandwiches (from pimento cheese to peanut butter/marshmallow Fluffernutty), and the oven-roasted turkey + applewood-smoked ham + sliced apple + Tillamook cheddar Oregoner, which is maybe the one reason why not to hate Portland.
Cocktails include the Plowman's Lunch -- a house Bloody Mary mix garnished with cheese, a banana pepper, and a Slim Jim -- and other cocktails that, ugh, aren't garnished with a Slim Jim.