Whether it's a cup of coffee, a beer, or Detlef Schrempf's barber, tons of things can produce a pretty awesome buzz. Combining two of them (plus a mean pastrami sandwich!): the two brothers (and their coffee-roaster bro-from-another-mo) behind Wright Bros. Brew & Brew.
Recommended Video
The Mexican-Style Grasshopper Tacos You Have to Try When You're in South Beach
The old Progress Coffee space has... progressed from its previous kinda-claustrophobic vibe and opened up significantly, thanks to folding garage doors, a long wooden bar-top, and upgraded furnishings emblazoned with their ampersand logo, which'll soon be punctuating your posterior.
Thirty-nine taps (including three nitros and one cask engine) make them a formidable contender for biggest beer selection on the Eastside, with a starting tap lineup featuring stand-outs like Hops & Grain's Greenhouse Baltic Porter, Rodenbach Grand Cru (one line will always be dedicated to sours), and Austin Beerworks' Wet Hopped Heavy Machinery, any of which, after consuming, you probably shouldn't operate.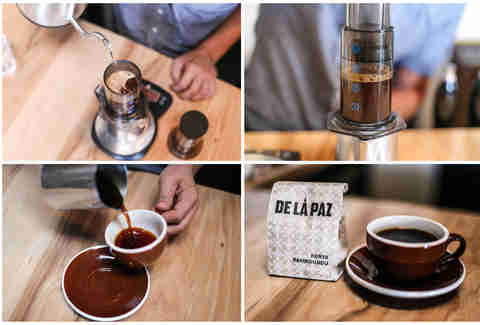 One of the B&B's preferred brew methods is the AeroPress pour-over, which creates a smooth, tea-like consistency and allows them to serve higher-end beans like SF's De La Paz at a price point more friendly to the average Joe.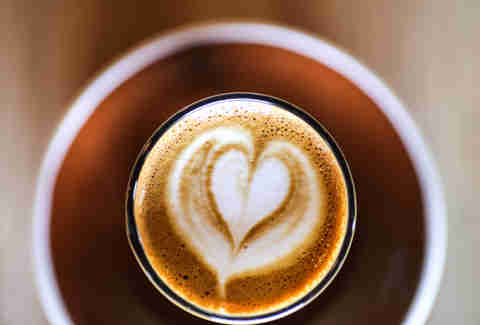 Local roasters Flattrack (who are also posted up in the Farewell Books complex) run the coffee program, and, in addition to their own, they're also sourcing top-notch beans from the likes of Portland's Heart.
Their sandwich selection is also on point, with everything from a Niman Ranch pastrami to a Hops & Grain Alt-eration-braised brisket, which gives it a slight buzz and a taste that's out of this world.
Previous Venue
Next Venue
Venue Description
1. Wright Bros. Brew & Brew
500 San Marcos St , Austin, TX 78702
Both kinds of buzzes are on the menu at this beer bar and coffee shop hybrid in East Austin. Wright Bros. Brew & Brew features a constantly rotating selection of trendy roasters from around the country while their beer menu tends to take a more local approach. The industrial space houses some of the most knowledgable baristas in town, and don't forget to take advantage of the Aeropress, which is hard to find in the city. Although they don't have a kitchen, Wright Bros. Brew & Brew sources popular menu items from popular Austin eateries.