Work From 'Home' at Austin's Best Coffee Shops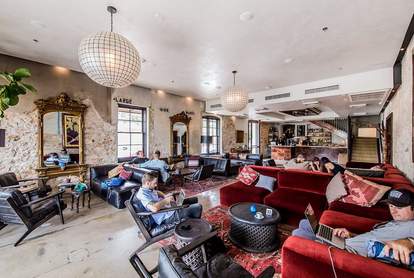 Courtesy of Creature Coffee Co.
Between all the startups, cram sessions, and side hustles, Austinites clamor for low-key spots to get some work done outside the office/house/library -- and unless you're equipped with a mobile hotspot, there are few places better for it than a coffee shop. In addition to having plentiful seating, power outlets, and Wi-Fi that won't slow you down, Austin's best coffee shops provide us with the all-important caffeine drip, thoughtful food menus, and even the occasional boozier option if it's been that kind of week. Whether you want to sip espresso and sink into a plush couch, impress in a high-design shop you can feel good about, or moonlight with a cocktail and a bite, Austin's best homes-away-from-home have got you covered.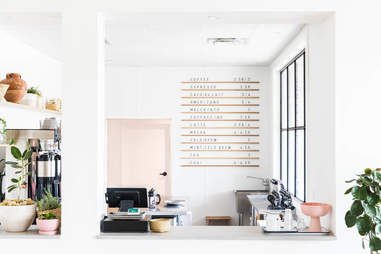 Wynn Myers
Best for an Instagram-perfect escape: Hank's
Windsor Park
Anyone in need of a solid source of caffeine AND a perfectly styled, sun-lit atmosphere will love Hank's. The all-day diner is the epitome of Insta-cool style: light wood banquettes, shiny cement floors, and white walls that get warmed up by wicker, potted plants, and splashes of peach and green. Hank's uses Texas Coffee Traders' locally roasted blend in their brews which, in addition to the usual suspects, also includes refreshing mint cold brew and nut milk lattes.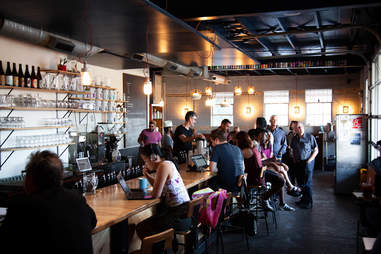 Courtesy of Wright Bros. Brew & Brew
West 5th
The Brew & Brew is an ideal after-work spot to do... well, more work. The coffee shop/beer bar has plenty of seating, an open air space, a solid selection of food, coffee, and beer, and it's open until midnight every night of the week. Patrons can count on caffeinated classics made with a rotating selection of coffee from great roasters including Flat Track and Heart Roasters, and a list of 39 craft beers on tap from all over. Hungry? Grab a Rosen's bagel, a taco from Pueblo Viejo, or pastries from Better Half next door. Speaking of which...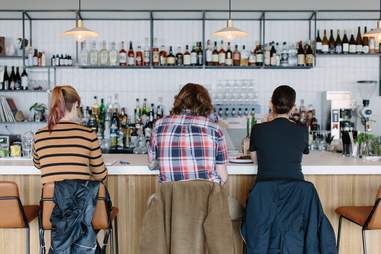 Courtesy of Better Half Coffee & Cocktails
West 5th
Better Half is a rare bird in Austin. The stylish all-day restaurant does everything well, with great food, great coffee, great cocktails, and a killer selection of beer and wine -- AND there's ample parking. AM hours call for espresso, cold brew, and tasty out-there drinks like a cinnamon and cardamom latte. Folks who do their best work after standard working hours will appreciate the cafe's boozy offerings, too: there's natural wine sold by the glass and bottle, alongside creative cocktails like the Head West (tequila and mezcal spiked with tamarind and rimmed in chili-salt), local beer, and boilermakers. (Hello, a Coors tallboy, shot of bourbon, and a pickleback for 6 bucks!) Better Half is open late Tuesday through Sunday and offers daily reverse happy hour specials from 9 to 11pm.
Best for the occasional dog distraction: Radio Coffee & Beer
South Austin
Radio Coffee & Beer is a great place to camp out and get work done with a cup of liquid motivation at one of the shady outdoor tables, but the ever-present parade of patio pups means you'll have no shortage of furry distractions should you need a break. Not only that, it's a legit South Austin food and drink destination. In addition to coffee classics from great small-batch roasters, there's also a cocktail menu perfect for when happy hour hits, and with two of Austin's best food trucks onsite -- Veracruz All Natural and DEE DEE -- you'll ride out the clock to 4pm without breaking a sweat.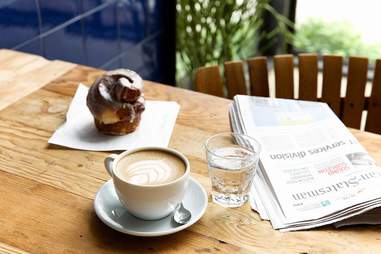 Courtesy of Manana
Best for aesthetic offsite meetings: Manana 
South Congress
This cafe inside the stylish South Congress Hotel is a bright, welcoming space dominated by colorful Mexican tile and the hypnotic smell of fresh pastries (both sweet and savory) prepared by the hotel's executive pastry chef. While it can get crowded at peak times, the benefit of setting up at Mañana is that your meeting can easily migrate to the modern courtyard or cozy lobby bar of the South Congress Hotel for additional seating. Try an iced Japanese flash brew with one of the bakeshop's famous kouign amann, a sweet, flaky, and buttery French pastry.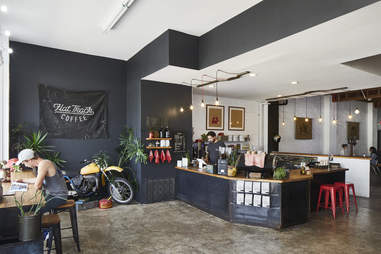 Andrea Calo
East Cesar Chavez
Flat Track's owners are obsessed with all things vintage and wheeled, so it makes sense that they share their industrial modern space with bike shop, Cycleast. Grab a shot of espresso or pour-over coffee made with Flat Track's house-roasted beans -- like Dogspeed, a fruit-forward blend -- while you browse the bike shop. Or sit on the adjoining patio while you sip on house special La Chingona (horchata and Mexican mocha with a shot of espresso) and have one of Flat Track's breakfast or lunch offerings while you mull over that email you've been putting off all week.
East 5th
Greater Goods' East Austin flagship location is gorgeous, a former automotive shop stripped bare and re-clad in matte black and translucent panels. The space features indoor and outdoor seating, as well as a particularly cozy reading nook with a view of the in-house industrial roaster responsible for the beans sold and brewed here. As if all of this wasn't good enough, Greater Goods' business model is based on giving back to local nonprofits including Boys & Girls Club of Austin and Austin Pets Alive!.
Courtesy of Creature Coffee Co.
Best for being almost as comfy as working from bed: Creature Coffee
Downtown
Native Hostel is THE weekend late-night spot for beautiful people, but don't let that fool you: The hostel's resident coffee shop and luxe lounge decked out in plush velvet and buttery leather couches make it a cozy spot to get some work done. Creature Coffee's pour-over bar uses beans from award-winning farms roasted locally, so you can appreciate the complex flavors of varieties like the Reko (Ethiopian with notes of jasmine, lemon, and peach) or sip on a foamy flat white or stroopwafel latte.
Courtesy of Figure 8 Coffee Purveyors
East Austin
While there are plenty of design-forward coffee shops in Austin, Figure 8 manages to strike a balance between aesthetic and authenticity. Open since 2014, Figure 8 was one of the first coffee shops to cater to discerning Eastside residents serving coffee brewed with beans from lauded small-batch roasters, a shiny La Marzocco Linea espresso machine serving as the shop's focal point. Sure, there are plenty of focused AirPod-wearing patrons, but it's clear that many are regulars and that co-owners Kathleen Carmichael and Ryan Hall know them by name. What's more, exciting expansion plans are in the works to bring Figure 8's beans and brews to Hyde Park. 
Best for coffee bean connoisseurs: Fleet Coffee
Webberville Rd
This tiny, angular coffee shop in East Austin has the best multi-roster beans selection in town, hands down, pulling from a variety of roasters all over the country. While there are some stand-bys (like Madcap and Sweet Bloom) you can expect to find wonderful oddballs from roasters using innovative techniques with unique beans. Small-batch roasters develop relationships with farmers from around the world, giving them access to beans you'd never see roasted in huge commercial roasteries. Insanely complex and interesting flavors are the result of this painstaking, niche category of the coffee industry. See what we're talking about by ordering a Kalita pour over from the friendly, knowledgeable crew. We'd also recommend The Ritual, a churro-infused cortado served with a Mexican wedding cookie.
Courtesy of Carpenter Hotel
Best for selective snackers: Hot L Coffee
East Austin
This walk-up counter at the ultra-chic Carpenter Hotel has a menu of drinkable eye-candy like coffee drinks with Merit coffee, matcha, golden milk, and beneficial add-ins like CBD honey. Even better, the hotel's executive chef (Grae Nonas, formerly of Olamaie) has put together a knockout selection of Texas-influenced treats like kolaches, tacos, and biscuits, as well as some not-so-Texas picks like pizza and donuts. Grab a pastry and a drink, then settle in at one of the crumpled leather sofas or outdoor tables and ponder whether Hot L is a pun on Hotel (it is) before settling into your work.
Courtesy of Matt McMonagle
Best for nerding out on brewing equipment: LeverCraft
East Austin
Tucked behind real estate firm/event space Open House, LeverCraft is part coffee shop, part coffee museum; owner Eric Mann collects and restores vintage lever espresso machines from Italy and Spain, even offering some for sale in his silver Spartan trailer. He melds the love of old and new with a high-tech Decent Espresso machine that's digitally profiled to provide fine control over details like temperature, time, and pressure of the shots, resulting in fast and ultra-consistent, single-origin espresso shots. Get there early to ensure you've got a seat, and try to use Mann's dedication to coffee-craft as inspiration for your own work.
Sign up here for our daily Austin email and be the first to get all the food/drink/fun in town.