Places like 6th Street can be windows to your soul. Thankfully, though, not everyone's soul is a one-dollar you-call-it. Despite its reputation as a chugging zone for the underaged and overly promiscuous, the flagpole banners read "Historic 6th" for a reason. Between the high-volume bars whose names are an adjective + an animal, there lies a wealth of secretly classy establishments, which by the end of this crawl, you'll feel way out of place in
Stop #1: Easy Tiger709 E 6th St; 512.614.4972 Stake out parking under the highway or aim for a sleeper spot on Sabine St, then prowl over to Easy Tiger for a high-ABV half-pint of South Austin Golden Ale paired with beer cheese and a warm pretzel.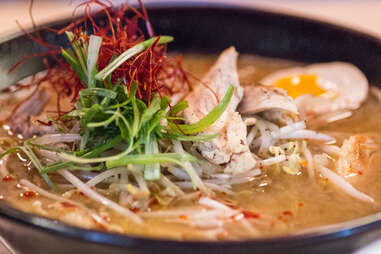 Stop #2: Daruma Ramen
612B E 6th St; 512.369.3897
Look both ways (for lurking bicycle cops!) then sneak across the street to smoke a bowl... of Daruma's ramen noodles topped with shio tori chashu pork and a marinated soft-boiled egg.

Stop #3: Chez Nous
510 Neches St; 512.473.2413
Move at a snail's pace a block West and step into Austin's most old-school Francophile destination for what's possibly the best escargot in the city.
Stop #4: The Jackalope
404 E 6th St; 512.469.5801
Dirty diversion alert! Velvet nude paintings on the walls! Grungy bartenders! Punk rock patrons! Waffle fry nachos! Super-cheap taps! All of these make the The Jack worthy of a spot on the crawl of dirtiest 6th spots, but the bar's inherent charm earns it an honorable mention.

Stop #5: Chicago House
607 Trinity St; 512.358.6202
Envisioned by the architect of one of 6th's dirtiest places to have good clean fun (Bikinis!), Chicago House's original 1887 exposed-brick interior keeps it classy, and their beer selection is the best on the block.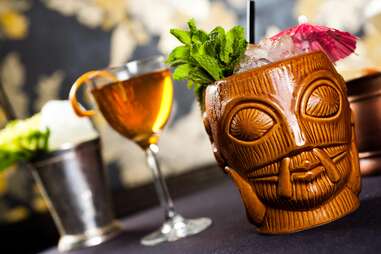 Stop #6: Midnight Cowboy
313 E 6th St; 512.843.2715
Formerly operated as a brothel, Midnight Cowboy's been reinvented as the hippest cocktail destination in town with no tolerance for smoking, cell phones, or public displays of affection. The two-drink minimum might make this your last stop on the crawl...

Stop #7: parkside
301 E 6th St; 512.474.9898
... but fear not, satiation awaits! Pull up a seat at the bar at parkside, where, despite their disregard for the capitalization of proper nouns, they sling some of the tastiest oysters around.
Stop #8: The Driskill Hotel Bar
604 Brazos St; 512.439.1234
The ultimate in classic Austin, The Driskill was built in 1886 and has been helping dorky dudes impress girls ever since. It was originally built by a cattle baron to show just how awesome he was, and he succeeded! From the gigantic marble columns in the lobby, to the terrifyingly large busts of longhorns, to the luxe carpeting and ornate tin ceiling, the ambiance is unparalleled. And, most importantly after such a long and arduous night: you've earned a seat on one of their oversized leather couches.