Helmed by a married couple, Craft Pride's a Rainey St establishment that either sells a) super awesome macaroni angels (!!!), or b) beer from 52 all-TX taps as well as to-go cases of bottles and bombers, all curated by an OG Black Star brewer. Super-rare beer spouts -- like a Thirsty Planet/Franklin Barbecue smoked porter collab and an IPA from Magnolia's newest upstart, Lone Pint -- are served in imperial glasses (to ensure enough space for a foamy head) or in small-pour flights, which, if you frequently fly Delta, you're plenty familiar with (airline burn!). A designer dubbed the "Wood Wizard" has given the place a reclaimed look by using 90% longleaf and curly pine from the original house. Look up and you'll notice a map of TX starred with the locations of all the breweries, a reminder that if TX ever did secede, it'd still have plenty of domestics. These lamps and the bartop were made from a two-ton felled tree branch that you can bet your ass made a ton of noise when it fell in the forest. The back patio has ample seating and satiation provided by the Bacon truck, a food trailer that should make any craftsman proud.
Recommended Video
Stay Classy This Winter With a Spiced Pear Tom Collins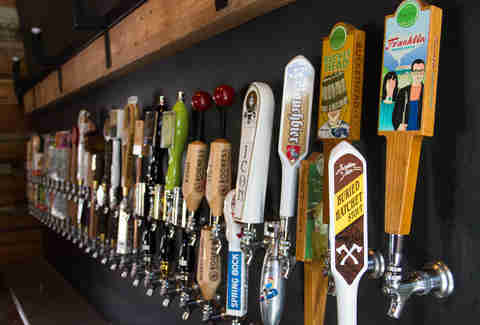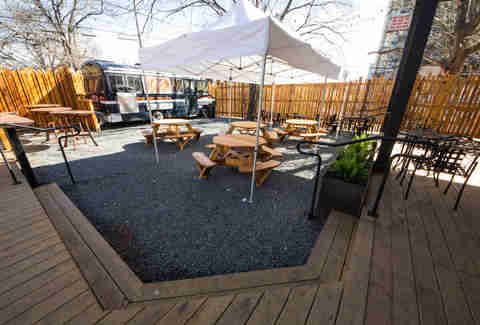 Previous Venue
Next Venue
Venue Description
1. Craft Pride
61 Rainey St, Austin, TX 78701
Craft Pride on Rainey St is a beer bar with 52 drafts on tap, all from the Lone Star state. Featuring options like Hay Merchant in Houston, Craft & Growler in Dallas, and Bangers, brewed right there in Craft Pride's backyard, Craft Pride's certainly Texas proud. They offer to-go cases of bottles and bombers, all curated by an OG Black Star brewer.