Austin's cocktail scene has reached an all-time high. There are so many new bars and restaurants creating interesting, innovative cocktails that feel new, yet pay tribute to their historical roots. So, pull up a stool, scan the menu, and order something out of your comfort zone because these spots have got seasoned professionals behind the stick.
South Lamar
Backbeat, with an interior clad in a blend of modern and retro, is living up to its promise and then some. The progressive cocktail program, like the atmosphere, consists of modern cocktails that offer a nod to the past like the Leisure Suit (dry gin, Galliano, Kina d'Or aperitif, absinthe, and orange bitters), an aromatic take on the Prohibition-era drink "Tuxedo No. 2."
Congress Ave
Justin Elliott, who created the bar menu at Townsend, is one of the best bartenders in the country. His palate for interesting and underutilized spirits makes their drink program one that is very exciting to dive into. Try La Linea, a glowing blend of Linie Aquavit, mezcal, lemon, and yellow Chartreuse, perfect for sipping in the darkly luxe confines of The Townsend.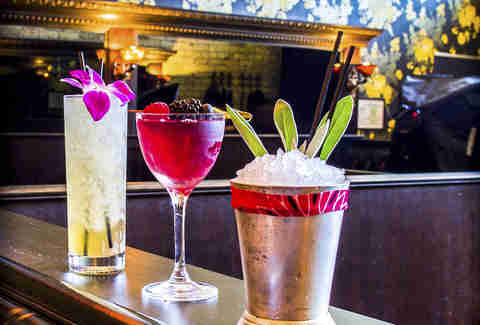 Rainey Street
Geraldine's -- on the fourth floor of the Hotel Van Zandt, named after iconic music Townes Van Zandt -- is a living, breathing homage to Austin's unique culture. So it isn't a surprise that the cocktails, developed by Jen Keyser, would also be. We love the playful bandana-wrapped Willie's Cup (High West whiskey, hemp milk, sage), created in honor of the legendary Willie Nelson.
East 12th
King Bee (run by friendly owners Billy and Colette) is a wonderful, dark, cool haven during brutal summer days. Even better, as soon as you step up to order you'll notice two frozen drink machines spinning and whirring; one is their house favorite, the flower-adorned Frozen Bees Knees (gin, lemon, honey) and the other is a seasonal frozen cocktail that's always worth trying. These are in addition to the rotating classic cocktail menu King Bee expertly executes.
West Fifth
Co-owned by two of Austin's top bartenders -- Justin Lavenue and Dennis Gobis -- The Roosevelt Room is a cocktail bar which is both overwhelming in it's drink choices but also accessible to cocktail enthusiasts of any experience. Choose from the big chalkboard menu which is broken down by era in which the cocktail originated or from the signature drink menu which are creative concoctions designed by the dream team co-owners. We suggest the smoky and fragrant Cigar Box (mezcal, smoked black tea syrup, lavender bitters, tobacco bitters, flamed cinnamon stick).
East Sixth
Whisler's has quickly become an East Side hub for happy hour and late-night shenanigans. The cocktail menu changes regularly and includes intriguing drinks like the herbal cocktail, Bossa Nova (gin, genepy, coconut milk, lemongrass, lime, chile oil) as well as go-to classics like their perfectly balanced Whisler's Old Fashioned (rye, demerara syrup, angostura bitters). If you're feeling especially adventurous, check out mezcal bar, Mezcalería Tobalá upstairs from the main bar.
Downtown
Most people walk right past the discreet entrance to Garage with no no clue as to what treasures await inside. Tucked inside the parking garage on Colorado and marked by a turquoise neon sign, the dark, industrial cocktail bar Garage is rocking one of the most exciting drink menus in Austin. Want something citrus-y and herbal? Have the Indian Paintbrush (vodka, grapefruit, lime, rosemary). Feeling bold? Go for the Forked Tongue (sotol, jalapeño, lime, green Chartreuse, saline).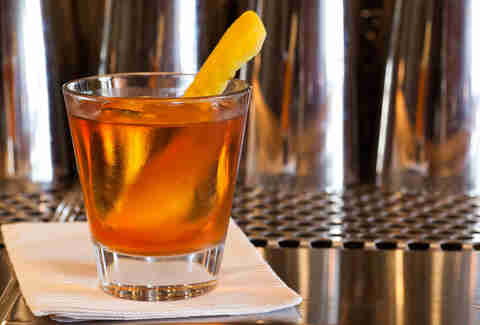 Rainey Street
Half Step is located in the heart of Rainey Street but possesses a distinctly different personality from its neighbors. The inside of the little blue house is dark, and lined in tea-stained wall paper. The skilled bar team measure and build and take their time with each flawless cocktail. Half Step's moody atmosphere demands a moody beverage, so we suggest the NOLA-born Sazerac (rye whiskey, sugar, Peychaud's bitters, absinthe rinse).
Downtown
Although the bar is called Small Victory, being able to find it for the first time can feel like a big victory. Once you make your way upstairs and inside the tiny bar, you'll find a fantastic cocktail menu chock full of cocktails originating as early as 1827 (as well as a room full of other "victors"). Get cozy in the plush banquette and get yourself a Singapore Sling (gin, pineapple juice, lime juice, Cherry Heering, Bénédictine, triple sec, grenadine, bitters, soda).
Downtown
Behind the false bookcase in the lobby of the Firehouse Hostel, lies a speakeasy which is less "shhhh," and more Hall & Oates-singalong thanks to the chill bar staff who are having a lot fun while making badass cocktails. Join the gang for happy hour (5-8pm daily) for a $6 daiquiri (rum, lime, sugar), Gold Rush (bourbon, lemon, honey), and a bunch of others.
East Cesar Chavez
The amber glow inside the bar and the garden patio make Weather Up a no-brainer for a date. Although the original location is in NYC, this one has a distinctly laid-back Austin vibe. Don't bother looking for a sign, there isn't one -- but there are expertly crafted drinks like the cola-laced Embargo seven-year-aged rum, Coca-Cola reduction, lime, Angostura bitters), and the summer-y Prince Roger (bourbon, grapefruit, raspberry thyme).
Sixth St
If you plan on visiting Midnight Cowboy, make reservations via the web site a few days in advance to guarantee your table in the unmarked speakeasy. Reservations are for two hours and there's a two drink minimum per guest (which is good because these drinks are BOOZY). With so many great cocktails to choose from, you can't really go wrong her but we are really into the Blackstrap Pawnshop (blackstrap rum, Curaçao, Amaro Montenegro pineapple, lime, club soda) and Nome de Guerre (rye whiskey, walnut liqueur, velvet falernum, Laphroaig rinse, salt tincture, bitters), which is prepared table-side.
Sign up here for our daily Austin email and be the first to get all the food/drink/fun in town.