No matter what the season, you're going to kick your night off with a happy hour, because you live in Austin and patio season doesn't stop for Winter, so what's NOT to be happy about? To help you out, we've identified the six best places to boozily start your evening, whether you're looking for 50-plus Texas brews or some competitive foosball.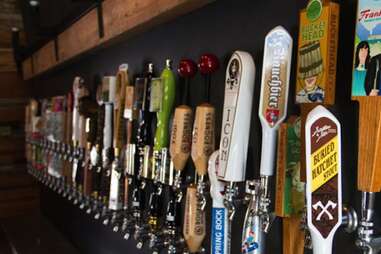 Craft Pride
Downtown
If you love Texas and you really love beer, Craft Pride is your jam. This Rainey St favorite takes local pride to a whole new level with more than 50 taps of locally brewed beers in a casual, reclaimed wood-clad house whose ceiling has an also-wooden map of Texas starred with all the breweries' locations, in case you should find yourself lying on the floor face up for any reason.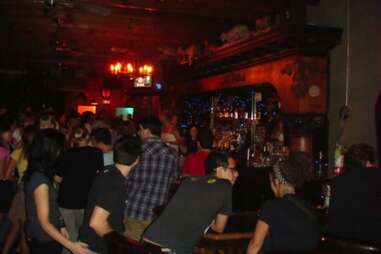 Longbranch Inn
East Austin
Longbranch Inn is notorious for its low-key vibe and pours that lean on the heavy side (much like a certain OTHER Notorious). This dark, cozy spot oozes laid back authenticity with nearly 80yrs of boozy history, a no frills drink selection, well-curated jukebox, and a steady flow of interesting regulars.
Mugshot's
Downtown
Meeting with your gang at Mugshot's locks in a few guarantees: 1) You will not get a fancy cocktail. 2) You will not spend more than $15. 3) You will have fun. There's just something about this place that puts everyone in a good mood... probably something to do with the cheap pitchers of Lone Star that can take the sting out of the most crushing of foosball defeats.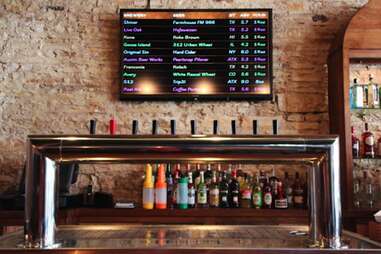 Chicago House
Downtown
Chicago House is a welcome new-ish addition to Dirty 6th, boasting some stunning antique interiors with exposed brick, wood floors, large windows, and a spacious upstairs. More importantly, the standout draft selection gets supplemented with a steady flow of rare firkins from Chi (the owners hail from the South Side, hence the name).
Yellow Jacket Social Club
East Austin
Thankfully NOT a meeting ground for stinging insects, this mostly-patio Eastside bar is choc-full of just about every species of hipster, and who could blame them with a friendly, fast staff, tunes that are always on point, and a solid beer selection supplemented by killer comestibles like their roasted beet and goat cheese sandwich or juicy ropa vieja-style Cuban beef.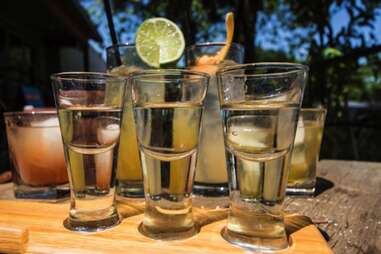 Takoba
East Austin
This lively, modern-looking Mexican joint has standout happy hour specials everyday (think $1 off all drafts and half-priced apps). This is where you should go to sit on the patio and have micheladas, mango-habanero margaritas, an unnecessary amount of chips and salsa, and a surprisingly robust calf workout trekking through their sand pit.