On a night spent bouncing all over Austin (maybe not literally, unless you travel by pogo), somewhere between the happiest of happy hours and the greasiest of late-night eats, you need to hit up a club. So we sought out Austin's best.
Recommended Video
Thrillist's Best (and the Rest): What You Actually Need to Know About Natural Wine
Kingdom
Downtown
Slip in through the alley entrance, and find yourself in an intimately-sized club with insanely good drinks, plush seating, a swanky Redwood dance floor, one of the best sound systems in town, AND a regular rotation of uber-talented DJs... and we don't mean Augustin. 
Lanai
Warehouse District
A visit to Lanai will make you think you're in a bigger city with its thumping house music, impressive view from the rooftop lounge, and the equally impressively dressed crowd. Also a fun view from the rooftop: watching tipsy girls get their high heels stuck in between the wood slats.
Barcelona
Downtown
Step past the front door and slither down a dark staircase into a dark, bass-y den and find a diverse mix of 20-somethings and a DJ bumping Top 40 hits. It's too loud to talk -- but that's okay, because the universal language at Barcelona is simply bump-n-grind. Or ineffective gesturing.
Loft 718
Downtown
Located upstairs from Silhouette Sushi, this dark and cozy lounge has a definite living room vibe, complete with mod furniture and interesting coffee table books (calm down, Kramer). But things get decidedly more lively when you add in their infused spirits and karaoke rooms that you can rent by the hour.
Haven 
East Austin
The modern, loungey atmosphere, bottle service, and pulsing EDM at Haven draw an attractive young crowd seeking out a VIP feel. If you get slapped, you clearly didn't understand what we meant by VIP feel.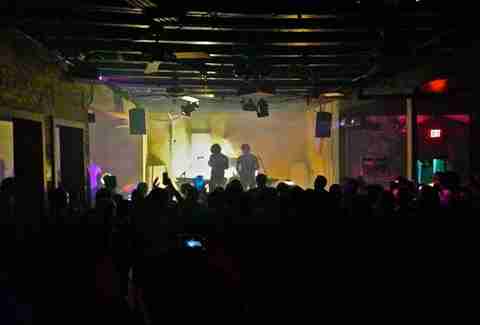 Empire Control Room
Downtown
Empire Control Room & Garage has an open, artsy, warehouse-y vibe and steadily plays hosts to top DJs and bands who make good use of said space with wall projections as you make dubious use of said space with your dancing.