8 reasons you need to visit Pleasant Storage Room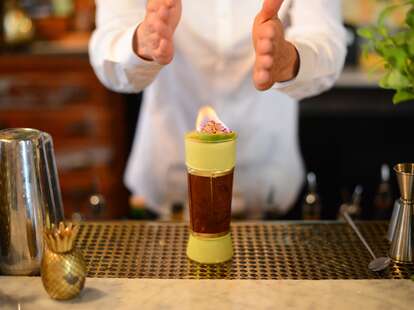 Often when you ask someone if they like rum, you'll get an ill-informed shrug from someone who spent the better part of their early 20s dumping it into a red Solo cup. These people are wrong, and Pleasant Storage Room is out to prove it.
Named after the 1940s Havana bar where Ernest Hemingway drank many a mojito, PSR's a romantic haven amongst the noise of Downtown that's taken on the challenge of changing the minds and converting the tastes of an entire college town.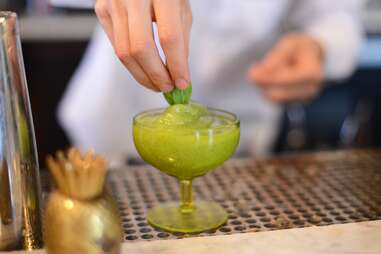 1. They will change your mind about rum
There are rums from Antigua and Martinique and Barbados and Jamaica (and so many other places)... each one with a distinct style that's shaped as much by its history as its distillation and aging process. They can be smoky, they can taste of caramel or tobacco, and they are as complex and as varied as the places that make them. Rum doesn't have to be clear and doesn't only have to be dumped into a blender with a cylindrical chunk of frozen juice from concentrate. However, if your Pleasant Storage Room bartender asks you to try their Blended Drink of the Day, served in a glowing green vintage uranium Champagne coupe, simply say "YES, PLEASE".
2. Their cocktails contain ingredients we've never even heard of
Wormwood tincture, orange and lemon oleo saccharum, Kronan Swedish Punsch Liqueur, Lapsang Souchong tea syrup, aloe ice… we could go on and on. Most interesting, though, is the use of ambergris, technically "whale cholesterol". It's generally an additive in fragrances, used for its unique ability to bind scent to skin, but in this application it adds a briny flavor and unique mouth-feel to the appropriately named Punch à la Regent, which requires two days notice and rings in at $180 for a punchbowl portion fit for sharing.
3. They've made drinking punch a thing
Speaking of punch… PSR has five to choose from, each one as interesting as the next. Served in iridescent carnival glass bowls and punch glasses, each Overproof Rum Punch starts with oleo saccharum, an oily paste made by infusing raw sugar with bitters and citrus oil, then they add rum, spirits, liqueurs, and spices. Try The Commodore, made with El Dorado 5 year Demerara rum from Guyana, V.S.O.P. Cognac, Lustau East India Sherry, caramelized black tea, lemon juice, and lemon oleo saccharum.
4. Ceviche!
Summer brings a craving for lighter food and ceviche is perfect -- it's practically healthy. PSR has four types -- our favorite being the Napali Death Tuna. Aside from the dangerous-sounding name, it's delicious -- chunks of fresh tuna, passionfruit, salted cashews, candied habanero syrup, thai basil, and a little Lemon Hart 151 rum from Guyana (served flaming!) for good measure.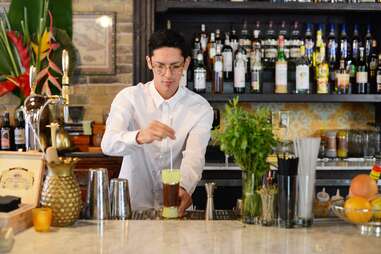 5. The head barman is a rum savant
Watching Alfonso Hernandez (formerly of East Side Showroom) make a drink is quite an experience -- his expression full of cool concentration, his deft hands measuring and swizzling with the precision of an illusionist. To listen to him wax poetic is just as engaging: "Rum is such a diverse spirit, so dynamic… no one else is giving it the spotlight it deserves. We feel we are stewards for this forgotten spirit -- there was a corruption in cocktail culture over the last twenty years, everyone wanted cheaper and faster… we believe that even for the uninitiated, there is a rum to suit their tastes."
6. Their Cuban street food-inspired eats also bring it
Paul Hargrove, (also formerly of ESSR) has created a menu that perfectly accompanies the cocktail program. The selection pays homage to the vibrant cuisine found in the Caribbean with a modernist twist. We love their corn grilled over pimento wood, brushed with Japanese mayo, and covered in queso de polvo, chili, and lime. Also a favorite: the Pulpo, baby octopi cooked in fish sauce and beer and served skewered.
7. They have soft serve
When this 'scream junkie visited, the Soft Serve Del Día flavor was "grapefruit and sugar cane", served in a tiny glass with juicy sugar cane to chew on. It was refreshing, creamy, and perfect.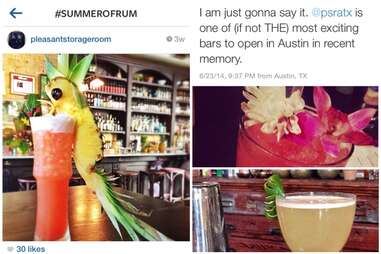 8. PSR has declared it the #summerofrum
And we are inclined to agree.