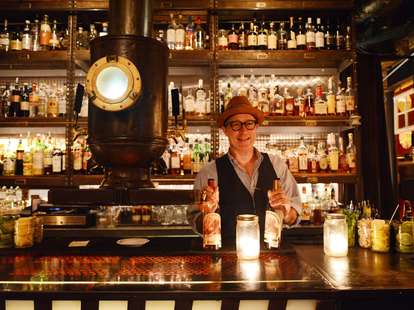 Unless you've been living under a rock or you are THE Rock, in which case you've been focusing on your acting career, you know that whiskey has been having a bit of a revival. We broke down the Austin haunts with the selection and expertise to guide you through your own whiskey adventure whether you're a novice, a fan of Justified (the television drama, not the Justin Timberlake album), or that guy who has memorized every bourbon made at the Buffalo Trace distillery.
The Blackheart, Rainey Street
What you're drinking: Old Fashioned with something high-proof like Weller 107 or Old Grand-Dad 114
The scene: The Blackheart is a seductively lit, renovated older house nestled right in the Rainey Street vortex and is badass for a few reasons. They do double duty as a chill, patio-equipped live music venue which 20-somethings pack into on weekends AND their super impressive (and always evolving!) 90+ bottle whiskey selection includes current favorites like Lock Stock & Barrel Rye and Nikka Coffey Grain Whisky.
East Side Show Room, East Sixth
What you're drinking: Hibiki 12 Year Japanese Whisky Highball (whisky, carbonated water over ice with a lemon twist) or The Final Say (rye whiskey, lime juice, green Chartreuse, and maraschino liqueur)
The scene: Almost intimidatingly beautiful, vintage, and hip at first -- the staff here is incredibly friendly, and if you show up a bit early you'll be greeted by a bar staff who are more than enthusiastic to talk shop with you, and by "shop", we mean whatever spirit is their favorite that month and why. The bar boasts a lovingly curated selection of whiskeys and whiskys, some standouts include George T. Stagg bourbon and the entire Pappy Van Winkle family. Tip from ESSR bar maestro, Justin Mork: "Don't be afraid to put a splash of water on a higher proof whiskey after your initial sips, it unlocks the fat molecules, opening up more flavor." Done, and done.
Bar Congress, Downtown
What you're drinking: A neat glass of Black Maple Hill 16 year
The scene: A small, but serious space nestled in between Congress and Second Bar + Kitchen, this is not the type of place where you'll see youngins trying to order Shiners and Moscow Mules. The patrons are all here because Bar Congress is synonymous with the perfection of their highly-regarded creative, yet classic cocktail program. And when it comes to their whiskey selection, bar manager Jason Stevens says, "… it's not so much about the high-profile spirits we have, but the subtle ones tucked away in the corners." A.H. Hirsch 16 year and Black Maple Hill 16 year are among Stevens' favorites because of the classic flavor profiles, "… balancing grain and wood, and hitting that rare point between age and character." So yeah, he knows some things.
Peché, Warehouse District
What you're drinking: Willett Old Fashioned (Willett Rye, lemon peel, Jerry Thomas' Own Decanter Bitters)
The scene: While Peché is known for its beautiful interior, decadent dining, and pre-prohibition style cocktails, the sheer amount of spirits they carry is also a serious selling point. This includes whiskeys such as Jefferson Presidential 21 Year Bourbon, Willett 12 Year, and Angel's Envy Cask Strength, not to mention an impressive array of Scotches. Try to keep the Ron Burgundy quotes under wraps though. You're in public.
drink.well., North Loop
What you're drinking: New Bedford Daisy (bourbon, ruby port, rosemary-apple shrub, and fresh grapefruit)
The scene: drink.well. combines modern American pub-style dining and drinking with some serious talent behind the bar. Their inventive cocktail program, enthusiastic staff, and perfectly balanced whiskey cocktails made with Eagle Rare or George T. Stagg make drink.well. one of Austin's best places to... drink well. So it's not just a clever name.