All Photos: Veronica Meewes
A dark, candlelit speakeasy of a room above Whisler's on East Sixth Street just became home to Austin's only mezcalería. Don't think you've tried mezcal? Well, you probably have. That's because tequila is just one type, made from the blue agave, and there are over 150 other species of agave used to make other types of mezcal. But put away your lime and shot glass, because this spirit was made for sipping.
Now, owner Scranton Twohey (right) and bar manager Cesar Aguilar (left) are connecting Austinites with the culture and flavor of Mexico, one smoky sip at a time. Here are 12 reasons you should be there right now:
1. It's the only true mezcal bar in the city...
... and possibly the country. Twohey and Aguilar say they've yet to find another bar in the States selling just mezcal, without the addition of tequila or food.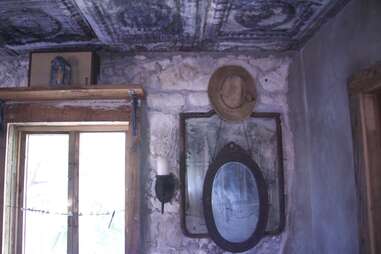 2. It doesn't feel like you're in Austin anymore
From the rustic walls, religious artifacts, and veladoras on the windowsill to the distressed mirror and perfectly rusted stools -- are you sure we didn't cross the border?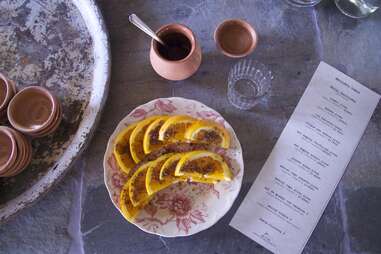 3. They keep it strong
Don't come here looking for cocktails because... you won't find any! They serve half pours of mezcal in clay copitas and full pours in a traditional veladora glass with a crucifix etched on the bottom. "We wanted to keep it very traditional to Mexico," says Twohey. "Just the way it's done when you walk into Oaxaca into a mezcal bar and sit down and enjoy."
4. Whisler's is already super cool, so you should be hanging out there anyway
Whisler's opened just over a year ago in this building dating back to 1917 -- it's been a cleaners, a pizza place, and (mostly recently) a biker bar named Rabbit's before Twohey bought it and transformed it into the cocktail mecca it is now. Mezcalería Tobalá is located up the stairs in a little candlelit room above the main bar.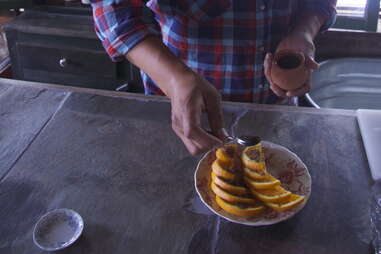 5. You won't find any worms in the bottles, but you'll find them in the salt
"I don't begrudge people that do it -- it's just not my thing. But I'll never serve a mezcal up here that has a worm or a scorpion or a flamingo or anything," says Aguilar. "If you taste a mezcal that has a worm in, you will definitely taste that there's a worm in it. And we're into selling mezcal so you can taste the beauty of the production, the artisanal process, and the agave." However, you can still get your worm fix with a traditional service of orange slices sprinkled with sal de gusano, a Oaxacan salt blended with ground larva.
6. You'll learn more than you ever thought there was to know about mezcal
Aguilar and Twohey have visited Oaxaca multiple times and Aguilar even toured the Wahaka Mezcal Palenque (distillery), where he participated in a traditional temazcal sweat lodge ceremony, learned all about the traditional production methods, and ventured up into the mountains to seek out the rarest agaves, like the bar's namesake tobalá. He will gladly educate you on all things mezcal, and you'll most likely be just as enchanted with the mystical spirit. "It's really exciting to come up here, having never had mezcal before, and two weeks later you're probably going to have a bottle of mezcal in your house and you're going to know about all different varieties," says Twohey.
7. The top shelf is actually on the bottom shelf (and vice versa)
What started off as a joke about the way they started to structure the bottles in their vintage green cabinet actually makes the most sense for a way to store their rotating labels from eight different producers. "And down there is the secret, secret stash," says Aguilar with a laugh, gesturing to the very bottom cabinet, which is hidden behind closed doors.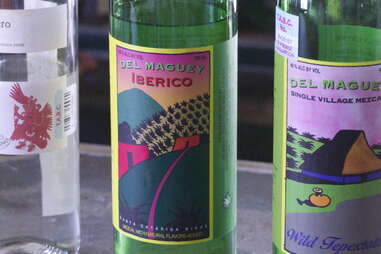 8. You can try this super-rare bottle of mezcal flavored by the world's most expensive ham
Speaking of the secret stash, a select few will get to experience Del Maguey's Ibérico, which came from the mind of Chef José Andrés, who proposed the Oaxacan distillery take the pechuga (mezcal distilled with a chicken breast) one step further. This concoction, which goes for $40 a pour, is double distilled before it's distilled a third time with wild fruit, nuts, rice, and a hunk of jamón ibérico suspended from the top of the clay still. Texas only got several bottles of the stuff and not much is left...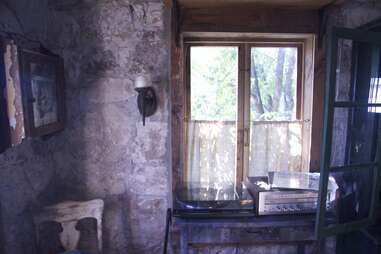 9. You'll enjoy the soundtrack
You'll usually hear old jazz and blues playing, from Miles Davis to Lightning Hopkins and Howlin' Wolf. "We are conscious of not playing any contemporary pop and are trying to keep it seductive and intoxicating," says Aguilar. He's also put together an eclectic Latino Spotify playlist called Mezcalocura, where you'll hear everything from psych cumbia to conscious rap by Ana Tijoux to Mexican ballads by Chavela Vargas.
10. You're drinking sustainably
It takes about 10-12 years before an agave can be harvested for mezcal production. "We want to make sure that we are being responsible about how we consume them and how we disseminate the culture," says Aguilar. For that reason, he only works with producers who use the most sustainable practices.
11. There's something for everyone
They carry mezcals made from multiple different species of the maguey agave -- from the more drinkable espadín (best for beginners) to the more complex tepeztate, spicy arroqueño, and the coveted tobalá. Still not feelin' it? Well, at least you can still opt for a bottle of Victoria or Topo Chico.
12. Mezcal chocolates for dessert, anyone?
While you won't find any bar nuts here (at least not the edible kind), they have gone to the trouble of sourcing Peruvian chocolates crafted by Cesar Christian Ramirez. Right now, you'll find 65% dark mezcal vago espadin and tomatillo caramel bon bons.