It's officially Summer, which means we forgo heavy clothing, food, and drink. Except pizza -- that's a year-round thing. Anyway, we asked five ATX beer experts to pick brews they thought would complement your Summer plans, and what they came up with are crisp, light, refreshing choices -- described to you via many beautiful beer-y adjectives.
Marcus TenHarmsel
FOH manager and beer buyer at Hopfields
Pinthouse Pizza, Calma Muerta Session Ale
(IPA, 4.8% ABV)
Marcus says: "One of my personal favorites for the Summer heat is Pinthouse Pizza's Calma Muerta Session Ale. Ringing in at only 4.8%, this sessionable IPA packs a big flavor without the punch. With bright flavors of citrus, melon, and a bit of peach, this beer is balanced with just a hint of bitterness and is crisp, clean, and refreshing!"
Firestone Walker, Pivo Pils
(German Pilsner, 5.3% ABV)
Marcus says: "If I'm outside enjoying -- or rather enduring -- the Texas Summer heat, there isn't much out there that serves as a more quenching beer than Firestone Walker's Pivo Pils. At 5.3%, this light-bodied, hop-driven, German-style pilsner kicks off with a floral and slightly spicy flavor. Thanks to the addition of German Saphir hops during the dry hop, a refreshing lemongrass note rounds out the flavor profile, making it one of the most quaffable pilsners I've had."
Courtney Strange
Beer broker at Banger's
Austin Beerworks, Einhorn Berliner Weisse
(Berliner Weisse, 3.5% ABV)
Courtney says: "Austin Beerworks' Einhorn Berliner Weisse -- It's low alcohol, ABV usually comes at 4%. A wheat beer with a sour mash that's nice and tart. Great for Summer, very accessible, and great to drink. People commonly add syrups like blackberry and raspberry to make it more refreshing."
Deschutes Brewery, Twilight Summer Ale
(American Blonde Ale, 5% ABV)
Courtney says: "Deschutes Brewery Twilight Summer Ale -- It's the kind of beer I could drink a liter of. Highly refreshing on a late Summer night. I really like it because it's nothing too complex. Has good Summer flavors and a little bit of citrus."
Chris Troutman
Co-founder and Editor in Chief, Austin Beer Guide
Real Ale Brewing, 18th Anniversary Gose
(Wheat Ale, 4.5% ABV)
Chris says: "It's light, crisp, refreshing, quaffable, and most importantly, interesting. Real Ale translated this historic style for central Texas drinkers into a wonderful, semi-tart, and subtly salty Summer beverage that could only be perfected by turning this one-off beer into a seasonal packaged product."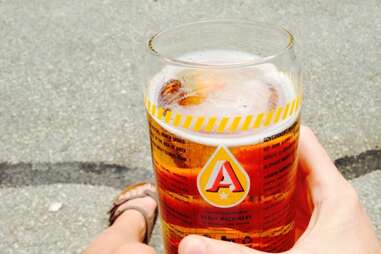 Austin Beerworks, Karl Kölsch
(Kölsch, 4.7% ABV)
Chris says: "Team ABW released this at their third anniversary party earlier this Spring to much aplomb. With a beautiful color, white head, pleasant aroma, and just enough buttering hops, Karl is crisp, clean, and ready to party."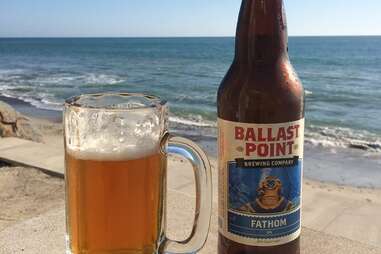 Joe Mohrfeld
Head brewer at Pinthouse Pizza
Ballast Point Brewing, Fathom IPL
(American Double/Imperial Pilsner, 6.8% ABV)
Joe says: "It has all that I love: a dank and resinous hop profile with a crisp, dry lager finish: a great recipe for Texas Summers."
Odell Brewing, St. Lupulin
(American Pale Ale, 6.5% ABV)
Joe says: "Great hoppy, Summertime pale ale; bright, citrusy, and fruity with a soft malt background which keeps this ale light and and refreshing."
Josh Wilson
Brewer & manager at Draught House Pub & Brewery
Hops & Grain, The One They Call Zoe
(American Pale Lager, 5.2% ABV)
Josh says: "Despite having a name that requires a pause for breath, Hops & Grain's The One They Call Zoe is a beer I keep coming back to. This deep golden lager with its slow-rising bubbles captures the lazy days of Summer. The aroma of lemon, malt, and fresh-cut herbs entices. Big German malt and tangy hop flavor finishes with an almost tannic balanced bitterness. Zoe is clean and satisfying with nice body. So tasty."
Lagunitas, DayTime Ale
(Fractional IPA, 4.65% ABV)
Josh says: "While the session IPAs would have you believe that we should be day drunks with names like All Day IPA, the low alcohol trend is a good one. Super hoppy beers that allow your drinking arm to move at normal rate? Count me in. Lagunitas DayTime is a near-perfect beer and great for a Summer session. This light-bodied ale has a zesty grapefruit aroma with spicy and floral notes. Its oversized citrus hop flavor has a hint of toasted wheat. The crisp finish demands another pint."