The Aristocrat Lounge

| Isis Schaller/Courtesy of The Aristocrat Lounge
The Aristocrat Lounge

| Isis Schaller/Courtesy of The Aristocrat Lounge
Austin's bartenders, bar owners, and industry people are one big happy family, and like family, they like to give each other propers. We turned to a handful of Austin's most well-respected bartenders and asked the burning question: Which bar in Austin is your most favorite underrated bar? Their replies range from a dive bar with an unexpectedly diverse spread of whiskeys, a shady outdoor haven where kids and dogs can run around, and the bar that's painted black inside and out but is run by people who couldn't be any less emo. So, this weekend, skip the obvious picks and check out one of these underrated gems instead.
East Austin
Billy Hankey, owner of King Bee, has a long history of bartending in Austin, having helmed the bar at both the Good Knight (RIP) and Second Bar + Kitchen. Since he, along with partner Colette Dein, opened the doors to King Bee two years ago they have amassed an entirely new group of loyal patrons in addition to the bar industry and long-time fans they already have.

Picked by: Justin Lavenue of The Roosevelt Room

"King Bee has everything your heart could desire -- delicious frozen drinks, amazing mezcal selection, bomb pizza, live Jazz, large back patio, AND owners with the biggest hearts in the entire city. In short, it's an amazing place with amazing food and drinks and even more amazing people. If you haven't been yet, go soon and get the Frozen Bees Knees with a sting (a shot of Ancho Reyes) and the 'cheezilla pizza which is topped with mozzarella, ricotta, provolone, asiago, fontina, parmesan. You'll be happy you did."

Picked by: Brian Floyd of Sourced Craft Cocktails

"Billy and Colette have made something really special happen on 12th and Chicon, and it's only underrated because lots of folks haven't found it yet. What it has that other bars don't: that perfect, elusive balance of high-quality and divey-comfortable. Billy can make a craft cocktail as well as anyone in Austin, and his mezcal selection is full of deep cuts. But it's dive-bar dark with obscure blues and rock playing, Flash Gordon on the tv, and no one's going to judge if you just need to get hammered by yourself. Throw in performance appearances from Chris Cubas to Mac Macintosh... if you don't love this bar then I probably hate you."
East Austin
Named after the black bird that Austinites love to hate, The Grackle is that bar that you visit and ask yourself, "Why don't I come here more often?" The Grackle is known for zero pretension, copper beer tap with rad beer selection, and over 100 types of whiskey and bourbon. Ditch the crowds and pull up a seat at the bar, the patio, or the Ms. Pac-Man tabletop game.

Picked by: Jen Keyser of Geraldine's

"The Grackle is one of those places that you go to for good whiskey with good friends. It's laid back, has a great patio, and I always run into friends I haven't seen in awhile. Also, totally dog friendly, which I love! Ask the bartender if they have any bottles stashed away. If you're lucky, they'll have something special under the bar that you can only get if you ask! Locals love this place, so pull up next to a stranger and walk away with a new friend."

Picked by: Antonio Matta of Firehouse Lounge

"I love The Grackle because it has a low key dive bar vibe with a fantastic whiskey and draft selection. It appears to be a 'no frills' place -- and in a sense, it is -- but it truly is an understated gem. The bar staff are very genuine and engaging with a great knowledge of their products. With such a large selection, it could be easy for someone to feel intimidated but the bartenders there are able to make people feel at ease when making their choice. A chill outdoor patio, great whiskey options, tasty beers, and a pool table and darts -- what's not to love about this place?"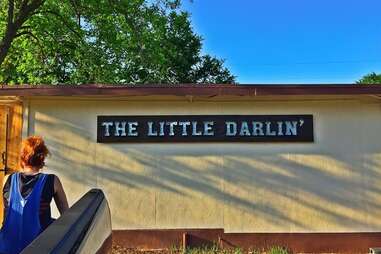 Pleasant Hill
The Little Darlin' filled a major void on this strip of William Cannon -- cold beer, spirits, patio, and food made by a fantastic chef. This is a great spot to throw back cold beers, play a round of horseshoes any night of the week and for weekend brunch they sell the Sanchez michelada, beer served with a Bloody Mary popsicle.

Picked by: Jason Stevens of Boiler Nine

"Get all your friends, their kids, their dogs, and meet up at The Little Darlin's huge, shaded backyard patio around 3pm on a Sunday. Beat the sweltering Austin heat by drinking whatever frozen drink special they have (the frozen cherry cola is one of my favorites, it's like a boozy Slurpee), eating chili cheese corn dogs, and playing a few rounds of dominos. This place takes the whole lazy Sunday thing like 10 levels higher."

Picked by: Ania Robbins of Backbeat

"I've been looking for a cool spot near my home in South Austin. Little Darlin' has my favorite beer and really good food. My husband and I like sitting outside, it's nice and spacious. They also have cornhole boards and you can bring your dog -- everything I need in a bar!"
Holly
Launderette is the modern diner from Rene Ortiz of Fresa's and formerly of La Condesa. The elevated neighborhood vibe is complemented by the eclectic menu and modern cocktail offerings.

Picked by: Justin Elliott of The Townsend

"It's hard to say that maybe the hottest restaurant in town, a damn James Beard nominee for crying out loud, could possibly have anything underrated about it, but it might honestly be the most underrated cocktail bar in town. The cocktails are just innovative enough to be memorable, but just straightforward enough to be totally craveable. As a bartender, I really appreciate a light touch with ingredients in cocktails. There's something really special about making a drink like Launderette's The Crozier (The Botanist gin, green chartreuse, lime, sugar, celery bitters) -- it's a delicate balance and they consistently pull it off. I love well-edited cocktails, I love well-edited menus."
Central East
Yellow Jacket's shady patio is where you can find Austin's cool kids drinking pints of Lone Star and shots of whiskey most nights of the week. Try one of their frozen drinks or a hot toddy, you know...Texas weather.

Picked by: JR Mocanu of VOX Table

"Yellow Jacket Social Club is my pick for most underrated bar for a myriad of reasons. It has that relaxed backyard vibe, no judgments, great local beer selection, a fine selection of spirits and one of the best brunches in town. It feels like going to a buddy's barbecue and when you spend as much time in as many bars as I do, trust me, nothing feels better than having a bar that feels like home."
Burnet Road
The former Poodle Dog Lounge is no longer smoky and weird, but instead a legit cocktail bar with a large selection of spirits and a rotating frozen cocktail.

Picked by: Billy Hankey of King Bee
"Aristocrat doesn't always get the acknowledgment that it truly deserves. Tucked away in North Austin, Aristocrat provides great cocktails, mezcal, rotating frozen drinks, a staff that is one of the most laid back and true you will ever meet, and has the Three Little Pigs trailer. They also have pool tables, shuffleboard, skee ball, and DJ night -- I like the 'Strange Country' night -- allowing for loads of entertainment and great tunes! Head down and grab yourself a glass of Mezcal Vago Mexicano and let the day wash away. And they do an infusion with mezcal and espresso!"
Central East
Bufalina is known for their authentic Neapolitan pizza and the wait for a table they create on weekend nights, which isn't so bad because you can stand outside with glass of rosé or chenin blanc.

Picked by: Josh Loving of Small Victory

"My favorite 'underrated' place to drink is Bufalina. When I'm not working, I drink a lot more wine than liquor and Bufalina has one of the best wine lists in town. Their list is full of obscure, idiosyncratic, expertly crafted wines -- both traditional and experimental in style. It usually takes me 15 or 20 minutes to order a bottle because there are so many intriguing choices I have trouble pulling the trigger, which is a great problem to have with a wine list."
Sign up here for our daily Austin email and be the first to get all the food/drink/fun in town.
Anastacia Uriegas is a writer and huge fan of one of the bars mentioned above. Follow her to see many, many poorly lit photos of King Bee's frozen delights: @anaurie