Putting the draft back in Drafthouse, the Alamo's newest and largest location at Lakeline is boasting a rarity for North Austin: Glass Half Full, a next-level beer bar complete with beertails designed by the Alamo beverage honcho responsible for cocktail den Midnight Cowboy and tequila haven 400 Rabbits.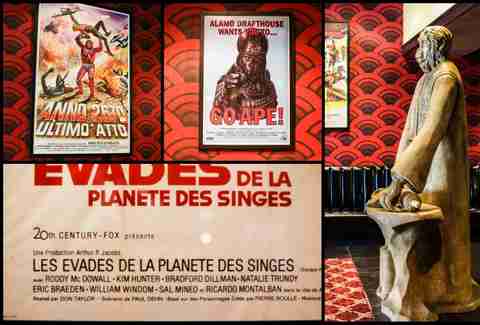 The theater's got 10 screens, plus Planet of the Apes-themed lobby decor complete with vintage foreign movie posters, custom art designed specifically for the Drafthouse, and a bust of the most revered figure in the Ape-iverse not commemorated in song on the Simpsons (Dr. Zaius! Dr. Zaius!): the writer of simian scripture known only as The Lawgiver.
Lucky for the severely under-served population of North Austin beer lovers, the bar is a stand-alone entity with a great outdoor patio and doesn't require you to purchase a movie ticket to enjoy the 30+ Texas taps.
Most all of the major local breweries are represented, including Austin Beerworks, Real Ale, Rogness, Live Oak, South Austin Brewing Co, Infamous, Shiner, Ranger Creek, plus like five more breweries that probably opened this week.
On the Mexican beertail front, they're boasting a michelada fueled by Infamous Hijack and Sriracha, as well as the interior-Mexico variant known as the Suero, which doesn't use any tomato products (because they're not grown down South), instead opting for Tabasco, lime, salt, and Worcester added to a heartier Thirsty Planet Buckethead IPA.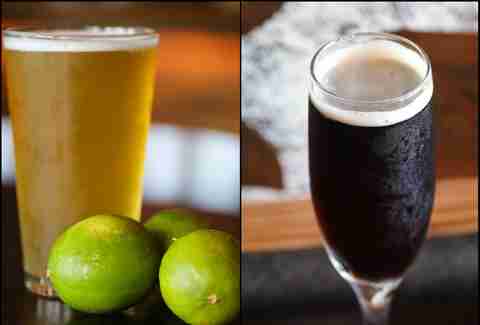 More beer mixes include the Lager & Lime, often thought of as a "a drink you're totally happy to hold for your GF while she's in the powder room", but re-envisioned with hopped lime cordial and Pedernales Lobo, and also the Black Velvet: a Guinness + Champ classic that was originally mixed in 1861 as a mourner's drink following the death of Prince Albert, way before his name was synonymous with terrible decisions.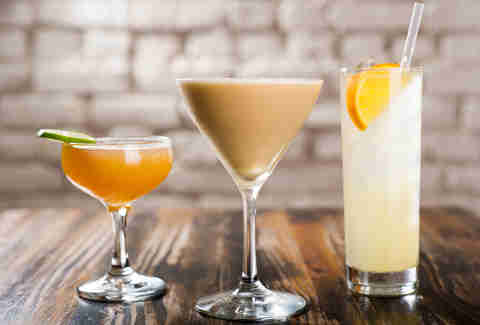 More cocktails under the influence of malty goodness include the El Rascal (reposado tequila, fresh orange, wheat beer reduction, salt, orange bitters, soda), the Malted Daiquiri (eight-year rum, fresh lime, malted sugar syrup) and a Full Scotch-Irish Breakfast, featuring bonded rye, stout, maple, lemon curd, whole egg, mole bitters, and nutmeg -- which thankfully doesn't put the nut in Meg.