A new garden has just taken root in South Austin, and thankfully it's the type that grows beer. Austin Beer Garden Brewery's run by a pair of Uncle Billy's alums who've renovated an old warehouse into a brewpub cranking out a selection of 10 meticulously crafted beers.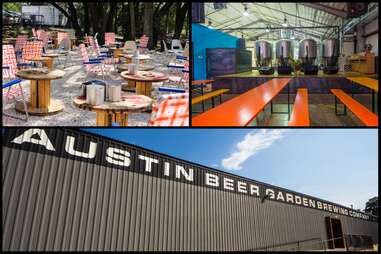 The expansive outdoor area is strewn with lawn chairs and copper spindle tables. Inside, they'll host live music right in front of the fermentation area, so the band won't be the only thing on the stage... getting tanked!
The taps are run through an old truck frame, kegs divide the queue for ordering, and instead of a simple number system, food orders are tracked with faux-laroids of celebs like Leslie, who's proof they must serve beer in heaven.
The beer menu is stacked with five "always" brews:

1) The Hell Yes is an easy-drinking Helles-style with German hops that retains a malty flavor without being too sweet.
2) The Day Trip is a kinder, gentler pale ale featuring a new type of hops (Meridian) notable for their melon-like finish.
3) Superliner IPA features "the Leatherman of hops", a hybrid strain that results in apricot and peachy notes.
4) The roasted malt Big Mama Red takes inspiration from Pacific Northwest beers like Laurelwood's Deranger.
5) And finally there's the Industry, a light-bodied traditional German pils that's less malty than its Czech cousin, last we... Czech-ed.
"Sometimes" beers will rotate regularly, featuring hoppier fare like the Muscles from Brussels (spicier Belgian IPA) and the Hop Red Gorgeous that clocks in at an impressive 80 on the International Bitter Unit scale, just 19 points behind Nikola Tesla (damn you, Edison!!!!!!!).
The eats range from sandwiches (muffulettas on Easy Tiger bread), to snacks (deviled eggs with bacon), to pizzas topped with sausage from Salt & Time and veggies from Johnson's Backyard Garden, whose vegetables are an entirely different type of intoxicating.