Boat parties, Star Trek parodies, and a free pig roast (!)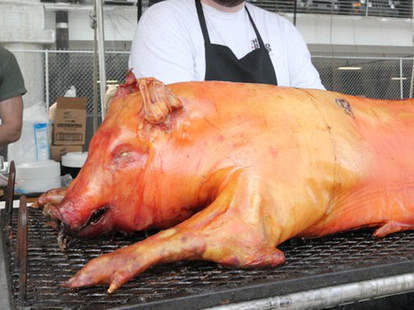 EVENT OF THE WEEK
On Sunday, The Volstead is teaming up with the International Food and Drink Society to host an island-style pig roast with tunes from Captain Jim Bradford and No Kid$ & Boozwa. The best part? Two whole pigs, mountains of other food, craft tiki drinks, and IT'S ALL FREE
Thursday, May 23rd
Get your visual art on at the Protos Festival, which runs from Thurs-Sun at the Long Center and features everything from film screenings to live performances to EDM parties. Schedule time!
Friday, May 24th
Head to Hotel Vegas for a Native Tongues (A Tribe Called Quest, De La Soul, Jungle Brothers...) tribute concert presented by Body Rock. Tix are just $3 if you RSVP here
On Friday and Saturday, Master Pancake Theater is going to "mock Spock, irk Kirk, and deforest Kelly" by poking fun at Star Trek II: The Wrath of Khan at the Alamo Drafthouse Cinema. More info and tix, riiiiiiight over here
Saturday, May 25th
The North Door is hosting the second installation of their Vinyl Hunt record-swap party, featuring guest DJs and a $3 build-your-own Bloody Mary/Michelada bar
Sunday, May 26th
Toy Joy is throwing a Frankentoy Laboratory party where you can build your own little monsters out of broken old toy parts. They've also got a tent sale happening on Monday to clear space for their upcoming move from The Drag to 2nd St
Get over to Gibson Street Bar for their 4th Annual Crawfish Boil, where they'll have all-you-can-eat c-fish for just 15 bucks, a waterslide, a mechanical bull, and A WATERSLIDE. You're gunna need a bib, swim trunks, AND chaps...
Monday, May 27th
This Memorial Day, throw down at a big-ass boat party. Snag presale tickets while you still can!