Meet the <em>Boy Meets World</em> cast, and MEET THE <em>BOY MEETS WORLD</em> CAST
Thursday, June 6th
Tonight begins the second annual ATX Television Festival: four days of TV-centric panels and events, including a public screening of Friday Night Lights and a cast reunion of TGIF favorite Boy Meets World. See the full list of programming right over hurrrr
Hometown rockers The Black Angels have just released their own brand of Black Grease hot sauce, and to celebrate, they'll be tending bar at Mohawk and psychedelic-pouring Bloody Mary's. Go!
Friday, June 7th
Keep Austin... high?... with a musical production of Reefer Madness at Spider House Ballroom. Light up
Saturday, June 8th
Although Winter isn't coming anytime soon, 'tis the perfect season for an epic Game of Thrones trivia smackdown hosted by Geeks Who Drink at Gibson Bar. Fire cannot kill a quizmaster, so... register online
Texas Q Tours is making barbecue pilgrimages to Opie's and The Smokin' Rose of Texas, with a stop along the way at Garrison Brothers Distillery. Grab all-inclusive tickets here
Sunday, June 9th
Holy Mountain is hosting an NBA Jam invitational tournament where current champions The Shawn Kemp Experience will aim to defend their title. Boomshakkalakka!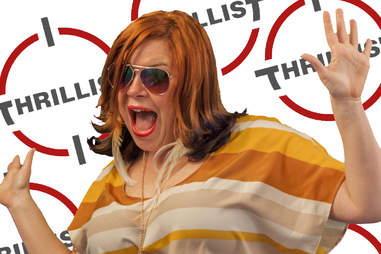 Local Lady We Love, and Where to Find Her

Meet Kelly. Kelly is the Austin Community Director for Yelp, meaning that she's got a full plate of throwing DayGlo beach parties and admitting the virtues of gringo tacos, despite the fact that she distrusts any joint that doesn't have bars on the windows (Taqueria Los Altos!). When she's not turning pages on the Book a Week Challenge (World War Z is on deck), you can find her sipping Deep Eddy Ruby Red vodka at spots like Whisler's (RIP Rabbit's), Buddy's Place of Happiness (BYO!), and the Firehouse Lounge & Hostel.