The Weekend Playbook: Bikinis, TX is here
Event of the WeekNearly a year after the ATXtrepreneur behind Bikinis announced he'd purchased a ghost town outside of Fredericksburg to transform into a monument to the two-piece, the newly christened Bikinis, TX is open for business this Saturday with a full schedule of events, including a bikini contest, a meet & greet with Carmen Electra (after she makes a bronze cast of her boobs!), and a performance from country legend Jerry Jeff Walker. There's also Black's BBQ and a ton of other sweet stuff. Read more here.
Thursday, July 11th The Drafthouse Ritz is honoring Mr. "I Believe I Can Fly", aka the Manager of the Chocolate Factory, aka Very Guilty Before Proven Innocent, aka R. Kelly with a sing-along to the first 22 chapters of Trapped in the Closet. Snag tickets here
Friday, July 12thThe North Door's flying high with a showcase of aerial dancing, which includes lyra, silks, trapeze, and most importantly POLE DANCING from troops like the Brass Ovaries. El-L<3VE-ate your weekend here
Saturday, July 13thTrailer Food Tuesdays is flipping the script with this special Saturday edition at the Long Center with food from Pretty Thai for a White Guy, The Peached Tortilla, Garbo's Lobster Truck ATX, and.... a bunch of other food trucks
No longer just a 5th Dimension song from 1968, the Stoned Soul Picnic's also now an afternoon rager taking place at the Emma Long Metro Park with house and techno music from some of Austin's top DJs, plus free BBQ while it lasts. Who all is playing?
Sunday, July 14thFrench National Day is upon us, and the fine wormwood purveyors at Peche (the home base of a certain Lady We Love) are offering any absinthe on their menu for only five greenbacks. See the full absinthe menu at PecheAustin.com
Monday, July 15thThis marks the final day of Hops & Grain Brewery's beer recipe contest, in which one lucky winner will have his or her creation featured in the H&G taproom. Last year's winner was a Horchata Milk Stout. See all the rules here.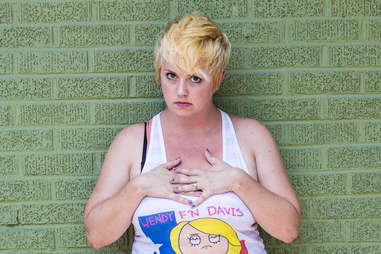 Local Lady We Love, and Where to Meet Her
Meet Andrea Grimes! Eater Austin editor, feminist warrior for RH Reality Check, and full-on Renaissance Fair nerd. When she's not got her women's rights game-face on, or her Eater snark shoes, she's actually quite charming and friendly and unpretentious enough to share with us her Taco Bell order: a chicken burrito, a beef baja gordita, and a Meximelt.

Aside from running for the border, her favorite Austin eats include: 1) the dipping noodles at Ramen Tatsu-Ya, 2) whatever scrambled eggs Bryce at Barley Swine is making, and 3) the monstrous beef ribs from Louie Mueller BBQ. You can usually find her blowing off steam on Twitter, or at her "office", aka Workhorse Bar.