Event of the Week Austin's premiere taco journalists have graduated from bloggers to authors with the release of Austin Breakfast Tacos: The Story of the Most Important Taco of the Day, and to celebrate, they're taking over Tamale House East with beer from Indio and free tacos supplied by Tamale House, Tacodeli, WhaTaTaco, and El Sol y La Luna. See a preview image from the book and all the deets right here Thursday, July 18th Screen-printing impresario Tim Doyle and the literary mag Foxing Quarterly are throwing an old-fashioned Hyde Park rager timed with the release of their new issue, art-directed by an internationally known illustrator who's also debuting a super-limited edition book of prints. Naturally, there're a bunch of bands. See who's playing here. Honor the man, the myth, the totally insane author, Hunter S. Thompson, with a birthday party at Hotel Vegas, where they'll have a vintage tiki bar, bands like Kay Leotard and Hundred Visions, and free drinks between the hours of... this and this. Friday, July 19th Bikinis? Lingerie? Sex toys? All at Suite 101. This link leads to the event page, which leads to a bikini site Saturday, July 20th The Rooskies at Russian House are hosting a Summer ball with card games, chess, a costume contest, and much more. Yep, this is in honor of Tolstoy Sunday, July 21st Set sail on a boat party hosted by indie rock record label Pau Wau and featuring performances by ATX ex-pat Bill Baird, pirate-rockers Cartwright, and a new band with former members of The Strange Boys. Even more bands! See them here. Monday, July 22nd Waterloo Records hosts an in-store with revered experimental band The Octopus Project. Wondering what the top-selling albums at Waterloo are?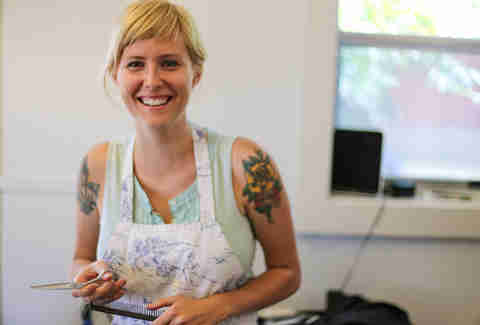 Local Lady We Love and Where to Meet Her
Meet Meg Cusack! Her Austin roots trace back to pulling shots at Clementine coffee shop (now known as Thunderbird on Manor), but these days you can find her trimming roots at Hearts and Robots Salon. When she's not inside binging on Korean soap operas (K-dramas!) or showing off her Neutral Milk Hotel tattoo at festivals like Fun Fun Fun Fest, you can find her posted up at Yellow Jacket Social Club, Rainey St newcomer Craft Pride, or Jackalope.

Two tips from Meg for the next time you get your hair did: 1) "Pictures help. If you have a stylist balk at pictures, that's prob not a good sign." And 2) "Going to the same stylist more than once helps too. If you go to a new person every time, you aren't giving yourself or the stylist a chance to figure out what your style is and what really works for your hair type."