You're invited to a huge Austin Dos de Mayo party. Now choose your food!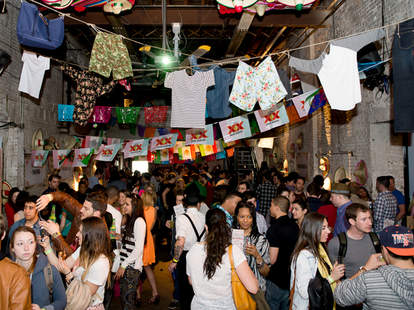 On May 2nd, Thrillist and Dos Equis are throwing a party that will go to any length possible to prove the obvious: Cinco de Mayo is much more fun on a Friday than a Monday, so why not kick things off early? To provide sustenance for our Dos de Mayo bash (which is on a Friday, BTW), we tapped Peached Tortilla founder Eric Silverstein, who grew up in Japan, learned southern cuisine in Atlanta, and since launching his much-beloved food truck has basically completely dominated all the awards four-wheeled cuisine can win.
So here's the fun part: you're choosing what Eric's going to cook. Just pick which of the dishes below you're most excited about devouring, then vote in the awesome digital polling station above. After you've voted, you're eligible to RSVP, because what's the point of voting if you can't enjoy the fruits meats of democracy?
Option 1: BBQ Brisket Taco
Dos Equis braised brisket, creamy apple slaw, peach bbq sauce. Very big on "ates rights".
Option 2: Tempura Fish Taco
Dos Equis tempura battered tilapia, creamy apple slaw, chili aioli, purple cabbage. Pledges to improve education, starting with teaching everyone how to fish.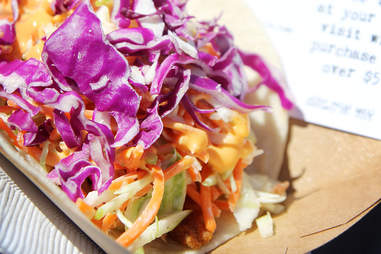 Option 3: Yumé Dog
Bacon wrapped hot dog, Dos Equis tempura battered onion strings, wasabi mayo, tonkatsu sauce. Oh, and nori. Basically the most popular hot dog in UN history.
You've seen what you could soon have in your trembling hands. Now go back up to the top of the page and vote with your belly -- and don't forget to RSVP, or Eric is going to come after you in his truck and... tell you that you should RSVP.