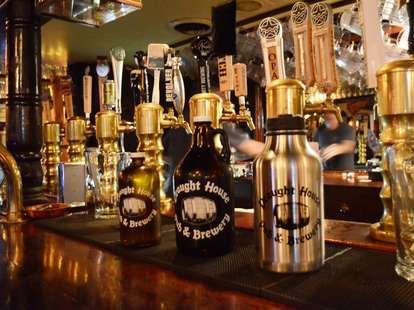 All Photos: Mike Cortez
All Photos: Mike Cortez
Craft beer: as you may have heard (because you are so trend savvy), it's everywhere and it's delicious. But one of the biggest downsides to the whole craft thing is that fledgling breweries don't always have the funds for bottling and canning their beers, so they opt for the cheaper route of kegging. So, how do you get your favorite new brew to take home? Growlers, obviously! From a modest 750ml to a mighty 66oz, they're there to help you transport that brew in bulk to share with friends and family. Actually, who are we kidding, you probably aren't sharing. Nonetheless, here are the prime spots in Austin to get your literal fill.
The Whip In
Travis Heights
The Beer: Home to the award-winning Kamala Brewing, this craft mecca has 72 beers on tap from Texas and beyond. Unfortunately they do not yet have the license to sell their own beers by the growler, so you'll have to belly up to the bar for a pint of their Indian-inspired brews. Pro tip: check out their 2013 GABF Gold Medal Winner, Bitterama.
The Cost: The average price for a fill is around $18 but it can go higher or lower depending on the brew. They will fill any growler, or you can pick one of their specialty 32oz growlers for around $5.
The Bonus: Whip In has live music every night of the week and some pretty awesome Gujarati-style Indian cuisine instilled with a little Texas flare. They also have an impressive bottle shop, from which you can grab something to enjoy on-site for just a buck extra.
Craft Pride
Rainey St
The Beer: Even though Morgan Freeman taught you that pride is one of the seven deadly sins, this place thirst-quenchingly pays him no mind, displaying tremendous pride in both craft brewing and the Lone Star State. The 52 taps and two casks represent many of Texas' finest suds. You won't find any love for Colorado or California here. Keep an eye out for Texas offerings like Karbach, Revolver, and Infamous Brewing.
The Cost: The average cost for a fill will run between $16- $20 depending on the beer. They are a BYOG (Bring Your Own Growler) establishment, but you can also buy one of their fetchingly shiny steel growlers for $30 and get an employee discount on your first fill.
The Bonus: They have a small but excellent bottle shop in the back room if you're not man enough to handle a growler.
Quickie Pickie
East Austin
The Beer: If you ask someone behind the counter what beer they carry, they will simply and accurately reply "kick ass beer". It's difficult to name the beers they carry because they constantly keep the taps rotating with regional specialties and standouts from around the country. They do have a proclivity towards easier drinking session beers.
The Cost: This place brings serious value for their selection. An average fill will run you around $17, but on Fridays they have a great special of $3 off 32oz and $6 off 64oz fills. You can pick up one of their logo-painted growlers for $8 or BYOG. Be sure to follow their website for fire sales and specials from time to time.
The Bonus: This is another convenience store, restaurant, bottle shop combo. They have a notable selection of beers and wines along with some tasty eats (go for the Muffuletta). You can also pick up a growler of iced coffee to counteract the effects of that other growler the next morning.
Wright Bros. Brew & Brew
East Austin
The Beer: Open for just a short time, they're getting plenty of attention on the ever-changing East Side. Bringing together gourmet coffee and craft beer (get it?!) they're a double threat of buzz delivery. Beer-wise they lean towards the regional stuff on their 39 taps, though they'll expand their horizons when they can get their hands on something special.
The Cost: They are a BYOG establishment, but they will be getting their own growlers soon. The average cost for fills will run between $17 and $20.
The Bonus: If beer is not your thing (said no one ever), then their coffee is something worth checking out. They feature coffee from local roasters like Flat Truck Coffee and some regional roasts from San Francisco. Also: bourbon chicken liver pate and Sriracha hummus are there regardless of your beverage preference.
Growler Room
Allandale
The Beer: What do you get when you mix a retail shop that sells pint glasses, beer steins, growlers, craft beer and offers FedEx shipping? This quaint little shop that seems like a random amalgam of barware, but also offers 23 ever-changing taps.
The Cost: There is no drinking on the premise, but you can buy a growler of all shapes and sizes from 750ml up to 45oz (or just bring your own). Prices range from $12-$18, so odds are good you will meet your taste and budget needs.
The Bonus: They're working on opening a second location on East Oltorf (aiming to open by Spring). Check out their website for special events like "pay for the cost of a fill and get the growler free".
Black Star Co-Op
Crestview
The Beer: While this standout brewpub carries beers from other folks, you'll be missing out if you skip their own creations like the hoppy rye IPA Vulcan or Epsilon, a whiskey barrel-aged Scotch ale.
The Cost: As with most spots, you can bring your own growler or you can buy one of theirs. They also have $20 prefilled growlers of their in-house beers, but the best thing about Black Star is that they will even fill your five gallon corny kegs for around $55. If that's too much, you can pay the price of a pitcher plus $1 to get your growler filled.
The Bonus: Since Black Star is a co-op, they are always accepting new member-owners. This would give you a chance to vote and have a say in what's brewed. Democracy! Black Star insists on paying their employees a fair living wage, so they don't accept tips; all the more reason to spend money on beer.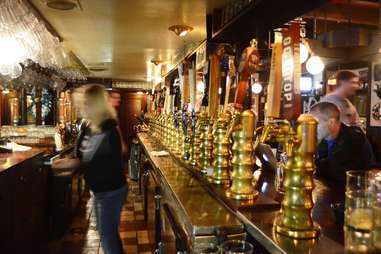 Draught House Pub & Brewery
Rosedale
The Beer: Draught House looks like an authentic English pub, but the 70 taps are plenty crafty, including some of their own creations. Sundays they offer Texas pints for only $3, which is a steal if they have some Jester King or Adelbert's on tap.
The Cost: Draught House is a BYOG establishment, or theirs run $5 for a 32oz growler and $7 for a 64oz. Fills typically fall between $15 and $20.
The Bonus: Be sure to stop by on a Saturday for free bratwurst while it lasts. This is a no-pressure kind of place where the bartenders are more than willing to help you make a selection. They're also quite forthcoming with samples to help you make up your mind. Indecisiveness pays off sometimes!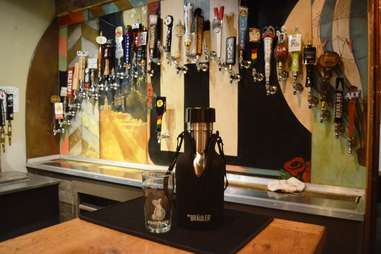 Hopfields
The Drag
The Beer: Hopfields is a cozy restaurant with an ever-changing tap selection to complement their French-style pub fare (so it cowers at the sight of German food?). The 39 taps draw from all over, ranging from Alaskan barleywine to Dogfish Head Namaste.
The Cost: The growler fills are more of an afterthought for Hopfields, but they're happy to hook you up. They have a growler which you can purchase for $15 -- and get 10% off fills -- or you can BYOG. Fills can run anywhere from $15-$30 depending on the beer and the size of your growler.
The Bonus: The food here makes it well worth a prolonged visit. Pair those moules frites with a Belgian Tripel or get that Pascal Burger (all laden with Camembert, cornichon, and other French stuff) with a super crisp IPA.