5 Austin businesses that will give you free beer
Austin Great customer service can come in many forms, such as knowledgable servers, attentiveness, or never-ending breadsticks. We prefer the cold, beer-y approach ourselves, and lucky for us, there are a handful of local businesses who got the memo. These locally owned hangouts offer up cold beer to patrons on certain nights. Let us know in the comments of any places we missed!
Austin Daily Press
East MLK
These guys are serving up sandwiches with serious munchie cred, like their Pineapple Express, loaded with roasted chicken, Black Forest ham, pineapple ginger chutney, Monterey Jack, Swiss, spicy ranch, and cilantro. But, hold on a minute… they also do Free Beer Fridays starting at 11am where you can hook up with complimentary Lone Star (and Hops & Grain on select nights!)

Continue Reading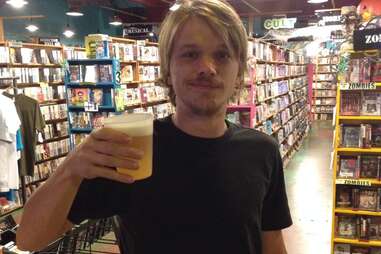 I Luv Video
Airport and Campus
Grab a cold one next time you rent, Re-Animator because I Luv Video has Free Beer Tuesdays! It goes from 6pm to midnight at both locations, and we're not talking any crappy beer. They're getting the good stuff, like brews from Live Oak, Circle, Rognes, and Black Star Co-Op.
La Barbecue
East 6th
La Barbecue has been climbing the 'cue social ladder since they opened, and while we aren't saying the brisket isn't juicy perfection, we may be saying that the free ice-cold Lone Stars maaaaay have a little something to do with the unanimous nature of their customers' satisfaction. The beer starts flowing Saturdays and Sundays at 11am until it's gone!
Bird's Barbershop
Multiple Locations
Bird's has been keeping Austin weird, and hip, and cool since 2006. Where else can you get a sleek 'do by a punk rock babe WHILE playing vintage arcade games WHILE sipping on some Shiner? The answer is nowhere, so go get a haircut! Their current selection is Summer favorite Shiner Ruby Redbird.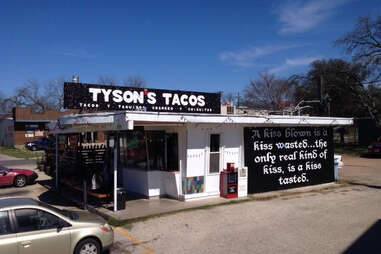 Tyson's Tacos
Airport
With tasty breakfast tacos named the "Stripper" and the "White Girl", this under-the-radar taco joint has already caught our attention. Their Free Beer Friday, starting at 12:30pm every Friday, has catapulted Tyson's into the elite group of businesses that officially know what's up.