The Super Bowl has a little something for everyone. Sports fans will park themselves in front of a giant TV ready to shred their vocal cords, food fans should don their stretchiest pants for consuming the appropriate amount of cheese, and everyone in between is just kind of along for a good time. One thing is certain: Austin bars will be brimming with humans. Here are some of the best spots to take in the big game no matter what team you're rooting for.
Southpark Meadows/Round Rock
In a hilarious twist of fate, the north Third Base (in Round Rock) is a gathering place for Chiefs fans and the south location (in Southpark Meadows) is the home of the 'Niners. Head north for a sea of red plus 22oz Miller Lites for $4, Fireball shots for $4, and $16 buckets. Head south for 75-cent wings, $1 off draft beers, and $2 off liquor drinks, along with 49ers raffles and donation face painting.
Greystone Drive
Who doesn't love a good mashup? Ronald Cheng's Chinatown has been transformed from a cool neighborhood Asian restaurant into a cool neighborhood Asian bar with 18 drafts, 11 crafts, and 20 televisions. There's not a drip-drop of Velveeta in sight, but you can find pan-fried pork dumplings, sushi rolls, chicken lo mein, and beef fried rice. They'll be doing $2 draft Bud Light and happy hour all day ($2 off all specialty drinks and entrees.)
East Austin/Central Austin
Both locations of Revelry will be engaging in, well, revelry. At The Boulevard, they're doing a whole pig roast: $20 for all you can eat pig tacos and a salsa bar. They'll also have new wing flavors, draft specials, and a projector with the big game on. At Kitchen + Bar, they'll have a super bowl special on as well. Both locations are giving out tickets with your drinks and raffling off a new TV for your future game watch needs.
South First
For the third year in a row, Fresa's -- one of Austin's favorite spots for chicken and margaritas -- is hosting a Super Bowl watch party. They're rolling out a 115" LED video wall on the patio with multiple screens inside and happy hour prices on beer, wine, and those knock-you-over margaritas. You can order off the regular menu, but they'll also have a special snack menu in place just for the big game.
East Austin
Sports bars aren't typically known for their perfectly crafted cocktails… and Whisler's is decidedly not a sports bar. They will, however, be showing the big game on Super Bowl Sunday. They're setting up outside screens and will have chips, dips, drink specials, and the practically obligatory Bloody Mary. What's nice about watching the game here is, you can have a Hemingway Daiquiri or a Mezcal Mule whilst grumbling about the refs.
Way East Austin
This off-the-beaten-path bar may typically host metal and punk shows, but on Super Bowl Sunday they're throwing down with the best of them. Self-described as the "True Home of the Austin Kansas City Chiefs," they'll be doing happy hour all day, a free barbecue brisket, chicken, and smoked ribs buffet during the game and the thing most desired in all the land… plenty of parking.
Mueller, Sixth Street
BD Riley's just smells like football (in a good way). Both locations of this locally owned Irish pub have primo TV watching spots, huge wooden bars, a great beer selection, and the kind of belly-up-to-the-bar easy feelin' that goes well with Superbowl fervor. If you're drinking (and let's be honest here… you are), take down some KEEL vodka "Left Tackle Bloody Marys" or a "Defense is Screwedriver" plus Irish coffee and draft beer specials.
South Austin
South Austin isn't exactly known as a sports haven, so when Moontower Saloon opened Vincent's Pub, sports fans were pumped. Handcrafted cocktails, 30+ taps, 21 TVs, and elevated pub fare have made this a local hang; dig into some hot and crunchy shrimp, a spicy kraut dog, or gumbo with a half po'boy to go with your tall and frosty beverage. During halftime, try your hand at darts or Golden Tee.
Way South Austin
When the weather is nice, there are only a handful of spots that can boast a deck as epically sized as SABG's. Expect 3,000 square feet of outside seating, outdoor games, plus another outdoor area with fire pits and live music, as well as 60 draft beers and a full bar besides. On game day, SABG is hosting a Super Bowl Bonanza with drink and food specials, games and prizes for attendees.
West 12th
There were rumors that the Tavern was going to close last year, but thankfully she's still with us, as haunted as ever. This sports haven is also the official home of the Kansas City Chiefs fan club, so you know it's going to be butts-to-elbows red-on-red in there. If you're on team Chiefs (or if you're out to troll) head to the tavern to yell, cheers, and eat as many white wings (chicken wrapped in bacon dipped in wing sauce) as a human body can possibly hold. 
Burnet, West 6th, South Park, Tech Ridge, Parmer Lane
Little Woodrow's is the absolute master of the neighborhood bar. You can wander into any location and it feels like you're at your local pub; they're also family-friendly and cater to all sports fans. On game day, they'll be doing $1 off select drafts, bucket specials, and $5 Enchanted Rock Bloody Marys so start early and high-five often.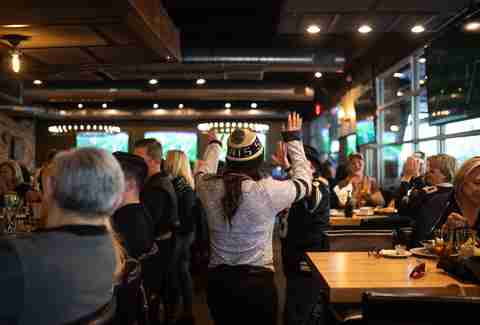 Round Rock, Anderson Lane, West 6th
Who says you have to eat crap food while watching the biggest game of the year? Watch the 'Niners take on the Chiefs over seared Ahi tuna or some fresh Mongolian pork lettuce wraps in comfy booths while being surrounded by huge televisions. They're offering a "FAN-tastic Super Bowl Special" during the game with more food than four linebackers could put down, and a Party to Go Pack for couch-coaches.
Rock Rose, Lavaca Street, South Lamar
You're never too far from a Lavaca Street Bar, thanks to their expansion over the past couple of years. Whether you're north, downtown or south town, there's a ton of beers on draft, quick service, and sustainable Southern-style seafood from Turf N Surf Seafood. Each location will have a 21st Amendment beer (representing San Francisco 49'ers) and Boulevard beer (representing KC Chiefs) on special.
Burnet Road
Literally every event that the Local Post hosts is football-centric; just check the calendar. And why wouldn't it be? There are TVs mounted on every available surface, plus it's dog- and family-friendly with yard and arcade games. If the on-screen action isn't enough, there's also a pool table, board games, and giant Jenga. Come here with a group or roll solo as you're sure to find friends on both sides of the fence, and don't forget the Food Network-featured 10 Lb. Tin Can Nachos.
Manor Road
It's hard to beat sitting at Haymaker and watching a game. They have an open, airy aesthetic that's ideal for big groups, with picnic tables inside and out plus bar seating. They also have pool, darts and TVs in every sightline. There'll be some friendly squares available on the big day, and if you're worried about getting a spot, reservations are available to ensure you've got a place on the bench.
North Austin
Mister Tramps has never pretended to be anything but sports-crazed. Memorabilia covers every wall, it's the bar of choice for at least 10 teams in the area, and at any given time, the TVs are regaling you with some game, somewhere. It stands to reason then, that this'll be a fantastic place to watch the game, drink for cheap, and hang out with fellow football homies. There'll be both food and drink specials for the big day.
Sign up here for our daily Austin email and be the first to get all the food/drink/fun in town.