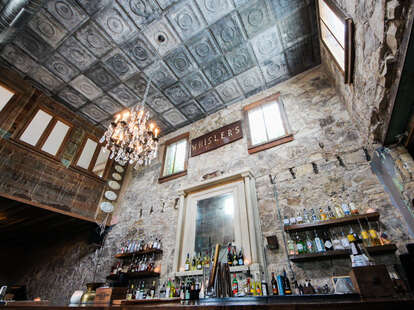 Facts are facts: other than Mickey D's drive-thru window workers, there's no one better at sizing people up than bartenders -- a theory they're currently testing at just-opened Whisler's via a dealer's choice drink program in which their very capable bartenders ask you a few quick questions, then craft a crazy-delicious bespoke drink aimed to surprise and delight your palate.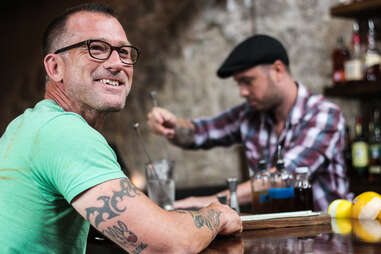 The idea came to owner Scranton (the former right-hand man behind Rainey St spots like Bar Ilegal) on a research trip to NYC, where he put himself at the mercy of 27 different bartenders. After his liver yelled "Uncle!" and his stomach yelled "Holy crap, a talking liver!", he returned to the ATX and applied the wheel of chance mentality to the space that formerly housed Rabbit's, which he stripped down to the original 1917 interior with the blessings of the previous owner.
We subjected a few notable Austinites to the dealer's choice system, starting with Cheer Up Charlie's booker and Cinema East maven Maggie Lea. Justin the barkeep asked her favorite spirit ("Gin before the sun sets, bourbon after") and color ("Purple, even though I never wear it"). The result is a Gin & Juice with Aviation, fresh lemon, pomegranate/rosemary syrup, and an absinthe rinse, which Maggie exclaimed that she'd "definitely drink again!"
Next up is a longtime buddy of Scranton, Tom Bailey: investor in the bar, wearer of Nirvana t-shirts, tequila drinker, and part-time video editor for the NBA. When asked about his favorite art movement, he replied that he was a fan of Impressionism, which somehow led to the creation of this tequila-lime-yellow Chartreuse-jalapeno simple syrup-and-grapefruit peel concoction.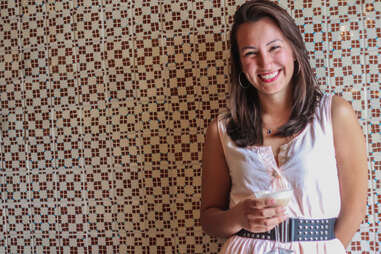 Our camera was also blessed by Carolyn, who when not busy posing for photos in Whisler's beautifully tiled bathroom, slings fancy cocktails at Weather Up. Justin asked for her favorite dessert ("Cheesecake!"), then whipped up a sweet mezcal-fueled number loaded with Chameleon cold-brew coffee, creme de cacao, simply syrup, and both Angostura and orange bitters.
Lastly, Scranton stepped up to bat, challenging his mixologist to bring the deliciousness in three ingredients or less. The result is a classic Hunter with simple rye whiskey and Cherry Heering topped with a golden arch of lemon peel that had Scranton exclaiming "I'm lovin' it."