Being a Regular at These Bars Comes with Serious Perks
Ed Anderson / Smuggler's Cove
Being a regular at a bar is a reward in itself—but some bars do more for their regulars than offer a convivial atmosphere, jovial conversation and buy-backs. Some bars give their truly dedicated regulars real, physical stuff. Here, seven bars where it seriously pays to be a regular.
Courtesy The Roosevelt Room
What You Get: A Gold Plaque
The cocktail menu at The Roosevelt Room is more like a billboard than a menu. It stretches across the wall behind the bar, encompassing seven different eras from the "Early Years" (the birth of the cocktail through 1880) to tiki (1930s-1950s) to the "Dark Ages" (1950s-1990s) and beyond. That means there's everything from classic stalwarts like Sazeracs and Aviations to once maligned drinks like Long Island Iced Teas and White Russians. Drink your way through the entire menu and you'll be rewarded with immortality—well, in a way. Once you drink your way through the 50-plus cocktails you'll get your name engraved into a gold plaque mounted above the bar. You're limited to six drinks per visit, so plan accordingly.
The Bar: The Riddler, San Francisco, CA
What You Get: Embroidered Bomber Jacket
Try 100 of the Champagnes on the menu (which is most of them) at this SF Champagne bar and you'll earn yourself a place in the Riddler 100 Club, which comes with a gold-embroidered black bomber jacket. It's like belonging to the girl gang from Grease—but much, much cooler. While 100 bottles might seem like a lot, you'll have no problem finding a reason to return to the chic and airy wine bar over and over again. Between food like tater tot waffles, expertly curated wines and adorable little touches (reserved tables are marked as being reserved for female icons like Michelle Obama and Beyonce), it won't be long before you fill your scorecard. Bonus: You can even drink out of a Chambong.
What You Get: A Fez, a Trip to a Distillery and More
The Rumbustion Society at this San Francisco tiki stalwart began the day the bar opened in 2009 and was an immediate success. Owner Martin Cate had hosted a similar club, the Kill Devil Club, at his first bar, Forbidden Island, and knew he wanted to continue the tradition at any future bars. And he followed through: As you'll see, the Rumbustion Society is not Cate's only club. In the Rumbustion Society, customers essentially go through a self-guided master class in rum. There are levels to climb and, as you go from one to the next, achievements to unlock. As Cate puts it, he added a "gamification element." Guests drink their way through three different levels: Disciple of the Cove (20 different styles of rum sampled in one-ounce pours), Guardian of the Cove (80 more rums sampled in two-ounce pours) and Master of the Cove (another 200 rums). Once you pass a (very easy) quiz after completing the first level, you are awarded a Rumbustion Society card and merit badge. Complete the second level (and take the oath of allegiance to Smuggler's Cove) and receive another merit badge, a brass plate on the wall and a red fez. You also get to attend private tasting events. Finally, once you complete the third level and become a Master of the Cove, you get a limited edition tiki mug and a trip to a rum distillery. If you dare to go above and beyond and sample 500 rums, you become part of the Black Tassel Brigade, which earns you a black tassel for your fez and other, secret benefits.
Courtesy White Chapel
What You Get: A Trip, a Feast, a Coat of Arms and More
Another one of Cate's clubs, The Polk Street Irregulars is a society of gin lovers based at Whitechapel. It's similar to the Rumbustian Society in that it is largely self-guided and goes through a series of levels, but rather than ask guests to drink all the gins straight, this club lets you sample them in gin cocktails. To achieve the level of Commoner, you follow the curriculum, tasting juniper berries, sampling an old school Boilermaker called a Diep 9 Oude Kopstoot (pictured above), reading through the history of gin and more. After passing a quick test, you become a Viscount or Viscountess. In level two, you drink 200 different gins in the gin cocktails of your choice and attend private tastings. After completing that, you are now an Earl or Countess and get a nameplate on the wall, as well as a trip to a local gin distillery. Two hundred more gins later, you're a Marquess or Marchioness. This title earns you a feast at Whitechapel for you and five friends. A hundred more gins and you are finally a Duke or Duchess with your own personal coat of arms dependent on your chosen name (which must be based on a gin botanical), as well as a trip to a distillery in the Netherlands or the U.K.
What You Get: Private Luau, Line Privileges and More
At False Idol (another one of Cate's bars), The Mystics of Alkala adds rum cocktails to the Rumbusition Society's rum education curriculum. The club only recently launched in July 2017, but it's already filling up. While other clubs use a punch card system, this one modernizes the process with a website, on which members can take notes and get managers to sign off on their achievements. There are four levels (Acolyte, Worshipper, Exalter and Conjurer), and awards include special tastings, souvenir glasses, distillery tours, gift cards, line privileges (so you can order first) and, once you've tasted nearly 300 rums and cocktails, you get a private luau at the bar for you and five friends.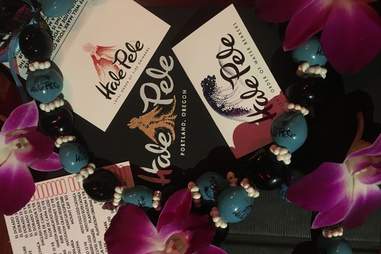 Courtesy Hale Pele
The Bar: Hale Pele, Portland, OR
What You Get: Kukui Nut Necklace, Engraved Medallion and 20 Percent Off
There are two loyalty programs at Hale Pele: the Loyal Order of the Fire Drinkers (entirely rum based) and the Ancient Order of the Water Bearers (cocktail based). Both clubs begin when you receive a card listing all 51 of the bar's standard cocktails and all 50 of their rums. Drink all of the rums and you'll receive an engraved medallion; drink all of the cocktails and you'll get a kukui shell necklace. Whichever order you choose, you'll also be rewarded with a welcome into the group and toasted with a volcanic explosion (from an actual tiny volcano in the bar). Both groups also get a 20-percent discount on food and drink every Sunday and invitations to special events.
What You Get: Dog Walking, Goldfish, Trip to California and Much More
This Brooklyn bar offers a smorgasbord of benefits to its regulars. To enroll, you simply pay a $10 membership fee and receive an ID card. Then, you start drinking and earning Frequent Drinker Yards (FDYs). You get one FDY for each dollar you spend at the bar. Once you've racked up points, you can cash them in for rewards, which include everything from a mix CD (400 FDY) to a keg party (4,000 FDY) to an hour of dog walking (400 FDY) to a round-trip flight to California (8,000 FDY). You can even get your own goldfish (200 FDY). The list goes on and on. Members also get perks like Monday-Wednesday all night happy hour and free beer koozie rental.