Cody Goldstein Is the Willy Wonka of Cocktails
Courtesy of Muddling Memories
Courtesy of Muddling Memories
In today's nostalgia-worshipping age of boozy summer camps and barcades, one bartender is truly succeeding in recapturing that long lost childhood wonder, and he's doing it without any zip lines or ball pits in sight. Cody Goldstein is an honest to goodness Willy Wonka of the cocktailing world. He might not have a factory with a mezcal river and Jello Shot flowers (yet), but he has created edible jello glassware and cocktails growing out of flower pots.
Goldstein originally started his career following the typical Westchester, New York, path, which led to three options: doctor, lawyer or banker. After working as a real estate agent for a few years, he got into finance, becoming a wealth management advisor. But, at the same time, he was also a bicoastal DJ—he was DJ Code:E (get it?). That was his creative outlet—that, and recommending restaurants or cooking for friends. But after a few years, those hobbies just weren't cutting it. "I need to love what I'm doing," Goldstein says. "I need to be passionate. I'm a Scorpio, so I get passionate. I'd been unhappy for a while and I wanted to change that." So he quit his job and, after traveling for a few months, applied to be a bartender at a Thai restaurant on the Upper East Side. "They didn't ask if I had experience," he says. Which is good, because the answer would have been no. Luckily, there was YouTube, which he used to watch instructional bartending videos for two days straight before starting his first shift, which was "horrifying."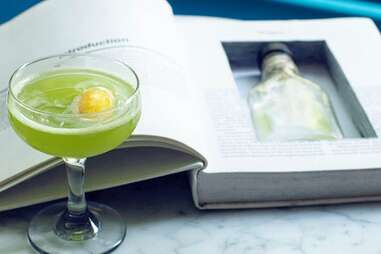 He left his copy of The Bartender's Bible by the bottles and consulted it before making a drink, essentially giving himself a rapid crash course in bartending. It worked, and from there Goldstein worked his way around a few different restaurants, eventually landing at Red Farm, a now beloved collaboration between chef Joe Ng and restaurateur Ed Schoenfeld. That's when bartending became his life.
In 2014, Goldstein launched Muddling Memories, a cocktail consulting firm and catering company, and his creations immediately took off around New York City. At Upholstery Store, he served mystery flasks hidden inside of books. (The drinks were made specifically for whoever ordered them, and Goldstein hollowed out the books himself—with some help from his dad.) At The Fat Monk, he created a hot pink highball garnished with a unicorn cutout, which was called My Lisa Frank Notebook. The name alone was enough to make any '90s kid feel a flood of memories. At NYLO, he made a drink served in a snowglobe (yes, he made the snowglobes as well—and if you were one of the many people who stole one, he would like it back). Another project at NYLO was an actual Willy Wonka-themed menu, for which Goldstein designed a cocktail in a gumball machine. These drinks aren't just Instagram bait (although they certainly do show up nicely in your feed). They are experiential—meant to be enjoyed in the moment, meant to create a memory in your mind.
While most bartenders look to classic cocktails or seasonal ingredients for inspiration when creating a new menu, Goldstein starts with the experience and works backwards. He thinks about how he wants the guest to feel or what he wants them to discover and then creates a cocktail around that concept.
All that means that Goldstein is very aware of the social media fodder he is mixing up. He knows people are Instagramming his works before they take a sip. It's a big reason why bars and restaurants hire his company. "It's the FOMO effect, the social currency of showing people or telling people where you were," he says. "Being able to create that social currency for people so that they can go tell their friends about what they did is a really powerful tool." But he also sees where the line is between a great, Insta-worthy drink and a stunt. "With the company it's about mixing the fun, unique experience with a really elevated product," he says. "We don't want to go down the road of being kitschy. We're not putting sparklers in our drinks. We're not putting a whole roasted chicken in our Bloody Mary."
I remember attending a paint and sip party where Goldstein had created a menu of cocktails inspired by artists. I had two: one inspired by Bob Ross, which came in a paint tube that I squirted into a glass set on an artist's palate, and another reflecting the work of Jeff Koons, which came complete with a balloon animal dog. "I sat up all night and made those [balloon animals]," Goldstein says. "It was crazy." (His nieces couldn't be happier about his new talent.) The drinks were delicious, but they were also fun. It was exciting to squeeze the Bob Ross into a glass, discovering in the moment what color it would be. And who doesn't like balloon animals? "At the end of the day it's drinking," Goldstein says. "It should be fun."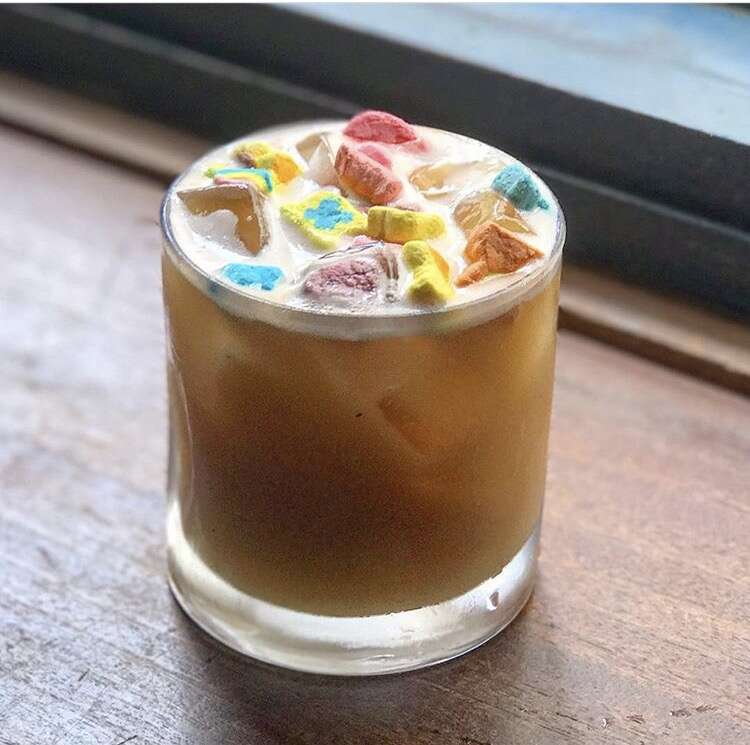 Up next for Goldstein is a line of glassware (fingers crossed it's inspired by some of his own out-there designs), along with his cocktail fizzers (bath bomb-esque balls that dissolve into liquid, creating an instant cocktail), a pop-up bar and perhaps a brick-and-mortar spot where he can build his very own whimsical cocktail factory. "I want to create something that no one can find anywhere else," he says. In the meantime, we'll have to make do chasing his spoonable cereal cocktails and cocktail terrariums around town. It won't be hard—that's what geotagging on Instagram is for.