7 Bartenders Who Are Saving the World
These days, bartenders are careerists, taking their craft just as seriously as any doctor or lawyer. The stakes may seem lower when you compare delivering an impeccable beverage to a thirsty patron to fighting for someone's civil liberties or saving a life. However, many bartenders are leveraging their positions to help their communities as much as any social servant. And a few standouts are leading the way both here in the states and abroad. These bartenders are rallying their communities to get involved in issues from breast cancer to environmental concerns, and do more than their part to save the world, one drink at a time.
Molly Landreth and Jenny Riffle, from the Butter & Scotch cookbook
Allison Kave and Keavy Landreth
Co-owners Butter & Scotch, Brooklyn, NY
Butter & Scotch already provides a huge service to its Crown Heights neighborhood in the form of gourmet Jello Shots and boozy shakes. But after the 2016 presidential election, Kave and her business partner Keavy Landreth began channeling their political frustration into action, spreading awareness and raising money for causes they believe in. The bar became the center for those operations, hosting frequent happy hours and fundraisers in support of smaller nonprofits and charities, like the Ali Forney Center and the Sex Workers Project. And the duo also donates $1 from the sale of every seasonal cocktail on their menu to Planned Parenthood. Their efforts have paid off: In 2017, they raised over $16,000. By integrating fundraising into their cocktail program, they are able to raise money and donate continuously without straining their bottom line. In fact, it has elevated their business. "We believe we've gained some devoted regulars because of their appreciation to our commitment to supporting these causes, and to being vocal and transparent about it," says Kave. For her, being able to steer the business in a politically active direction has "helped to position Butter & Scotch as a safe and inclusive space [where] customers feel good about spending money on treats for themselves, while also supporting institutions that this government has imperiled." Kave and Landreth have created a true win-win situation: a safe space for the community where you can give back by eating pie and sipping on a cocktail.
Courtesy of Jen Queen
Jen Queen
Yangon, Myanmar
American ex-pat Jen Queen is an impressive beverage professional. Over the course of her career she has started her own spirits distribution company, opened a bar in Cambodia and, most recently, managed the four 57 Below venues in Yangon, Myanmar. She is also an environmental and sustainability activist and leader. For Union Bar & Grill Yangon, Queen recently developed a section of the cocktail menu called Pour Your Heart Out, which features cocktails made with locally grown ingredients. The proceeds from the seasonally rotating drinks go to community charities, like Doh Eain, which works to improve and restore heritage buildings and public areas in Yangon. It doesn't stop there. In an effort to raise awareness about environmental issues, she and her team began challenging their industry peers to be more mindful of things like single-use plastic, and the overall waste created by the hospitality industry. The Straws Sucks campaign she helped start now reaches across 10 venues. Additionally, Union Bar & Grill is launching a trash trolley. "A mobile bar cart that serves cocktails made from items that would have otherwise made their way to the trash … inspired by our heroes at Trash Tiki," Queen says. In a similar vein, last year 57 Below hosted a bar at Wonderfruit, an arts and music festival in Thailand, which served zero-waste cocktails to the fest's 14,000 attendees over the course of four days. Queen describes the journey for one of the ingredients: "We opened coconuts and used the water the first day. Day two we used the husks to smoke the meat of the coconut and made a different menu item with the smoked coconut. … We always try to see more than one life in every ingredient." Queen hopes to inspire young bartenders to "push toward purpose in their communities."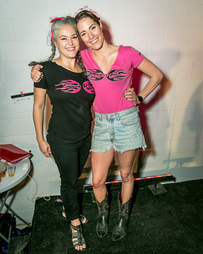 Courtesy of Ivy Mix and Lynette Marrero
Ivy Mix and Lynnette Marrero
New York, NY
It's impossible to talk about bartenders who are saving the world without mentioning Ivy Mix and Lynnette Marrero, the founders of Speed Rack, a roving, all-female bartending competition which donates proceeds to breast cancer charities. Since Speed Rack started seven years ago, the competition has evolved into an international happening that the entire industry gets excited about. And, with over 80 events and 1,000 female competitors, they have raised nearly $700,000 for breast cancer charities that range from scientific research to support groups to organizations that offer mammograms for the uninsured. Impressively, Mix and Marrero accomplish all of this while maintaining active careers as beverage professionals in New York City. Mix describes the events as "feminist booze lovers meets roller derby vibes." The good natured fun that the competitions bring attracts a diverse group of beverage industry professionals and consumers. It's fast-paced, high-intensity and seriously fun, but it's also more than that; Speed Rack not only provides financial support in the fight against breast cancer, but also brings together sisterhood of women, which benefits everyone involved.
David Goddard
Leslie Fenberg
New York, NY
Leslie Feinberg took over Subject, a Lower East Side cocktail bar, along with her business partner, Brian Grummert, at the start of 2017 when their friend, the bar's previous owner, died. The challenge of suddenly taking ownership of a bar did not stop Feinberg from building charity and sustainability into the business. Feinberg's philosophy and the name of her company are one in the same: Try Being Kinder, which inspired the TKB pop-up series at Subject. The pop-ups feature a rotating lineup of bartenders and brands that raise money for different charities. In addition to giving back, Feinberg finds value in the sense of community the series creates. "On pop-up nights in particular, the bar just radiates this kind of warmth and love that is incredibly moving," she says. In addition to charitable one-offs, the bar seeks to be as conscientious as possible by stocking its shelves with bottles from local distilleries and breweries, and featuring local products like Catskill honey. Aware of the amount of packaging waste in the bar industry, Feinberg and Grummert seek to be leaders of sustainable bar culture by doing away with cocktail napkins and providing paper straws upon request only. The small efforts add up, especially in a city like New York, where there is a need for bars to break old standards and lead the way by example.
Courtesy of Mica Rousseau
Mica Rousseau
Fifty Mils, Mexico City, Mexico
French-born Mica Rousseau left a background in nuclear physics and electronics engineering to pursue his passion of mixology. At the helm of Fifty Mils, the ultra-creative, high-concept bar at the Four Seasons in Mexico City, Rousseau has merged his bartending prowess with social awareness. The focus of the 2017 menu was cultural and environmental sustainability, with a focus on raising awareness about humankind's carbon footprint. "Even if it's at our bar, even if we are only making a cocktail, every little thing matters and this was our message," shares Rousseau. One of their cocktails, the 360°, is served inside an ice sphere, which is suspended above a small pot of herbs. As the drink is consumed, the ice melts, watering the herbs, making sure that nothing goes to waste. Other menu items were designed to call attention to specific causes, like their pink cocktail created to inspire awareness around breast cancer. With an international and often high-end clientele, Rousseau and his team are promoting social responsibility in a unique way, inviting their patrons to support causes that impact the entire world through their craft. Rousseau explains his goal is "to give back. That's all that matters."