How to Become a Whiskey Drinker for Just $100

If you aren't already a whiskey drinker, the brown spirit can seem intimidating. Some won't try it because they insist they prefer beer. Some people say it's just something their father-in-law drinks. Whatever the professed reason for staying away from whiskey, lurking underneath it is the fear that it just costs too much damn money to drink whiskey. But it doesn't have to. Here, we'll show you how to get started on your path to whiskey appreciation by putting in just $100, from bottles to the only glassware you need.
If you're just coming to whiskey, buying an entire bottle is a big commitment. There are a number of solid, reasonably priced bottles for beginners, but buying just one or two bottles limits you to trying just one or two bottles. Whiskeys are unique, not only from one style to another but within those styles as well. Tasting boxes from Flaviar won't give you nearly as much juice as you'd get from a full bottle, but they will allow you to sample some excellent whiskeys without spending hundreds of dollars. Flaviar offers boxes from a variety of whiskey regions around the world, but we'd recommend starting with their "Born in the USA" box. You'll get a bourbon (Blanton's), a rye (Catoctin Creek) and a cask strength, wheated whiskey (Journeyman). But if you want to narrow your focus, the bourbon and rye boxes are worth a look.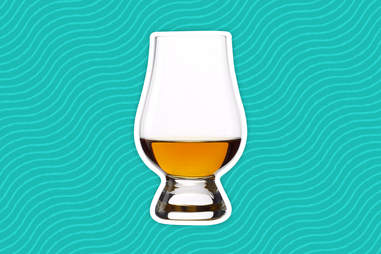 Courtesy of Glencairn
While holding a heavy low-ball glass in your hand might be the tactile sensation you think you want to have while you're drinking whiskey, the often pricey glasses aren't actually what you should be drinking from. A Glencairn is designed specifically to accentuate a whiskey's aroma and flavor.
Do you seize up every time you hear someone say that a bourbon has notes of vanilla and cardamom? Listening to people talk about whiskey, like listening to them talk about wine or rare Radiohead records, can be off-putting if you aren't confident in your vocabulary. The Distiller app gives you tasting notes and flavor profiles for almost any bottle you'll encounter. Read the notes before you drink and see if you agree. Even if you don't, the app can help you develop ways to talk about whiskey you might not have felt comfortable with before.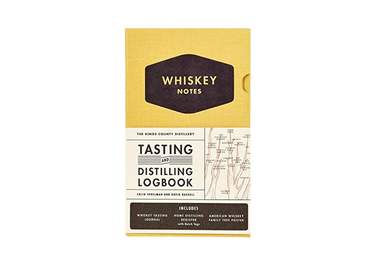 Courtesy of Amazon
We will grant that keeping tasting notes is nerdy. But it's also helpful. It will help you keep track of what you like and what you don't. You can make your own notes in the aforementioned app, but there is something nice about doing it the old fashioned way. This notebook from Kings County Distillery in Brooklyn includes a journal specifically meant for whiskey tasting, and it even comes with a whiskey family tree, showing where many of the best bourbons and ryes originated.
Now that you're going to be drinking whiskey, you need somewhere to show it off. If you don't have a bar cart yet, you can start with this affordable utility cart. Then there's nothing left to do but fill it up.