If Ben Schwartz Can Become a Wine Expert, So Can You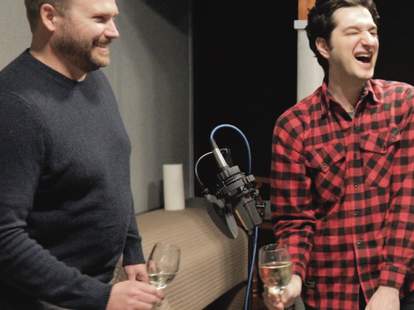 You might know Ben Schwartz as the scarf-wearing, line-singing, money-wasting Jean Ralphio from Parks and Recreation. Or maybe you know him as the practical joke-playing suck-up Clyde Oberholt from House of Lies. Or maybe it's his role as Dewey from the rebooted DuckTales that you can't get enough of. Or, perhaps, you're a diehard Comedy Bang! Bang! listener who lives for the annual Solo Bolo. Whatever the case, you probably don't think of Schwartz as a bonafide wine expert. And that's because he's not. But after his most recent podcast project, he's a lot closer.
The Wine Down by Wine Dialogues is a seven-episode podcast series in which Schwartz is joined by both a wine expert and a variety of fellow comedians, including Scott Aukerman, Kate Berlant, Eugene Cordero, Jake Hurwitz and Amir Blumenfeld. It's an informative crash course in wine basics—and it's also hilarious. Yes, someone finally managed to make talking about wine actually entertaining. Of course, it's even better if you're drinking along with the episode.
Now that Schwartz is a notch above novice, we caught up with him to talk about the best things he learned while recording the cast—and the most fashionable way to use up all those wine foils.
The Wine Down
Supercall: What would you say was your level of wine knowledge before you started the podcast?
Ben Schwartz: I knew that wine came in bottles, sometimes boxes. I knew that a red was a red and a white was a white. I did not know what they were called outside of red or white. I did not know that there was a Chardonnay or a Cabernet. I'd never really tried rosé before, and I didn't know how to open up a Champagne bottle. I know many of those things now—not all, but many of those things.
SC: What are some things you've discovered through the podcast?
BS: Oftentimes, when I would drink wine, it would more be by itself. But now it's more like, if I have a heavier meat dish, I'll try it with a red and see if that works. Or take a little bit in my mouth and drink it and then try the meal. Those little things have been so fun—to try to pair white or rosé with fish. The idea of wine and cheese has also changed my life. To learn that if you eat cheese and wine at the same time, both taste better? I was like, what is this witchcraft?
SC: What are some tips for people who are nervous about going to a wine tasting?
BS: This is what I've learned and I take it in confidence because people who are far more intelligent than me in the field, and probably in life, explained to me that if it tastes good to you, that's all that matters. You can dissect it all you want. You can do mouthfeel, but in the end if you put it in your mouth and you drink it and you're like, "Oh that tastes good," that's what the whole idea is. And of course the more intense you get about it, just like with any practice, the more specific you can get about why it tastes good. But what all these winemakers said is it's not supposed to be scary. You're supposed to enjoy it.
SC: How about any advice for reading a wine list?
BS: What I've learned is to just tell [the sommelier] what you like. So if I'm like, I'm in the mood for a sweeter red, it's the sommelier's job to give me a taste of one or two—obviously only the by the glass bottles. I would never make someone open a bottle, give me a taste and then say no. I hate confrontation. I can't. I'm lactose intolerant, but if there's cheese on a sandwich someone gives to me I'll eat it and say, "This is amazing. Thank you very much."
SC: Did you pick up any tips or tricks for actually drinking wine better?
BS: I learned to hold my wine glass from the stem. Often times I would hold it like a goblet, with my whole hand on it. I found that the most pretentious way to hold a wine glass is with two fingers on the base of the wine glass. So that's a fun little character trait. If I'm ever writing a movie I can have someone pick it up like that. Also, the idea to pour the Champagne a little bit at first and then a little bit more—all these things are fun little hacks that you can use in your life.
SC: Opening wine can be intimidating to people. Any advice?
BS: Watching [the experts] open up wine. They're magicians at it. But it's not as much pressure as one might think, opening up a wine bottle. There are also screw caps so if [corks] bother you, don't even worry about it. When I did comedy at the Upright Citizens Brigade Theater in New York I was a bartender there. All we did was serve wine and beer, so I would have to open up wine bottles. In the beginning it was terrifying and then slowly you realize it's fine. You may mess up a cork every now and then, but it's easier than you think. And when you have these big fancy [wine openers], sometimes you're cranking it, you don't know what's happening—there's a flux capacitor on a couple of them. It's very weird.
SC: How has the podcast changed how you approach wine?
BS: In my little wine closet—I'm not cool enough to have a beautiful thing for it yet—I would mostly have one or two bottles of wine: one I would bring to someone's house if there's a party and one I would drink. I wouldn't even think twice about it. Now I have a couple whites, couple rosés, couple reds. It's like a treat. When someone comes over and you ask, "Do you want some wine?" And they're like, "Sure." "No, but what type?" And they're like, "Oooh…" I'm also collecting the wine tops of every bottle we've opened since the podcast just because I think it's fun to show the variety of stuff we've had. I thought that was a cute little thing.
SC: Are you going to make a collage of them?
BS: It'll be like when people hunt sharks and they have all those shark teeth. I'm just going to have all the tops, all the caps, right around my neck. It's going to be very intimidating to everybody.