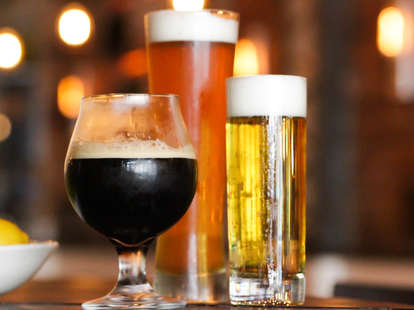 Like its hilarious boot-shaped steins, Germany's beer culture has always been known for its depth rather than its breadth. It's still pretty common to walk into a bar and ask for your preferred size of beer instead of a rundown of what's on tap. And that's what makes Berlin's burgeoning beer bar scene so amazing -- there are finally new twists on old classics, solid craft brews, and plentiful imports. Here are the best places to sit down and enjoy a cold one:
Wedding
As one of Berlin's longest running craft breweries, Eschenbräu's has definitely set the bar high for tasty beer in a comfy taproom. Aside from three year-round microbrews (a pilsner, dunkel, and hefeweizen), there's a range of delicious, full-bodied seasonals, too. The outdoor garden, serving brezeln in a Bavaria-esque atmosphere, is also quite swell.
Kreuzberg
On Hopfenreich's blackboard menu, there are always 22-some beers, which means solid range from one bar stool, my friends. Local brewers stop in every once in awhile to talk hops with guests and introduce their latest masterpieces, and every Tuesday the bar organizes a weekly tour of the city's craft beer hotspots.
Friedrichshain
Hops & Barley is part-traditional Kneipe (a pub-like Berlin bar usually verging on a dive) and part-taproom, which means you'll be sipping brews next to the same copper kettles where they came from. Like the watering holes of yore, the owner also offers a decent-priced holiday apartment upstairs above the bar, so call this your back-up plan after having one too many.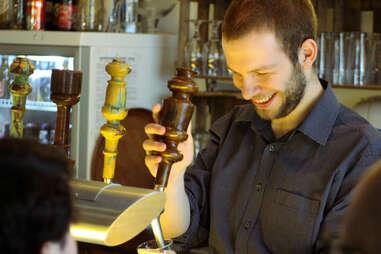 Wedding
This taproom and brewery opened a couple years ago thanks to a crowdfunding campaign. Vagabund's broad selection of signature craft beers, Belgian ales, and southern German lagers is enough to make any beer enthusiast feel at home -- yearly memberships and a "we close when we close" motto definitely help too.
Kreuzberg
BKK's divey interior should tip you off that sacrificing brain cells for beer is standard here. It's one of the few bars in town that serves by the pitcher, and there are strong specialty pours like the Holy Shit double IPA and the 13% ABV Black Friday black beer (so beware of a rough morning after). Check out the projection room where you'll usually find some German and international football.
Kreuzberg
Berlin winter can be depressing, but Heidenpeters seasonal porters kind of make up for it (or at least help to numb the feeling substantially). This minimalistic bar inside of Markthalle Neun offers a bunch of ales, stouts, and craft brews from around Germany and Europe. Heidenpeters closes on Thursdays at 10pm, and 8 pm on Tuesdays, Fridays, and Saturdays, so clock this one in as a necessary pub crawl warm-up.
Prenzlauer Berg
HERMAN's quite literally has 99 bottles of beer on the wall, give or take. At the helm of this Belgian beer bar is, appropriately, a Belgian guy named Bart, and he's usually around to give a few good recommendations. They usually carry a few Trappist numbers, so that's a decent place to start.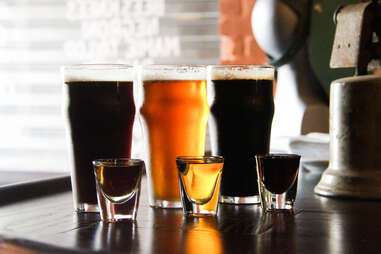 Kreuzberg
Head brewer Thorsten Schoppe is known for delivering punchy yet delicious creations, which are a perfect match to this bar's upbeat ambience. There's often live music and football games on screen, not to mention a happening outdoor beer garden overlooking Hasenheide Park.
Sign up here for our daily Berlin email and be the first to get all the food/drink/fun in town.
Barbara Woolsey is a Berlin-based writer who has been researching this story since she moved here. Follow her at @BarbaraWoolsey.