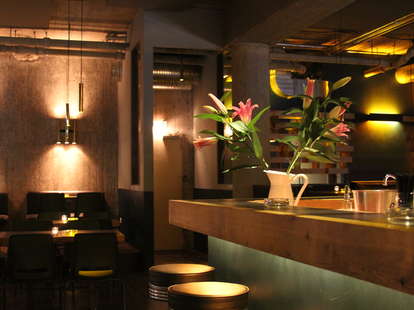 There's nothing more Berlin than an unmarked door. You'll find them all over, shielding dark drinking dens from the unwitting masses (read: tourists). But the truth is that even locals have trouble tracking down proper speakeasies serving unique craft cocktails. They thrive in obscurity on unsuspecting streets and apartment blocks in staggeringly tiny spaces. Here are a few of the best, and how to find them:
Prenzlauer Berg
From crazy cocktail lists in talking pop-up books to staff dressed as Lewis Carroll and Brothers Grimm finger puppets, Fairytale is taking the red pill in pub form. Fall down the rabbit hole (and hopefully into a crazy Berlin adventure) with fantastical libations and Champagne served inside dainty Louboutin glass slippers.

How to get in: Find the Märchenbrunnen or "Fountain of Fairytales" in Volkspark Friedrichshain. The bar's directly across the street at Am Friedrichshain 24. Ring the buzzer.
Mitte
Buck & Breck is Ernest Hemingway meets Johnny Depp, an old-world establishment with hipster bartenders sporting groomed beards and plenty of tats. Some of Berlin's most raved-about cocktails are served here (also, foreign cigarettes in fanciful packs), and being a 30-seater, it's exclusive. Just pick your poison and they'll come up with the rest.

How to get in: The entrance is hidden behind what looks like a warehouse with a CLOSED sign, so ring the buzzer labeled BAR to get in. If it's already full, the doorkeeper may take your phone number and call when a table is free (that is, if he likes the looks of you).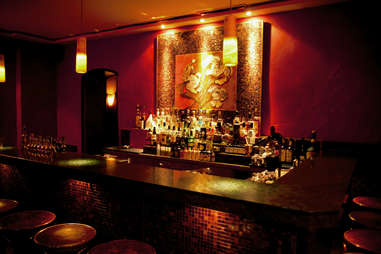 Prenzlauer Berg
This buzzing watering hole is a P'Berg legend, but as it's nestled in a residential street, you're likely to miss it. Once you've located Beckett's portrait and entry point, relax inside on a red leather sofa and peruse a cocktail list printed on an old paperback play. No standing allowed, so go early for one of only 20-some seats.

How to get in: You'll know you're here by the photo of Beckett hanging in the bar window. Ring the buzzer next to it and hopefully there'll be space.
Mitte
Bar Tausend's known for a strict door policy -- but unlike Berghain, you're more prone to getting in here wearing heels or a collared shirt. At this tunnel-esque bar beneath a railway bridge, you'll find Mitte's fancy/cool crowd, strong libations, and an eclectic batch of DJs playing house, disco, and the like depending on the night.

How to get in: At the unmarked entrance (an old iron door), buzz for the "landlord" and try not to look awkward as the door guy thoroughly evaluates you with his eyeballs.
Neukölln
Bürkner Eck is a straightforward speakeasy -- while the front looks Neukölln shoddy, what you'll find inside is a long, lovely bar covered in candles and a bartender earnestly shaking up classic craft concoctions. Like most other bars in its wheelhouse, taking photos inside is a big NO.

How to get in: Find the bar positioned right at the corner (you'll be able to faintly see "BÜRKNER" painted in white across the top of the door and see the bar through the door's windows). There's no doorbell, but the door will be locked -- just wait for the bartender to see you and buzz you in.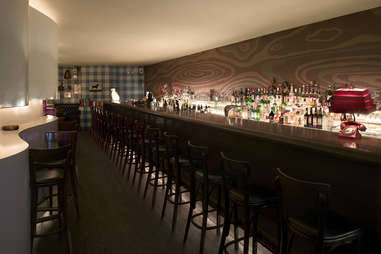 Schöneberg
If anything can make you shuffle out to Schöneberg, it's this bar. Decked out with checkered walls and retro relics, the Green Door's vibes are laid-back, but the cocktails are on-point, like the signature special with Champagne, lemon, sugar, and mint.

How to get in: The bar hides behind a discreet green sign, heavy windows, and (obviously) a green door. You'll need to ring the bell to get in.
Kreuzberg
Housed in a former barracks at Kottbusser Tor, Fahimi is a speakeasy that riffs on a grungier industrial feel. Check the Facebook page for 1) events like pub quizzes, live gigs, and occasional readings, and 2) weird and wonderful cocktails of the week, from margarita popsicles to caramel ice cream and a bourbon medley.

How to get in: Enter 133 Skallitzer Straße and go up the stairs. It's on the first floor behind an unmarked door covered in stickers and graffiti.
Charlottenburg
Despite being perched in decisively uncool Charlottenburg, Rum Trader is a kitschy diamond in the rough. Being far from the city center actually ensures Berlin's oldest speakeasy stays comfortably underground. Opened in the '70s, Rum Trader's now run by a famous Berlin barman who will invent your own cocktail based on your preferences, no menu necessary.

How to get in: Look for the black door with gold trim next to the "Rum Trader" emblem. Ring the doorbell. Since it has only 20-some seats, you'll have to hope for a spot.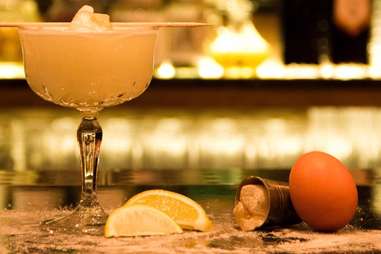 Kreuzberg
If you're looking for Cabaret-worthy grandeur, look no further than Prinzipal Kreuzberg. This 1920s Weimar-style bar basks in old-world glamour, from bartenders wearing bowties to regular burlesque shows, and more recently, magic shows. For performances, reservations are necessary. Check Facebook for more details.

How to get in: Find the unmarked door at Oranienstraße 178 and ring the buzzer.
Kreuzberg
Headed by an award-winning mixologist, Schwarze Traube (or in English, the Black Grape) boasts all the classic speakeasy traits: well-designed drinks, cozy quarters, and the lack of any menu whatsoever. What sets the place apart is the bold decor that includes black-and-gold wallpaper and brick walls, vibing with a relaxed and unpolished Kreuzberger feel.

How to get in: It's behind the door with the "Please knock and smile sign" just down the road from Markthalle Neun.
Sign up here for our daily Berlin email and be the first to get all the food/drink/fun in town.