These are the 7 best cocktail bars in Berlin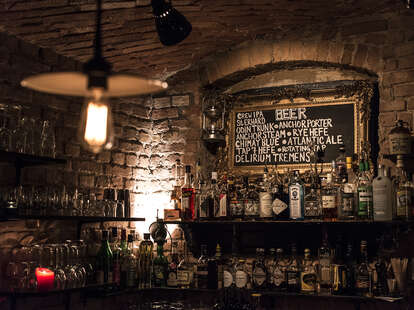 John Muir
John Muir
Since Western-Germanic-post-communist cultures aren't the only thing Berlin skillfully blends, we thought we'd take a look at the finest cocktail joints the city has to offer, then ruthlessly whittle that number down to only the best seven...
Studio8
Wedding
Paving the way towards Wedding's imminent future as The Next Big Thing, is one of the city's best-kept secrets, Studio8. A sleekly minimal space lit by vertical strips of light along the walls, they keep things real simple with just a handful of cocktails daily scribbled in chalk onto a blackboard.
What you're drinking: Whatever's on the chalkboard, or just one of their perfectly made Marys.
Drayton Bar
Mitte
You may have heard of Berlin's much-loved club/vegetarian restaurant Cookies. Well, Drayton's is the adjoining bar and an institution in its own right -- tucked away from the tourist traps of Friedrichstraße, Drayton's is a dark industrially vibed drink den, w/ chunky wooden & metal fittings offset w/ splashes of gold.
What you're drinking: Back by Midnight -- dark Indian rum/coffee liqueur/chocolate and cherry bitters.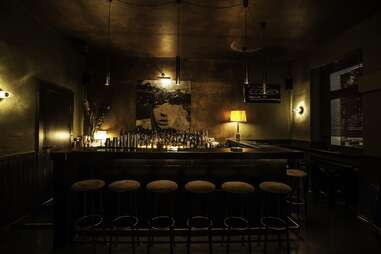 Melody Nelson
Mitte
Although once a former East German bar for Stasi members, they've stopped tapping both phone calls, and beer, focussing completely on the cocktails. Reincarnated and named after Serge Gainsbourg's '70s album (Histoire de Melody Nelson), it's got a sleek Brooklyn-ite feel of bare concrete and low-wattage bulbs.
Essential Cocktail: Black Mojito -- it uses dark spiced rum, and apparently this is the only place in town to get one.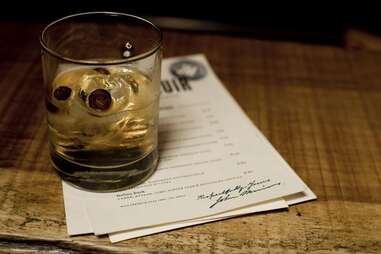 John Muir
Kreuzberg
Sandwiched between Gorlitzer Park and Schlesisches Tor, a couple of steps down leads you to this cozy basement drinkery, and with an ever-changing cocktail menu, no two trips to this exposed-brick establishment are ever the same.
What you're drinking: Bloody Knuckle (rye whiskey, Aperol, sloe gin, orange bitters).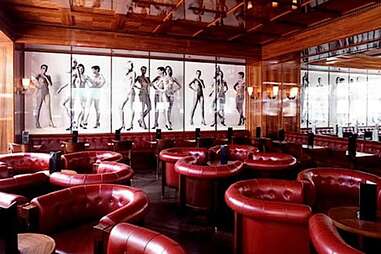 Newton Bar
Mitte
Helmut Newton's iconically sexy-yet-just-the-right-side-of-artistic photographs line the walls, whilst guests sit on huge red leather lounge chairs in front of huge oak tables, sipping from a menu of extremely well-crafted cocktails. There's even a cigar room upstairs.
Essential Cocktail: Metropolis Berlin. Yes, it has Jagermeister in it, but just trust us on this one.
Stue Bar
Zoologischer Garten
Hidden amongst the Embassy District and almost engulfed by Berlin's famed zoo, Stue bar rocks an extremely classy '30s vibe, with a little contemporary design thrown in. The bar menu follows suit w/ prohibition-era classics (with a short history of each drink to accompany) alongside some more modern numbers.
What you're drinking: Honestly, you can't beat their martini.
Monkey Bar
Zoologischer Garten
Freshly opened, this new contender to the Berlin bar scene enviably sits atop the roof of the 25hrs Bikini Hotel, right next door to the zoo, w/ floor-to-ceiling windows to better appreciate views of the, well, monkeys (even from the bathrooms). The cocktail menu is pretty tiki-heavy, but also reps a strong list of classics.
What you're drinking: The King Kong; homemade Guatemalan vanilla rum offset by a little cherry bitters & some sugar syrup.