The 8 best hidden bars in Berlin
If you want to get a great drink in Berlin, sometimes you've got to go to a place not even the locals can find. Tucked away in alleyways, behind unmarked doors, and camouflaged with gallery spaces and butcher shops, these urban heavens for cocktail aficionados are some of the best in town -- and we've tracked them down for you.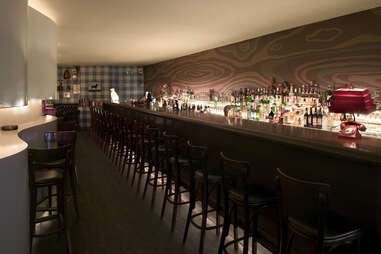 Green Door
Schöneberg
How to get in: Tucked away in one of Berlin's most alternative neighborhoods, GD is hiding behind a discrete green sign and heavy curtains, as well as a green door. You'll need to ring the bell to get in.
The bar: The quirky, albeit stylish interior sports checkered walls, framed '70s photos, and kitschy memorabilia. Don't let the bar's laid-back atmosphere fool you -- they are serious about their booze and serve an impressive number of cocktails, including monthly specials. Try the bar's signature w/ Champagne, lemon, sugar, and mint.
Butcher's Bar
Mitte
How to get in: Rest assured that not everyone entering the currywurst shop at Rosenthaler Platz is there to satisfy their pork-y cravings. Once in the shop, take a right at the photo booth and then a left to a hidden phone booth. Buried in a pile of stickers is the ringer. It's all very hush-hush.
The bar: Tiled walls with bottles of liquor hanging from meat hooks like in a slaughterhouse are bathed in appropriate red neon light. The two-partite interior will allow you to choose between hitting the lounge area, or chatting with the friendly 'tenders at the bar, where you'll find a delicious Blood & Sand cocktail (Johnny Walker Double Black, vermouth, cherry liqueur, and fresh orange juice).
Becketts Kopf
Prenzlauer Berg
How to get in: Get to Eberswalder Strasse U-Bahn station and take Pappelallee. The wrinkly, glowing face of Samuel Beckett on your right will be the only hint of activity in an otherwise quiet residential area. Ring the doorbell and patiently wait until one of the exceptionally friendly staff lets you in.
The bar: Once inside, you'll be handed hardback copies of Beckett's plays. Unless you're particularly keen on brushing up on you avant-garde literature, the only required reading for the night will be the cocktail list inserted among the book pages. Sit back in one of the comfy leather armchairs, take in the curious Eyes Wide Shut-meets-your-dad's-library feel of the place and let some of the savviest cocktail experts read your mind.
Bar Tausend
Mitte
How to get in: Hidden behind a practically invisible steel door beneath the railway tracks at the Bahnhof Friedrichstrasse, right opposite the illuminated Grill Royal, is one of Berlin's most fashionable night spots. If you don't have a reservation at their resto, you'll just have to ring the bell and hope they like the look of you.
The bar: The sleek one-room interior with a steel ceiling, giant donut-shaped fixture, and elevated seating areas provide a backdrop for mingling with filmmakers, models, DJs, and marketing prodigies (probably). Tausend looks like the place where Goldfinger would stockpile gold reserves. Try the Eden cucumber vodka served with white chocolate -- trust us, it works.
Drayton Bar
Mitte
How to get in: Walk into Behrenstrasse, leaving West Grand Hotel on your right. Less than a hundred feet away you'll see an alleyway leading to what looks like an employee-access-only service area. Take another right turn and you'll see a large Victorian chandelier hanging from the high ceiling of the building (it's quite a sight). Right opposite the wall with graffiti of a woman in a bright pink hijab is the entrance you're looking for (the door next to it leads to the adjoining cult club/restaurant Cookies).
The bar: The art deco fittings, thick wood, and the slightly industrial aesthetics of the interior are a perfect setting for sipping cocktails infused with cherry-flavored syrups and spices. The place also breaks the unwritten speakeasy rule of being snotty towards foreigners, in that it isn't.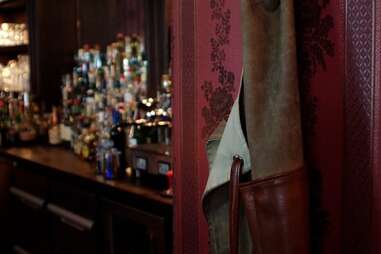 Stagger Lee
Schöneberg
How to get in: Full disclosure -- this place isn't entirely hidden, but it does remain one of Berlin's best-kept secrets thanks to the lack of hype about its location, its low-key facade, and its speakeasy attitude.
The bar: With its low-hanging saloon lamps, wooden paneling, and a large mechanical till, SL takes you right back to the prohibition era. The knowledgeable staff serves well-crafted unusual cocktails, but you might want to kick the night off with the Alabama Song if you really want to stay in context.
Buck and Breck
Prenzlauer Berg
How to get in: Forget Google Maps if you want to find this place. Berlin's crazy house numbering system will lead you a few miles from where you want to go. The most low-key of the city's cocktail temples is disguised as a small art gallery near Rosenthaler Platz. Go up Brunnenstrasse and you'll see the inconspicuous window on your right. The three oversized letters are actually an anagram for BAR. Press the buzzer on the wall outside and hope there's a seat available.
The bar: The small dark interior has a large minimalist table at its center and can fit 14 people (which is why on weekends you might want to make a reservation). No standing is allowed. Seasoned bartenders will serve their signature drink, the Buck and Breck cocktail, the recipe of which (Cognac, absinthe, Champagne) is said to date back to the 19th century.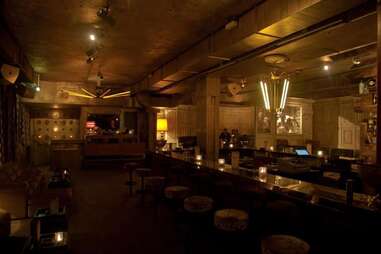 Trust Bar
Mitte
How to get in: It can't get more central than this. Walk down Mitte's tourist-ridden Neue Promenade, reach the S-Bahn rails, and look to your right. Take a close look at the unmarked steel door and two large windows carved into the aging brickwork of Hackescher Markt railway station.
The bar: The dimly lit interior, sporting beautiful exposed concrete coupled with gold details and vintage chandeliers, is what Berlin-style urban cool is all about. In case you decide to pass on the must-drink rhubarb vodka and opt for a beer, be prepared to consume it hobo-style, out of a paper bag.