Tracking down the best restaurants of the year is thirsty work... which is why we're also lining up the city's best bar openings of 2014. From beer bars to cider bars to fragrance bars, here are the best Berlin watering holes to cut the ribbon this year.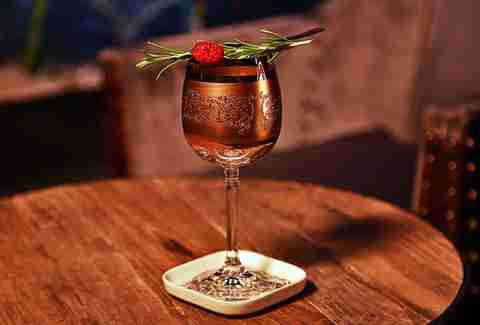 Prenzlauer Berg
Small, dark, and stylish, with glazed black subway tiles behind the bar and abstract art on the walls, BRYK is exactly the kind of bar a city could always use more of: an elegant cocktail-and-small-plates lounge with a mission to serve drinks of the highest quality with the highest service in a city that all too often settles for less. Expect those drinks to have names like "Crocodile Dundee is Going Hunting" or "Kamasutra with a Hangover" and ingredients like horseradish with chocolate, cucumber thyme liquor, and celery foam topping.
Kreuzberg
Queue Hopfenreich, which translates roughly to "rich in hops" and serves up a rotating list of craft brews on tap. Many of them are from local purveyors like Rollberg and Hops & Barley, but the bar also adds in a heavy dose of the international, with Sierra Nevada Pale Ale sharing the fass with BrewDog Punk IPA. Bartenders might as well have been imported from Brooklyn for all their enthusiastic knowledge of their very own brews, and weekly beer tastings give you the opportunity to try several at once, which, let's be honest, you probably would have done anyway.
Mitte
Yes, this new Mitte drinking spot also doubles as a shuffleboard locale. If that's not enough to get you in there, the crew from the nearby Oslo Kaffebar serves an excellent filter coffee from fair trade beans along with small brew IPAs and stouts... so you can decide whether to stay sober and alert or pleasantly tipsy while playing a game usually reserved for senior citizens on cruise ship decks.
Charlottenburg
Of all the bars that opened in Berlin in 2014, this one was perhaps the most anticipated, and certainly the most hyped. At the top of the new 25hours Hotel that opened alongside the Bikini Berlin concept mall, Monkey Bar offers some of the best drinks and views in the city.
In good weather, you'll want to sip one of the many specialty cocktails on the wraparound terrace offering spectacular views of the city. In winter, the floor-to-ceiling, park-side windows give you a glimpse of the bar's namesake: the monkeys' habitats at the adjacent zoo, several floors below. Best of all, the bar offers a convenient bar menu from NENI, the restaurant it shares the floor with, so you can enjoy a trio of flavored hummus with warm, fluffy pita, or some of the best salty, sweet potato fries around.
Fragrances at the Ritz-Carlton Hotel
Mitte
A lobby bar at a luxury hotel, you say? What could be more unoriginal? But Fragrances is no ordinary hotel bar -- in fact, it would be revolutionary in any setting. The first of its kind in the world, Fragrances is the brainchild of mixologist Arnd Heissen, who designed the bar to be quite a sensual experience in the most literal way. After sitting down at the bar, you will be presented with a variety of designer perfumes and can choose your favorite. Then, using essences, teas, flowers, and herbs, Heissen will create a drink inspired by your chosen scent. The result is something like the cocktail version of molecular gastronomy -- and just as magical.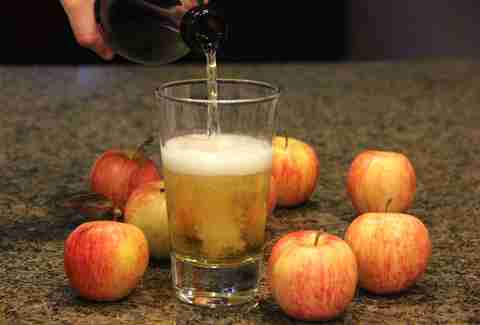 Prenzlauer Berg
In a Berlin success story that is thankfully becoming more and more typical these days, the brother and sister duo behind this cider market and bar started off by gaining a following at some of the street food markets that have become popular all over the city. Once it was obvious that an interest in French cider was there, the pop-up stall was traded in for a real brick-and-mortar location, and now Berliners can get the delicious fermented apple drink along with a series of exquisite small plates that all have something to do with apples or cider, as well. An example of a small and specific idea finding its niche in a city of beer drinkers, and of course, finding the fanatics who were there all along.
Moabit
When the local ExBerliner magazine called this place "a Neukölln bar in Moabit", they could not have summed up the happy astonishment of the locals more perfectly: finally, a comfortably artsy bar in Moabit! And a good one at that! With its flea market furniture and junkyard neon sign hanging on the back wall, this place actually seems designed to attract all the exiled Neuköllners who've moved to Moabit now that the rents are too high everywhere else. What's more, it's right across from the delightfully shabby and impromptu ZK/U arts center, which means its back-room concerts are sure to be full of exactly the types of people this bar was meant for -- the tragically, beautifully hip, and those who are looking to go home with them.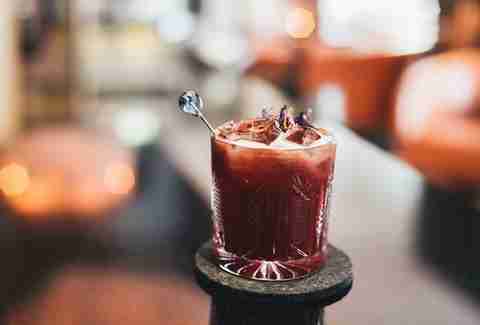 Charlottenburg
Occupying the ground floor of the recently opened Hotel am Steinplatz -- a revamp of a 100-year-old Art Nouveau building by August Endell, the same architect who designed the famous Hackescher Höfe in Mitte -- Bar am Steinplatz is that one place you reserve for a special occasion. Just New Yorky enough, it's the quieter, more elegant counterpart to the in-your-face trendiness of Monkey Bar just around the corner. Here's where you'll get a creative cocktail fusing elements of classic drinks with some German specialty ingredients in a genteel atmosphere that still feels a bit like a local secret. Try the house martini with a mustard liquor made in Kreuzberg, or a special gimlet that includes an infusion of German Riesling.
Neukölln
Located on Boddinstrasse between the U7 and the U8, Twinpigs seems to be strategically positioned to attract both the liquored-up masses who descend from Neukölln's main bar crawl street Weserstrasse, and the above-it-all, moved-here-before-it-was-hip hordes from the Schillerkiez adjacent to Tempelhofer Park. Somehow, though, this cavern-like bar with raw walls and arched doorways always seems to keep it classy and a bit off-kilter, just like the work of the man its name pays homage to, David Lynch.
Much more than just a bar with extremely reasonable and well-mixed cocktails and local brews on tap (Heidenpeters from Markthalle IX supplies the beer), Twinpigs has succeeded in becoming every Neuköllner's dream: a living-room-away-from-home where you can expect a DJ session one night, a film screening another, and a supper club in between.
Wedding
Full of those quirky little details that Berliners hold oh so dear (exposed brick walls, vaulted Prussian ceilings, and shelves and a bar that seem to be fashioned entirely out of driftwood), Wilma has a location to top them all: it can be found in the hinterhaus (back house) of one of the most grandly decorative buildings in Wedding, right beside the picturesque Panke canal.
Aside from its choice location, with a patio for backyard barbecues, bonfires, and the unsanctioned revelry Berlin is known and loved for, Wilma is also one of the first of its kind in Wedding, a laid-back hangout spot for the neighborhood's growing population of expats and artists, and a gallery as well. Now Weddingers looking to sip a few beers while viewing local artwork won't have to leave the neighborhood to do it -- but you just might want to come up to the neighborhood to join them.