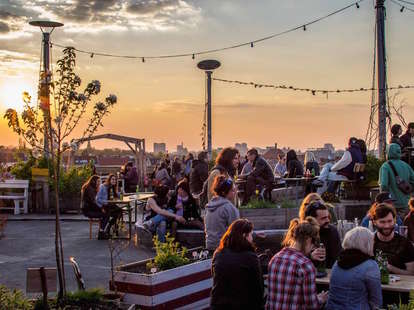 Julian Nelken/Courtesy of Klunkerkranich
Berliners are famous complainers, but chances are you won't hear them grumble about their city's lack of a skyline. Sure, you can see the TV Tower poking up from just about anywhere, but let's face it -- Berlin's open horizon is immeasurably refreshing compared to all the skyscraper capitals out there. And it also means you can see alot from a good rooftop. With that said, here are the city's best ones:
Neukölln
You'll find this bar hidden on the parking deck of the Neukölln Arcaden mall, up an elevator and through a maze of concrete. Decked out in wooden furniture and a colorful urban gardening project, it's the perfect laid-back spot for drinking beers and looking out on all the eclectic rooftops while listening to live jazz.
Charlottenburg
Monkey Bar, on top of the trendy 25hours Hotel, is everything you want in a rooftop hangout -- craft cocktails, yummy yet healthy bar snacks, and a stunning wraparound look out on the Berlin horizon. It's even a cozy option for going high during winter, thanks to floor-to-ceiling windows overlooking Tiergarten.
Mitte
Hotel AMANO's big rooftop terrace is totally sleek, with a plethora of white pillows and sun umbrellas spread throughout. No wonder it's a summer favorite of Berlin's fashionable and all-too-hip Mitte and Ku'Damm crowds. It's also conveniently located close to Rosenthaler Platz, packed with lots of other solid bars and restaurants.
Mitte
Soho House's rooftop lounge is ultra-exclusive, available only to members and guests of its boutique hotel. But if you do manage to swing entry, this is the perfect spot for chillin' out from day 'til night with a massive (heated) pool, panorama views, and a new rooftop restaurant serving mezze.
Mitte
House of Weekend is a tough one to miss -- the techno nightclub is located right in Alexanderplatz, on top of a lofty rectangular building that was once a Soviet tower block. Its evening vista views of the city are peerless, with the ambience of hard-thumping beats, and a young, party-hearty crowd.
Prenzlauer Berg
Berlin's unquestionably not a beach city, but you can pretend it is at Deck5. With its sandy floor, elegant white curtains, and dainty Mediterranean snacks, this rooftop bar is the antithesis of Berlin's typical gritty style. Go there to kick back a few passion fruit caipis and take a break from the graffitied streets.
Mitte
Hotel de Rome, known for hosting celebs from Reese Witherspoon to Kate Moss, has an appropriately swanky rooftop that doles out fancy Champagne cocktails and other upmarket creations (full disclosure: even a homemade lemonade costs €10). Lofty prices aside, it does offer some of the best views of Berlin's famous attractions, like the Berlin Cathedral and State Opera.
Sign up here for our daily Berlin email and be the first to get all the food/drink/fun in town.
Barbara Woolsey is a Berlin-based writer who learned a thing or two about good rooftops from living in Bangkok. Follow her on Facebook and Twitter.