A tour of the eight best microbreweries in Berlin
Katherine Sacks
Katherine Sacks
If the Germans are known for two things, you're probably not supposed to mention either of them, but if they're known for two other things, it's their sorta' contradictory twin loves of drinking lots of beer and precision craftsmanship. Exploring this beautiful marriage, we took a deep dive into Berlin's craft scene, taking a crawl around the city's finest small-batch breweries.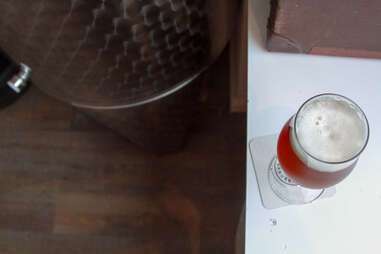 1) Vagabund Brauerei
We kick things off, appropriately enough, at Berlin's newest microbrewery, run by a trio of American homebrewers-turned-pros. Their Wedding taproom (it's in a neighborhood called Wedding; no actual (sober) matrimony is involved.) sees a variety of both their own and other peeps' tasty microbrews, while IPAs, Szechuan Saisons, and Coffee Stouts are all in the works. Be forewarned, the shop's currently only open on weekends, so check the online schedule before heading out (and if you can't make it, have no fear, they've launched a monthly brewing subscription -- it's like a CSA, but for beer!).
2) Privatbrauerei Am Rollberg
Go searching for this brewery, and you'll find it in a piece of Berlin's abandoned architecture in Neukölln (just keep walking towards the looming brick buildings). Rollberg's set up shop inside a massive factory that used to house one of Berlin's biggest brewerys, Kindl Brauerei (before they moved onto even bigger, less craft-ey things). Park yourself in their small outdoor beer garden and enjoy German-style brews like red, wheat, and bock beers.
3) Hops & Barley
Fredrichshain's Hops & Barley really feels like an old English brewpub, with tiled floors and walls, exposed pipes, and a soccer hooligan visible brewing equipment. The team regularly brews pilsners, dark pils, wheats, and cider, and also does special beers including IPAs and brown lagers. There're also a few bedrooms upstairs for rent, in case you want to hop under the covers.
4) Heidenpeters
Just a few blocks from Kreuzberg's Görlitzer Bahnhof sits Markthalle Neun, home to this newish brewery. Johannes Heidenpeter offers small batch IPAs, pale ales, saisons, and stouts (plus porters come wintertime). The seating area, full of makeshift seats and vintage style, matches-up neatly with the 120-year-old building itself, and's great way to escape the crowds at the Markthalle's street food Thursday events.
5) Brauerei Eschenbräu
Just a few blocks away from Vagabund, you'll find one of the oldest craft breweries in Berlin, open since 2001 (!) and featuring a beer garden tucked around the back of the building. Eschenbräu brews more in the German-style, with a line-up including three regulars -- pils, dark, and wheat -- and a variety of seasonals like Rauchbier (smoked dark beer). They also produce a variety of spirits incl. a house whiskey, and you can get a delicious, piping hot pretzel too.
6) BrewBaker
Although BrewBaker's beers are available in shops & bars throughout the city, you'll find the whiz at work with a small setup in the back of Moabit's old school food hall Arminiusmarkthalle, which also houses their small tasting bar. Operating since '05, the brewery offers a range of 20-something beers incl. a fruity Bellevue Pils, a refreshing Ginger Beer, and, when it's autumn-appropriate, a Pumpkin Lager.
7) Bierkombinat Kreuzberg
Around the corner from Heidenpeters sits BKK, serving beers from nearby Schoppebräu; it's a dark, divey brewpub that attracts locals with its pitchers of fresh-brewed German-style bocks, helles, and dunkels. But you'll also find specialty pours, like their Holy Shit Double IPA and the 13% ABV Black Friday black beer, both of which will provide extreme discounts on your brain cells.
8) Leibhaftig/Wanke Bräu
Sure, it may not actually be a brewery, but this Prenzlauer Berg Bavarian resto is the main tapping point for the brews of Marcus Wanke, who uses an off-sight Spreewald facility to make his beautiful barley pops. Try the Leberkäse, a classic German meatloaf/sausage dish, and use it to soak up some of Wanke's pils, wheat, or doppelbocks.